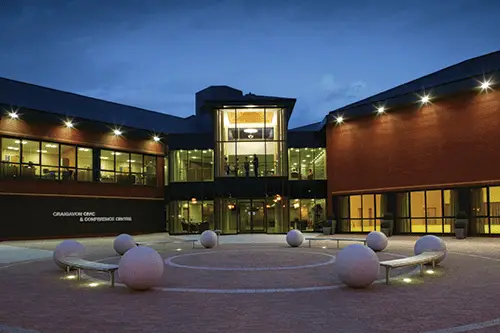 An inspiring line-up of business women will celebrate International Women's Day at a special event organised by Armagh City, Banbridge and Craigavon Borough Council.
National Trustee for Northern Ireland on the BBC Trust, Dr Aideen McGinley OBE, has been announced as the keynote speaker for the event which takes place at Craigavon Civic & Conference Centre on Tuesday 8 March from 10am-1pm.
Dr McGinley, who was awarded her OBE for services to local government and the community, has extensive experience in local and central Government in Northern Ireland. She is a former Chief Executive of Fermanagh District Council and Permanent Secretary at the Department for Employment and Learning and at the Department of Culture, Arts and Leisure in Northern Ireland.
Her BBC Trust responsibilities include being Chairman of the Audience Council Northern Ireland, a member of the Services Committee and a member of the Trust Management Group.
Aideen will be joined on stage by three other businesswomen: Jill McEneaney, Theatre Director at the Market Place Theatre and Arts Centre, Armagh; Jane Harnett, Managing Director of Harnett Oils; and Aine Beatty, I.T. Manager, Ben Sherman and founding Chairperson of Down's & Proud.
Covering essential topics such as personal drive, ambition, dedication and a commitment to excellence, the audience will be treated to an exclusive insight into how these women overcame obstacles in the male-dominated business world to get to the top of their respective industries.
Naomi McMullan, one of Northern Ireland's most experienced and respected business news reporters and broadcasters, will compere the event.
Lord Mayor of Armagh, Banbridge and Craigavon, Councillor Darryn Causby said: "We are extremely fortunate to welcome such inspiring female role models to our borough to hear how they have achieved success in the male-dominated business world.
"The theme for this year's International Women's Day is 'pledge for parity'. We hope this unique event will encourage us all – men and women – to pledge to take a concrete step to help achieve gender parity more quickly.
"We can all act in some way – whether to help women and girls achieve their ambitions, call for gender-balanced leadership, respect and value difference, develop more inclusive and flexible cultures or root out workplace bias. Each of us can be a leader within our own spheres of influence and commit to take pragmatic action to accelerate gender parity."
All around the world, International Women's Day represents an opportunity to celebrate the achievements of women while calling for greater equality, with thousands of events taking place marking the social, economic, cultural and political achievements of women.
A limited number of places are available for this half-day event. For more information please contact Mary Hanna at Armagh City, Banbridge and Craigavon Borough Council on 028 3752 9600.
Sign Up To Our Newsletter