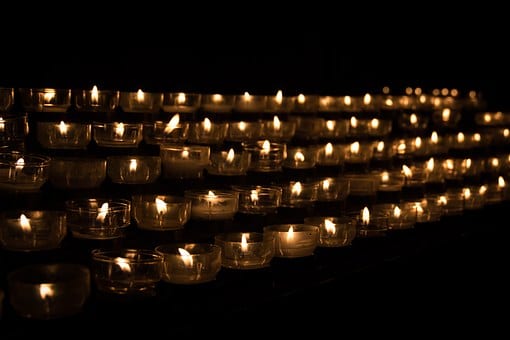 As 2016 draws to a close, one County Armagh funeral director is stressing the importance of remaining safe on the roads.
Ian Milne, of Milne Funeral Services, began the road safety initiative 'Think! And think again!' 10 years ago for the Christmas and New Year period, in a bid to highlight the 'crushing' emotional stress a traumatic loss has on families.
The Portadown-based funeral director has seen first hand the devastation loved ones go through when the rest of the community celebrates the festive season.
Mr Milne decided to start the campaign after a conversation with some young people who were fed up with the blood and gore adverts.
The original poster (pictured) was the idea of highlighting police, an ambulance and getting a lift — or the worst possible scenario — with mist symbolising the haze of thought sometimes associated with bad decisions.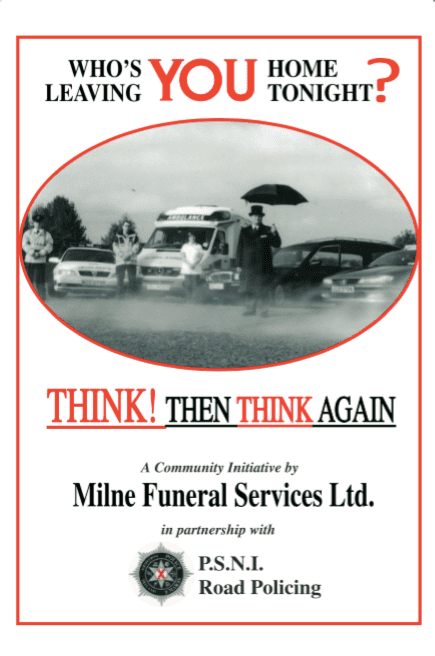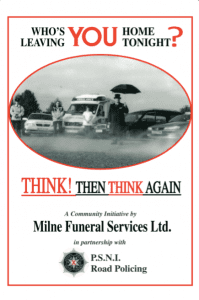 "The traumatic loss over, or near, the Christmas period is more crushing emotionally," said Mr Milne.
"This seems to be due to how the 'rest' of the community is enjoying pleasurable activities and all media and commercial outlets; in fact everywhere you look is accentuating the euphoria of this period."
He added: "The long nights depress the mood further, creating almost an emotional downward spiral with the feeling of loss seemingly unstoppable.
"Traumatic death in any form is devastating, however, road traffic accidents by their very nature can involve significant bodily injury. This, if fatal, can leave even deeper lasting memories and can enhance the mental pain of loved ones if these injuries are apparent."
Mr Milne went on to explain how post-death reconstructive surgery is "making that last viewing of the deceased as positive an experience as is possible".
"This is an integral part of the bereavement process and under no circumstances should a coffin be closed as this is a recipe for future mental anxiety with such questions as was he/she definitely in that coffin," he believes.
"The simple act (if facial identification is not available) of holding a loved one's hand, seeing a tattoo or recognising a piece of jewellery is valuable to assist the grieving process.
"Any death at Christmas or into a New Year has the propensity to result in heightened emotional trauma.
"To the funeral director this is enhanced by many factors for example the family decision as to whether to remove or retain the Christmas decorations in the home of the deceased, this is a very personal choice."
He continued: "If there is a church service, the church may be decorated, which can lead to a symbolism issue where the family feel at odds with the majority mood leading to a sense of enhanced isolation or vulnerability.
"We highly recommend communication to help with bereavement; simply talking about the deceased, how you are feeling, whether that be with a friend, friends or with Cruse Bereavement will not change what has happened but will help in the long grieving process."
Mr Milne was speaking with Armagh I to highlight a decade of a campaign to encourage road safety over the festive period.
Read more news:
Newry and south Armagh sergeant humbled by Queen's Police Medal award
Three men stabbed during early morning street altercation in Newry
Ginger Pride Festival to celebrate all things ginger in New Year
Organisers hoping to make annual Christmas Tractor Run 'one to remember'
Planners recommend 'mini-retail hub' proceed at former B&Q store
Man arrested by police investigating Crossmaglen hit and run
Portuguese man who died in M1 accident two days before Christmas is named
Sign Up To Our Newsletter
Sign up to our newsletter for major breaking news stories as they happen – right to your inbox.