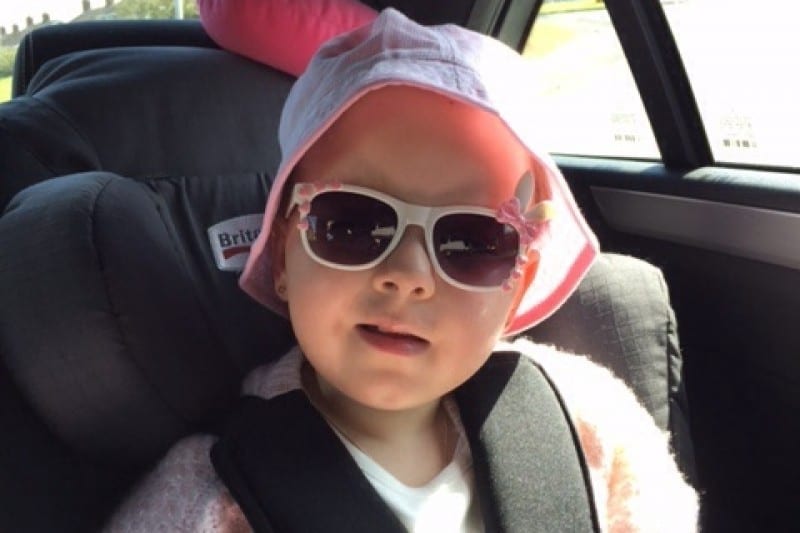 Family and friends of little Eva Tomney plan to keep her memory alive and raise money to support two schools which had played such a big part in her short life.
And they hope the local community will come out and join in, for what should be an emotional but fitting tribute to the Keady girl.
A fun run and walk was held last year in the town as part of the 'Eva's Journey Back to Walking' fundraising appeal.
But tragically, the little girl lost her brave battle in November, just seven years of age.
The family now intend to make the fun run and walk – which last year raised thousands of pounds – an annual event.
Eva's aunt Tracy Hughes said the decision was taken to try and help others in her niece's name and because they had been "so touched by the support of the community".
The 5k fun run/walk will now be held on Sunday, November 13.
Eva was born in November 2008, but, when she was three years of age, and looking forward to starting playschool, she complained of a sore neck and was showing signs of losing her balance.
She underwent a series of co-ordination tests and was sent to Craigavon for an MRI and then on to the Royal Victoria Children's Hospital. The MRI, in October, 2012, revealed a brain tumour.
The cancer had spread into the little girl's spine and she spent nine months undergoing chemotherapy, two daily doses of radiotherapy over a five week period and two stem cell transplants.
Eva got out of hospital on June 3, 2013, and amazed everyone with her vitality. The family were delighted with how she had responded to the treatment.
But just two months later her body began to slow down, doctors saying it was as a result of the high levels of toxicity from the chemotherapy and radiotherapy.
Confined then to a wheelchair, the family had turned to the iCare Wish charity at Milford, in a bid to raise money to buy specialist equipment to help Eva walk.
The community took Eva's Journey Back to Walking to their hearts and a host of fundraisers followed, including the fun run and walk around the family's home town of Keady.
Now they will continue to stage it in her name – this year going under the name of 'Remembering Eva's Journey' – with others to benefit from the proceeds.
Tracy told Armagh I : "This year we had plans that Eva would open the event walking herself. Heartbreakingly still, that isn't the case. However, Eva's mantra in life was 'share and care'; she used that phrase all the time which she adopted from one of her favourite cartoons, Barney, the purple dinosaur.
"We have decided to keep Eva's memory alive and do as she would do, care for others by fundraising to help them.
"Each year we will support different and what we hope will be local causes.
"This year we are supporting Fleming Fulton Primary School where Eva finished her education. This centre of excellence helps children who live with life-limiting conditions.
"We are also supporting Clea Primary School and their ongoing expansion project. This is where Eva started her education.
"Both causes are very close to our hearts as you can imagine and we feel Eva would be proud of our choices."
The walk and fun run is due to start at 1pm from The Square in Keady, with participants asked to register from 12.15pm.
The £5 donation to take part will go to help both schools.
Tracy admits it will be a difficult day but they are hoping it will raise a good amount which will benefit other young people.
She added: "This year the walk will be a very tough one for us. We feel it's been the blink of an eye from we saw Eva last and we had such high hopes for her recovery for this time this year.
"But we are confident we will be able to do it with the support of our local community who have held us together thus far.
"We would like to extend our heartfelt thanks to everyone who has supported us through this tough year and to thank in advance everyone for their support of our first annual 'Remembering Eva's Journey' walk."
Sign Up To Our Newsletter