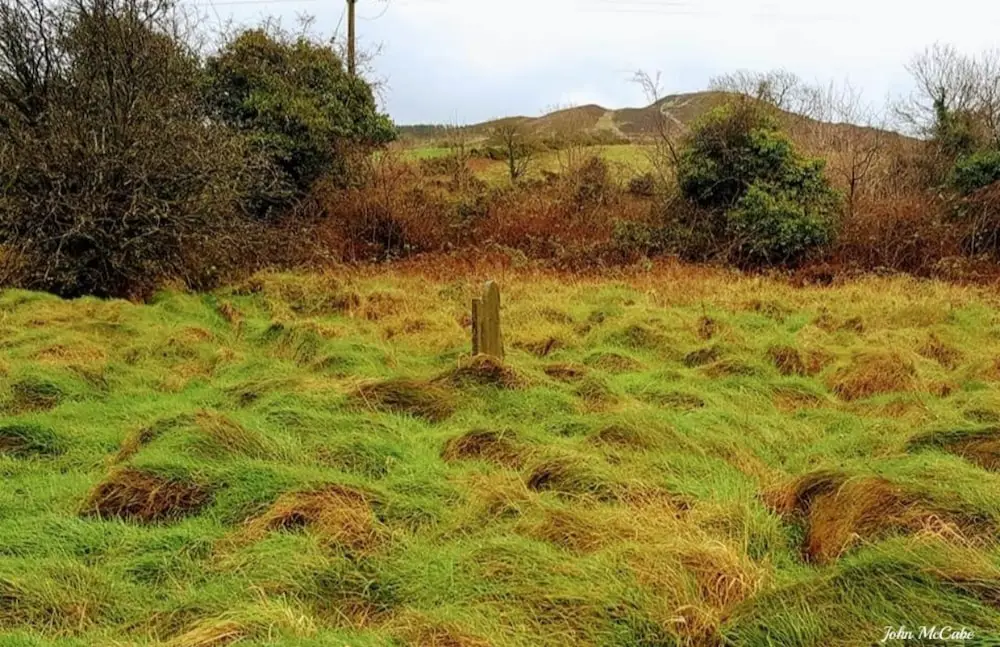 A contribution from John McCabe's Facebook group 'Historical Facts Folktales Myths & Legends Newry & Surrounding Areas'. By John McCabe.
In this story I unearthed about a Bessbrook man 'who died once buried twice' with my title not dissimilar to the Marjorie McCall case at Shankill Cemetery Lurgan. Whom apparently 'lived once, buried twice' with this story a version of a wider European folktale 'The Lady with the Ring'
However fact can be stranger than fiction and in this County Armagh case it may not have been traditional bodysnatchers or grave robbers but it certainly did involve the macabre and disturbing act of exhuming a corpse from a graveyard in the darkness of night and depositing it outside the home of a rector.
In December 1891 it certainly wasn't a case of Rest In Peace for the soul of Bessbrook resident Patrick Kenny who having died was buried at Mullaghglass graveyard but ten days later he had been found on the road, opposite the residence of Rev Lockett Forde rector of Christ Church, Bessbrook.
It was not known who carried out the sacrilegious inhuman act other than at one time Mr. Kenny was a Roman Catholic and eight years prior to his death he married a Protestant girl, and both lived happily together. The wife going to her own Church on Sunday, and Patrick occasionally attending the service in the Roman Catholic Church.
There were three children born of the marriage all of whom were baptized in the Episcopal Church, and about two years before his death he began to attend the service in the same Church as his wife and children, and eventually joined the Church.
This step on his behalf was resented by his co-religionists, but he was not persecuted to any great extent, and a few weeks back he took ill, and was attended by the Rev Mr. Forde up until his death with his remains under the instructions of his wife to be interred in Mullaghglass Episcopal Church burying ground with none of his friends showing any objection.
Rev Forde officiated at the grave and he heard nothing further of the matter until the one morning ten days later much to his disgust finding the coffin containing the remains lying in the front of his hall door. The parties who exhumed the remains must have done so during the night.
The sexton of the graveyard who lived close to the place heard no noise whatever throughout the night, with a horse and cart having been employed giving it was two Irish miles being the distance between Mullaghglass graveyard and Rev Forde's home.
The Rev Forde informed the police of the occurrence, and they had the coffin and the remains removed, and subsequently Mr Kenny was interred at the old Protestant burying ground of St Judes in Camlough.
This should have been the end of the matter but weeks later Camlough locals claimed to have seen apparitions of a ghostly image at St Judes which it was thought to have been the violated and unrested spirit of Patrick Kenny.
Last February I visited St Judes in Camlough and read some of the surnames on grave stones such as the Lackey's, Whites, and McNally's and giving the anomalies and terrain in this burial place there are no doubt lots more graves now unmarked.
A little further history about the place….
According to Christ Church Bessbrook Parish history – "St Judes was designed by architect Thomas Cooley, and built by Primate Robinson in 1773 on a site conveyed by James Caulfield, Earl of Charelmont, (Recently seen the Caulfield's burial places in St Patrick's C.o.I. Cathedrals Crypt in Armagh) and this Camlough Church being consecrated in 1775. The Church was built to accommodate 120 people and in 1859 the average attendance at morning worship was 118 and evening worship 58.
On Monday 28th March 1864 with Rev. J.B. Frith, Incumbent of Camlough and Rev. H.W. Lett, curate at the Easter Vestry it was decided that in consequence of the great need of members of the established Church in the parish amounting 800 the accommodation afforded was inadequate. It was also decided the site of the Church was inconvenient and a larger Church on a new site nearer the dwellings of parishioners was required.
The cornerstone of a new Parish Church was laid at Maghernahely, Bessbrook on Saturday 18th May 1867 at 4pm by Rev. Alexander Irwin, Rector of Killeavey Precentor of Armagh Cathedral and Chaplain to the Lord Primate, Tuesday 22nd September 1868 a new Church 'The Christ Church the Redeemer Bessbrook' was consecrated by Rev. Marcus Gervais Beresford D.D. and St Judes at Camlough was to fall into wreck and ruin.
Support your local news...
We have always been free to our readers and will continue to remain so but your contribution, however big or small, will help us remain independent while allowing us to bring you more of the news you want to read right across our two boroughs.
Your support is invaluable – thank you.