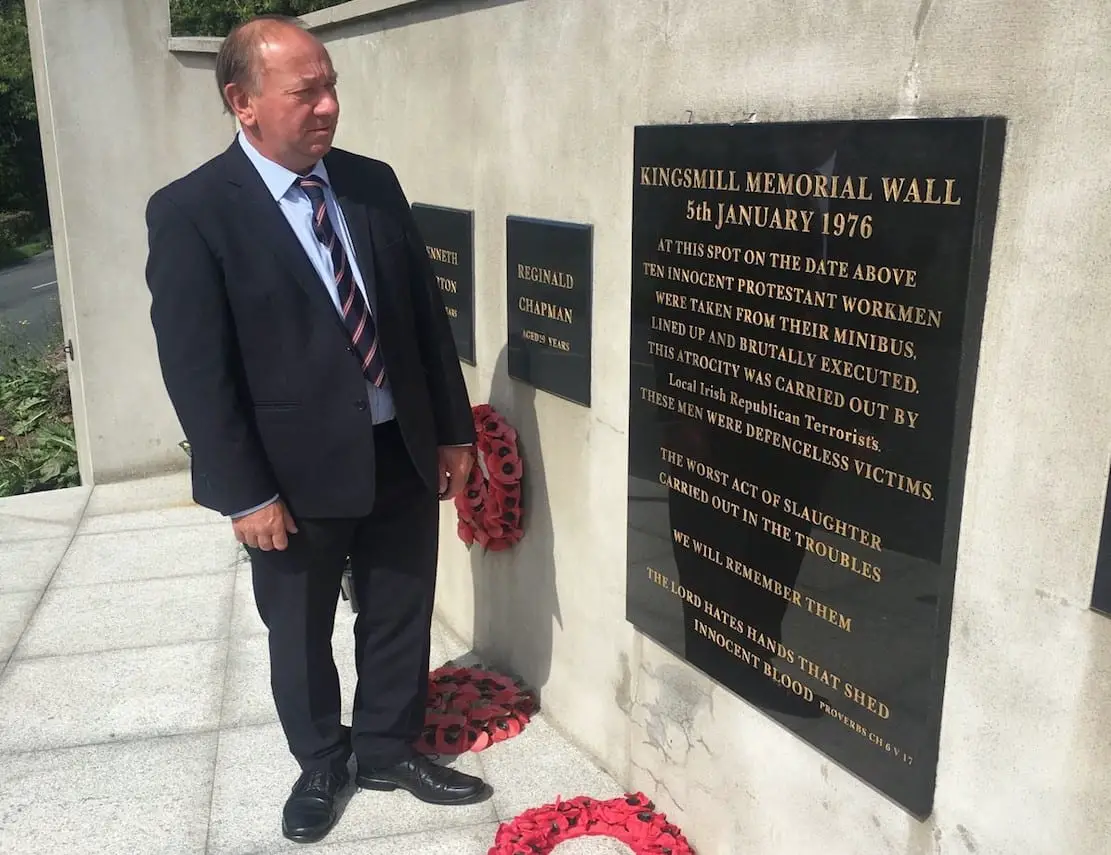 A memorial dedicated to 10 protestant workmen who lost their lives in south Armagh in 1976 was vandalised overnight on Sunday.
The attack on the Kingsmills Massacre memorial, which saw wreaths and flowers strewn across the road, has been described as both "despicable and "sickening".
DUP MLA William Irwin said: "[It's] sickening that the permanent memorial at Kingsmill was vandalised last night with a tricolour being attached to it and flowers damaged.
"I visited the site this morning and one thing is most important – the memory of the 10 innocent men murdered by the IRA on that horrific night must never be forgotten."
Meanwhile Sinn Féin MLA Megan Fearon also condemned those responsible.
The Newry and Armagh MLA said: "This was a despicable act designed to hurt the families of the victims.
"And those who placed a national flag on the Kingsmill monument clearly have no respect for the meaning of that flag which is about peace and harmony between the main traditions on this island.
"There is absolutely no place in our society for desecrations of monuments which commemorate those who died during the conflict.
"Monuments and memorials are important places in communities and should be respected.
"I would encourage anyone with any information about who was responsible for this disgraceful act to contact the PSNI."
Ulster Unionist councillor David Taylor
Councillor Taylor said he is "truly appalled by this sickening attack on the Kingsmills Memorial".
"The Kingsmills families have suffered enough anguish and pain over the last 42 years and it is clear that the perpetrators of this heinous crime have sought to further compound their heartache by carrying out such an action," added councillor Taylor.
"It is truly horrifying that an incident so sinister in nature has taken place at the Kingsmills Memorial.
"Unfortunately, however, this is not the first time that an attack has taken place at the site.
"My thoughts first and foremost are with the Kingsmills families who are understandably very distressed at this attack on the memorial.
"They should not have to contend with such despicable behaviour from those with a very obviously cruel and sectarian mind-set.
"I would appeal to anyone with information to report it to the Police. There is no possible defence or justification for this. The individuals who perpetrated this shocking crime must be brought to justice."
Police are treating the attack as a sectarian motivated hate crime and are appealing for anyone who witnessed the incident or who noticed any unusual activity in the area to contact police at Newtownhamilton Police Station on 101 quoting reference 246 30/07/18.
Sign Up To Our Newsletter