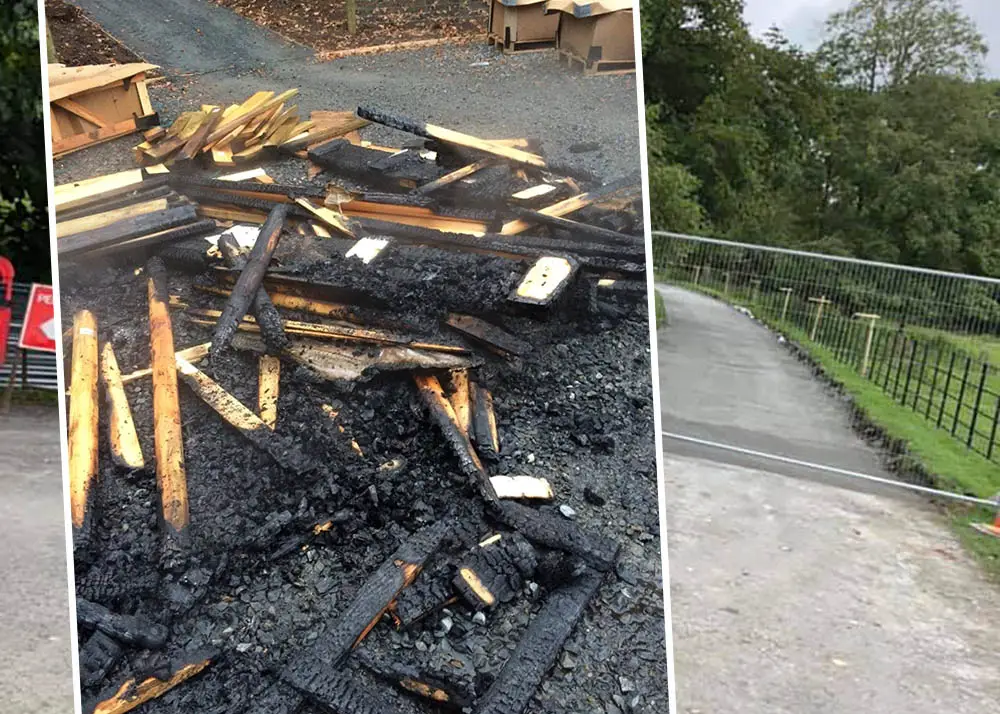 Vandals set fire to and destroyed building materials for a brand new play park in a Bessbrook wood just hours after they were delivered on site.
Chairman of The Friends of Derrymore group, Michael Lynch, said he was "absolutely devastated" when he received the call around 7.30pm last night (Thursday).
The builders had just left the site at Derrymore Wood an hour prior to the fire, which left much of the freshly-delivered timber, nothing more than charred remains.
"To say we are disgusted would be an understatement," Mr Lynch told Armagh I.
"The Friends of Derrymore have been doing this on a voluntary basis for 8-9 years now," he explained. "It has been a long, hard funding process to get where we are today."
The project, in collaboration with the National Trust and Newry, Mourne and Down Council, involves four stages but stage one is close to completion, with a new car park and toilet block in place.
"Those were never in Derrymore at all," explained Mr Lynch. "We thought 'wouldn't be great for the children to have an area to go where there is 110 acres with these facilities'.
"Then we were just about to start the play park and first delivery we had was set on fire. Heartbreaking is not the word."
Unfortunately, this is not the first time the group's work has been the target of anti-social vandals.
Said Mr Lynch: "At the start, we put bins out for people walking dogs, and we built wee wooden kennels over the bins just so that they were more dog friendly. They didn't last a week either – they were set on fire.
"I don't know how you deal with these clowns nowadays; there are low level idiots out there that just need to be brought to boot.
"At this stage what are we going to do? Get a 40ft container and take away the stuff that's there. Put 24-hour security in place for a play park created for the whole community. Is this what we are down to? God help us!
"The only way to do this is to bring the culprits to boot. Ask them to pay for the damage. I hope this happens sooner rather than later. If things like this don't happen it will just continue.
This latest incident has been condemned by local Councillor Declan Murphy.
The Sinn Fein representative said: "This wanton act of vandalism has angered the entire community and those involved in this type of anti-social act should be ashamed of themselves.
"Friends of Derrymore are working to deliver this project which will benefit the community and have our full support."
A spokesperson for the NI Fire and Rescue Service said: "Firefighters were called to wood and playground equipment on fire on the Derrymore Road, Bessbrook last night shortly before 6pm.
"Firefighters used a jet to extinguish the fire. The incident was under control by 6.20pm and the cause of the fire is believed to be deliberate ignition. One fire appliance from Newry station attended the incident."
The attack was the second such act of arson on local amenities reported on Thursday.
Earlier, park benches in Keady were destroyed in the Glen. They had been put in place as part of an environmental improvement programme in the popular town attraction.
Sign Up To Our Newsletter