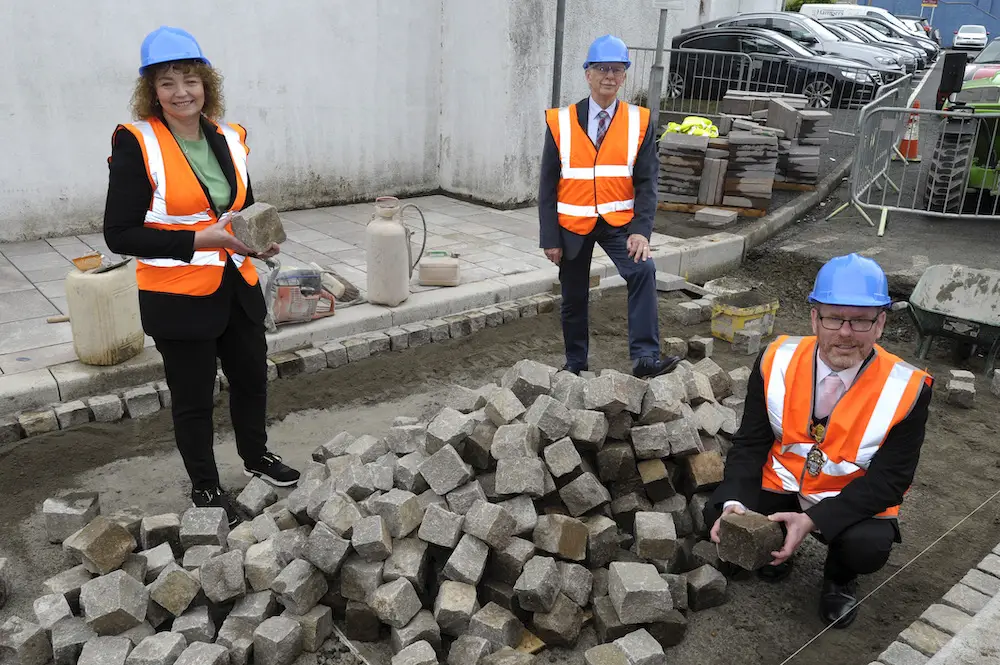 Work has now officially started on a £1.4million public realm scheme that will transform Dromore town centre.
The improvements to the Market Square, Church Street and Bridge Street areas of the town will include resurfacing of footways in natural stone, upgrade of street lighting, installation of new street furniture, tree planting and bespoke features reflecting the historic fabric of the town.
The Department for Communities contributed approximately £900,000, with Armagh City, Banbridge and Craigavon Borough Council contributing a further £481,542 and the Department for Infrastructure chipping in £51,000.
Communities Minister Carál Ní Chuilín said: "I am delighted to announce the start of this public realm scheme in Dromore town centre.
"My Department works closely with Armagh City, Banbridge and Craigavon Borough Council to support the regeneration of the borough and this scheme will help to improve the appearance and also the safety of Dromore town centre.
"This historic market town offers a good range of independent shops – many owned by local families – and I know this investment will improve the area for local residents and traders and hopefully encourage visitors and investment in the town."
Equally delighted to see the public realm works get underway in Dromore was Lord Mayor Kevin Savage.
He added: "This scheme will provide high quality improvements within the Town Centre Conservation Area and focus on outer Market Square, Bridge Street and Church Street.
"New pavements, street lighting, street furniture, signage and decorative features along with an enhanced shared space will complement previous works at Dromore Town Hall in the central area of Market Square.
"Natural materials with bespoke design features will reflect the town's unique history and conservation area designation.
"Due to complete in spring 2021, it is anticipated that the scheme will transform the historic town centre's physical environment and make it a more welcoming, vibrant, creative, enterprising and accessible urban environment for all users.
"Thanks to central government funding and in particular major investment from the Department for Communities, we can now move forward with our masterplan to enhance the attractiveness and vitality of Dromore, celebrate its heritage and support its continued economic growth."
Alliance Councillor for Lagan River, Eóin Tennyson, commented: "Having been part of the Town Centre Task force, I am delighted to finally see this ambitious project for Dromore finally become a reality.
"This scheme, which is scheduled to complete in Spring 2021, will undoubtedly improve the quality and physical appearance of Market Square, Bridge Street and Church Street; enhance shared space and provide increased connectivity and accessibility.
"Dromore is a historic market town which boasts a number of small, family-owned and independent retailers. The past few months have been incredibly difficult for our town centres, so I am hopeful that this will provide a welcome boost as we move forward."
Sign Up To Our Newsletter