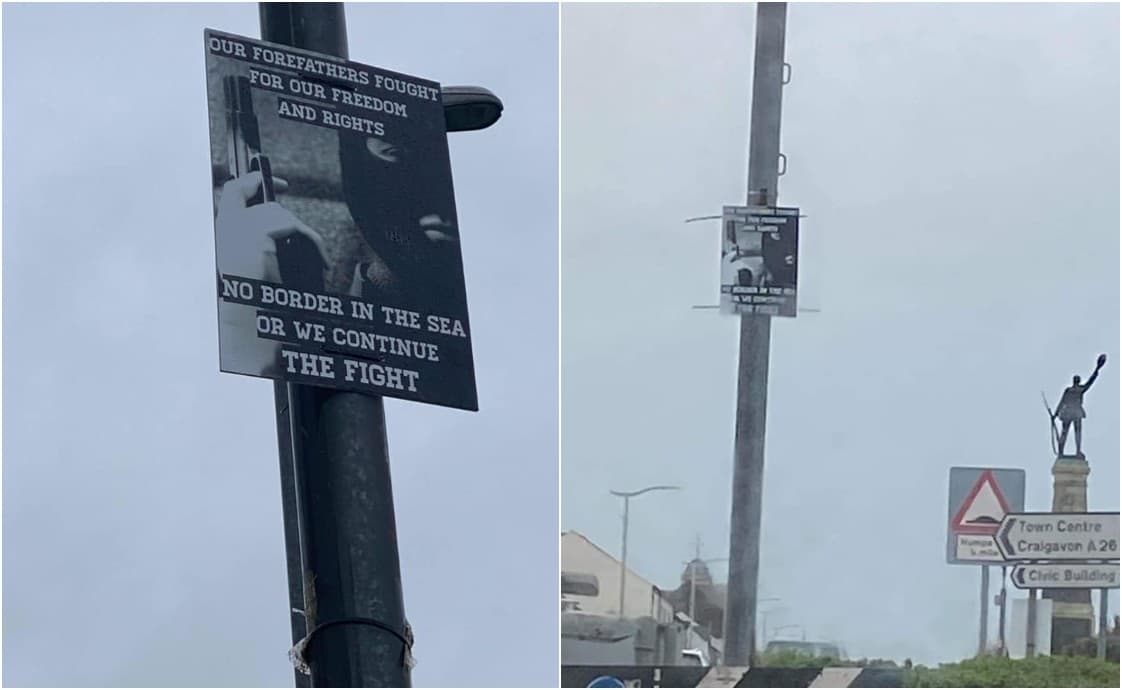 A series of "sinister" and "tasteless" banners, threatening violence over the NI Protocol, have been erected in Banbridge.
The placards, placed on streets lights in the town centre, depict a man wearing a black balaclava and holding a gun with the words: "Our forefathers fought for our freedom and rights. No border in the Irish Sea or we continue the fight."
The issue stems from Brexit and the NI Protocol, which has meant goods coming into Northern Ireland from Great Britain are being checked at ports such as Belfast and Larne, thus creating the de facto Irish Sea border.
Alliance Councillor Eoin Tennyson commented: "Those responsible further no political aim other than to intimidate residents and sow division.
"The overt threat of violence is disgusting, totally unacceptable and must be condemned by all right-thinking people. We have raised the matter with police."
His party colleague, Peter Lavery, added: "These sinister posters are a direct threat to the local community by faceless criminal gangs. I am engaging with the PSNI and relevant authorities to have them removed immediately."
Sinn Fein Councillor Kevin Savage described the placards as "very tasteless and sinister".
"[It] begs the question, who exactly they will fight? Certainly not help the town centre get back on its feet," he added.
It's the latest in a series of similar incidents right across Northern Ireland where posters and banners erected, graffiti daubed on walls, as well as journalists threatened.
SDLP MLA and Policing Board member Dolores Kelly commented: "Police must take action and remove these sinister and threatening posters and those responsible for them should be prosecuted.
"There is precedent for this so inaction will be inexcusable. The paramilitary groups involved in the past were nothing more than sectarian murder gangs, many of whom have evolved into organised crime gangs and are a pestilence in our community."
She added: "The only way to resolve difficulties with the protocol is through political dialogue.
"Those who are angry should remember that this has been delivered courtesy of the British Govt. and the DUP. Unionist politicians have a responsibility to dial down their language and condemn these threats.
"I challenge any of them to say where else in these islands would such displays be tolerated?"
Sign Up To Our Newsletter