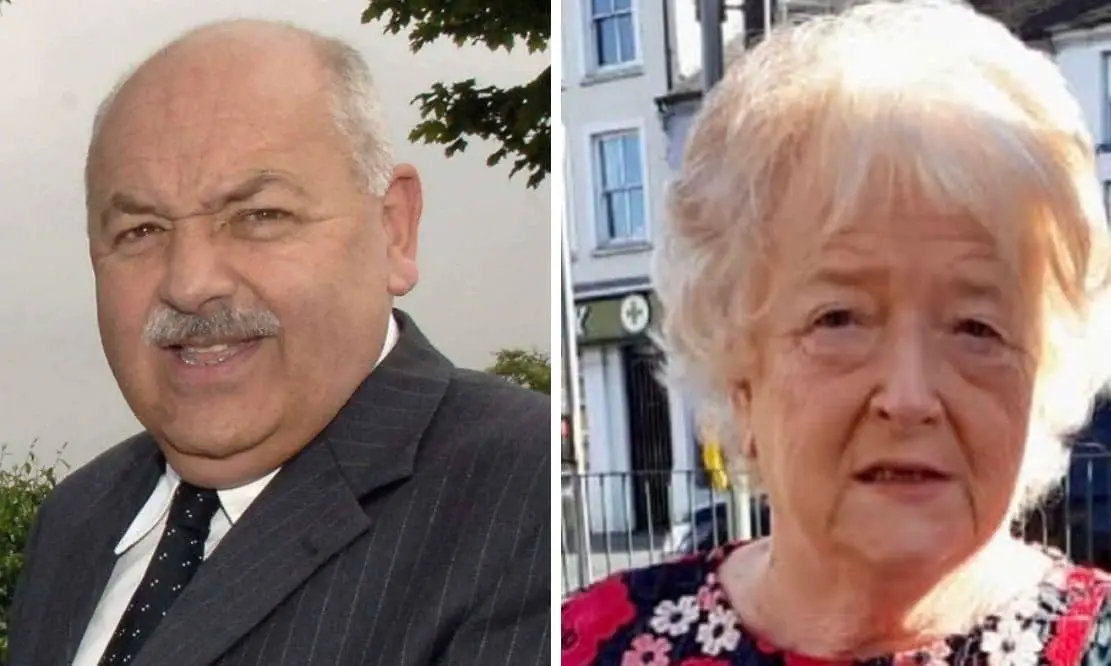 The past and present school community at Banbridge High School have paid tribute to two highly respected former staff members who have passed away within days of each other.
Former principal, Ian Russell, died on November 21, peacefully at home surrounded by his family. He is survived by his wife Heather, and children, Gareth, Lynsey, Jenny and Ashleigh.
Elsie Fairley – a former HE teacher – passed away on November 23 peacefully in Craigavon Area Hospital. She was the wife of Tom, mother of James and Sarah, grandmother of Shep and a much loved mother-in-law.
On Tuesday, Banbridge High School paid tribute to the service of both teachers to the school, posting: "It is with great sadness that we learnt today of the passing of our former Principal, Mr Ian Russell. Mr Russell was Principal from May 1996 to October 2009.
"Mr Russell made a lasting impression on anyone he met with his warm sense of humour and passion for people, whether they were staff or student. He impacted on thousands of lives in the schools where he was a teacher, vice-principal and then principal.
"Our thoughts and prayers are with Mr Russell's wife Heather and Gareth, Lynsey, Jenny and Ashleigh."
On Wednesday they said: "It is with great sadness that we learnt today of the passing of our former Teacher of HE Mrs Fairley. A lady who went above and beyond for her pupils and the community.
"She made a lasting impression on anyone she met with her warm heart and passion for people, whether they were staff or student.
"Mrs Fairley had a passion for young people which she showed in her day to day teaching but also in her numerous trips to Romania where she visited orphanages and care homes taking essential supplies to help meet the desperate needs of the children in that country.
"She will be sadly missed by the whole school community. Our thought are with her husband Tom, son James and daughter Sarah."
Past pupils of the school took to social media to honour Mr Russell and Mrs Fairley's service, with one commenter saying of Mr Russell: "This man was my rock when I was going tough times in high school with my autism. He will be sadly missed."
Another said: "My old high school principal will always be remembered for his kindness."
A third added: "Such sad news! I remember Mr Russell so well. An absolute gentleman who loved his job and the pupils that passed through the doors. When he yelled the whole school knew, yet he was a man you could talk to and joke about with. One of the greats that everyone had respect for. Rest in peace."
Of Mrs Fairley, one commenter said: "So sorry to hear that Elsie has died she was a lovely lady and always had time for a chat."
Another added: "A lovely lady who never forgot her students she always asked about my two how they were getting on any time I met her. Deepest Sympathy to her husband and family."
Her daughter Sarah thanked those who paid tribute, saying: "Thank you everyone for your comments about my wonderful mum. It is of great comfort to us that she was thought of so highly by her past pupils, teaching was her great passion."
Mr Russell's funeral was held today (Thursday) in 1st Saintfield Presbyterian Church, with interment afterwards in the adjoining churchyard.
Mrs Fairley's funeral will be held at 12 noon on Saturday in Holy Trinity Parish Church, Banbridge, followed by committal in Banbridge New Cemetery.
Sign Up To Our Newsletter