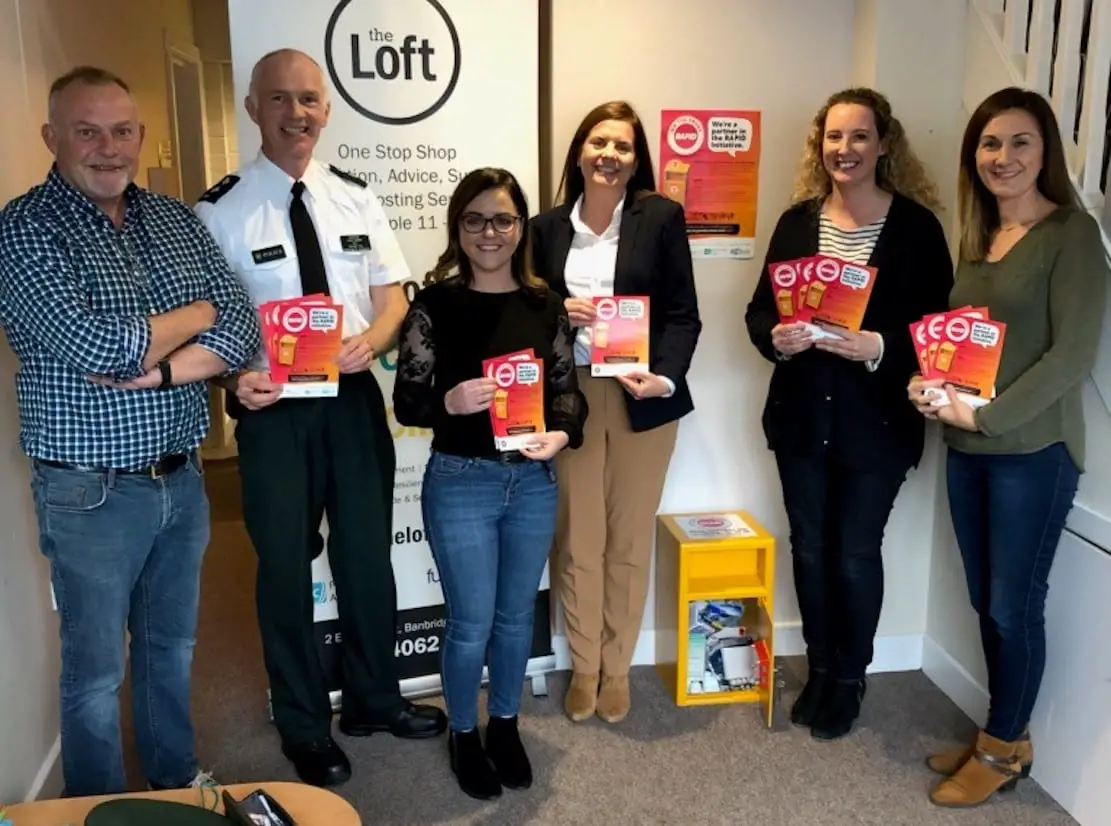 An initiative known as RAPID (Remove All Prescription and Illegal Drugs), which is helping to remove prescription and illegal drugs from our streets by providing drug disposal bins, has been launched in Banbridge.
RAPID was initially piloted in 2010 and due to the success of the joint health and community safety initiative, further bins have been installed throughout Northern Ireland in partnership with key statutory, community and voluntary groups.
Since 2010, over 150,000 tablets have been deposited in RAPID bins. Ninety per cent of the drugs handed in are prescription or over the counter medicines but illegal drugs have also been deposited.
Armagh, Banbridge and Craigavon Policing and Community Safety Partnership (PCSP) and the PSNI have been working closely with the Public Health Agency (PHA) and the local Drug and Alcohol Coordination Team (DACT) to identify and work with communities and businesses within their catchment areas to benefit from taking part in the initiative and having a RAPID drug disposal bin installed.
The bin has been installed in the Future Proof premises at Castlewellan Road, Banbridge where you can deposit any unwanted or unused drugs safely and discreetly, enabling police to then dispose of the drugs – ensuring they are out of 'harm's way' for good.
Speaking about the initiative, Councillor Joe Nelson, Chair of the PCSP said: "This initiative is so very important within our community to help reduce risk to individuals, families and communities when it comes to drug use.
"Should you have, or come across unwanted or unused drugs we would encourage you to deposit them in the RAPID bin safely – you have a choice to do the right thing that will have a positive impact on you, your family and your community."
The PSNI's Inspector Leslie Badger said: "The introduction of these drugs disposal bins provides an effective way for drugs and harmful substances to be removed from our community. Anyone, whether they be parents, grandparents, siblings or family members, can dispose of items which they believe have the potential to cause harm.
"By working together, we are giving a clear indication that we do not want drugs on our streets. This initiative provides a real opportunity to reduce the availability of drugs and criminal activity often associated with drug use."
Lucinda Love-Teggarty Assistant Manager FutureProof commented: "FutureProof are delighted to be involved in this innovative initiative and already we have had great support from the Banbridge Community. The RAPID bin is accessible from 10am to 6pm Monday to Friday and whilst disposing of prescription or illegal drugs safely you can also avail of health and wellbeing information at our one stop shop for young people aged 11-25."
James Devlin, Health Improvement Manager at the PHA, said: "Alcohol and drug misuse is a common issue and sadly causes suffering and tragedy to individuals, families and communities.
"This is a simple but powerful health intervention and we very much welcome the installation of the new RAPID bin in Banbridge. All of the partners are keen that the RAPID initiative is further developed and expanded over coming years with further bins installed, enabling more people and communities to learn more about the risks and dangers of drug misuse and to dispose of unwanted drugs easily and discreetly."
RAPID has three aims:
 Removal of prescription, illegal and new psychoactive substances.
 Provision of information and support to individuals, families, local businesses and community organisations to raise awareness of the effects and risks of using/misusing illegal and/or prescription drugs.
 Bringing together community and statutory agencies, local businesses and the general public under the RAPID initiative to work towards making their local community a safer place to live.
Sherene Livingstone, Drug and Alcohol keyworker for the Southern Trust area said: "We are delighted to be involved in the RAPID partnership and we welcome the further roll out of the bins in the Armagh, Banbridge and Craigavon area. I have no doubt they will be a great success."
For more information on existing RAPID bins and/or how to contact your local Drug and Alcohol Coordination Team (DACT) and/or Policing and Community Safety Partnership (PCSP) to express an interest, visit www.drugsandalcoholni.info/RAPID
Future Proof is open from Monday to Friday, 10am to 6pm at 3a Enville Court, Castlewellan Road, BT32 4AX.
Sign Up To Our Newsletter