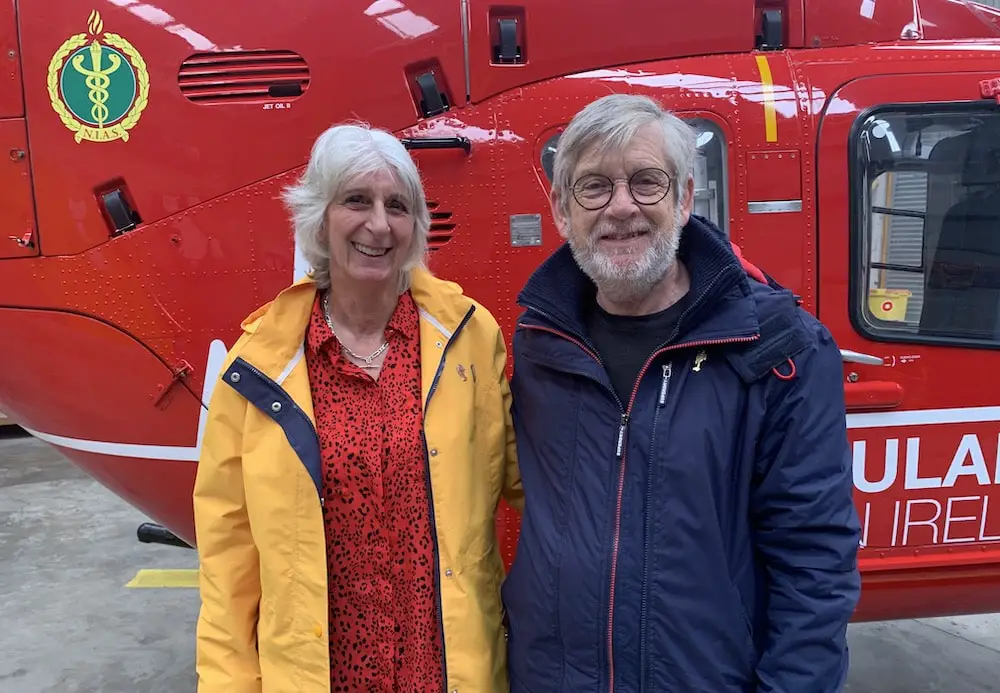 A Dromore woman who had to undergo emergency brain surgery in the wake of an horrific fall has thanked the Air Ambulance NI crew which undoubtedly saved her life.
Binky Paxton ran boarding kennels at Blackskull and it was there, just a year ago, that her nightmare unfolded.
She has courageously told her story as she urges people to offer their full support and fundraising for the Air Ambulance NI, as she herself has now set her sights on climbing Slieve Donard to help swell the charity's coffers.
In August 2019, Binky started her day as usual. Running the kennels, each day was busy looking after the dogs.
She went out the back door and it seems she slipped on the steps.
This was not a big distance, but unfortunately for Binky, resulted in extremely serious injuries.
Binky has no memory of the accident, and her partner Sid recalls finding her unconscious at the back door.
Sid called 999 and the Northern Ireland Ambulance Service paramedic crew arrived by road.
It was soon confirmed to Sid that the Helicopter Emergency Medical Service (HEMS) team were also on their way.
Air Ambulance Northern Ireland (AANI) is the local charity that provides the Helicopter Emergency Medical Service (HEMS) for Northern Ireland, together its partners at the Northern Ireland Ambulance Service.
The service brings urgent medical assistance to anywhere in the province, operating seven days a week for 12 hours per day.
Binky's injuries were so severe that the HEMS team placed her in a medically induced coma before onward transfer to the Royal Victoria Hospital, Belfast.
This intervention is one of the benefits that HEMS brings to the scene and is normally only provided in hospital.
The road to recovery has been long for Binky and is ongoing.
She underwent brain surgery in the Royal Victoria Hospital and has had stays in both Musgrave Park Hospital and Lurgan Hospital.
Binky has lost her memory of a couple of months prior to the accident and a couple of months afterwards.
Covid-19 has also impacted on Binky's access to physical physio sessions, but she has taken on a home physio to continue with her recovery.
Binky said: "My consultant told me I would have been unlikely to survive without the intervention of the HEMS team from Air Ambulance NI.
"So of course, I wanted to thank them, and it was lovely to speak with some of the HEMS team when I visited the base in Lisburn recently.
"I've had some big adjustments to make in my life, and had to close the boarding kennels, but I have come a long way in my recovery and am determined to do more."
Glenn O'Rorke, Operational Lead for the HEMS said: "Binky's accident was a fall from a standing and goes to show how a simple accident can have serious traumatic consequences.
"Unfortunately, incidents resulting in injuries like this are not uncommon and our service responds to these on a daily basis."
Binky added: "I'm passionate about Air Ambulance and tell everybody about them. When it was my birthday recently, I asked for donations instead of presents and when my son got married, he organised Air Ambulance NI pin badges as favours."
Not stopping there, Binky now plans to climb Slieve Donard to support the charity.
Kerry Anderson, Head of Fundraising for Air Ambulance NI said: "It's always special to meet patients, and Binky's visit was particularly poignant as she and Sid were our first patients back to base following on from the Covid-19 restrictions.
"We wish Binky continued progress with her recovery and thank all the family for their fundraising support.
"It's so inspiring that Binky is taking on the challenge to climb a mountain, and we hope this encourages many of you to have a think about what you might do to support.
"In doing so, you will help save lives, brains and limbs."
Sign Up To Our Newsletter