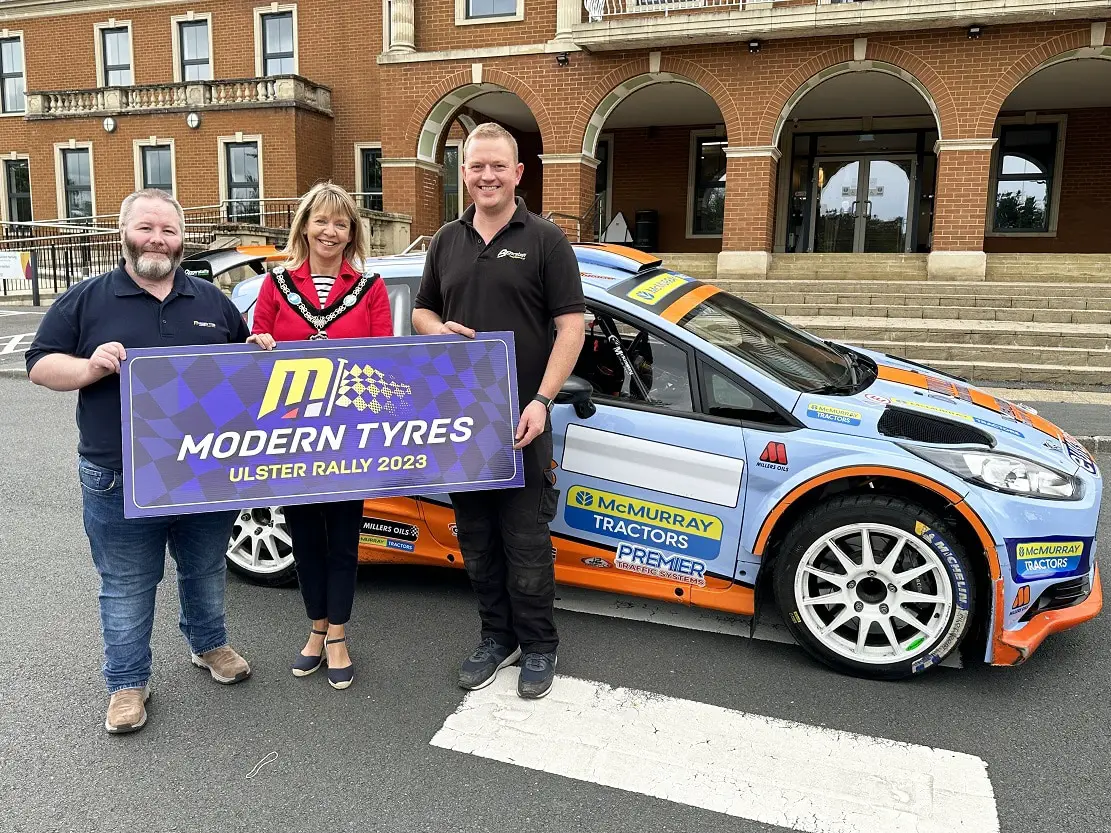 Over 100 rally cars will take to the roads surrounding Banbridge for the internationally recognised Ulster Rally on August 18 and 19.
Organised by the Northern Ireland Motor Club, the rally will welcome the very best drivers from the Motorsport UK British Rally Championship, Irish Tarmac Championship and European Rally Trophy.
Welcoming the event, Lord Mayor of ABC Council, Alderman Margaret Tinsley, said: "We are delighted to support the Northern Ireland Motor Club and welcome the Ulster Rally to Banbridge. We recognise that hosting major international events like the much- loved Ulster Rally, is a fantastic opportunity not only to drive tourism to our borough but to boost our local economy and support local businesses.
"I look forward to welcoming the drivers, teams and many visitors to our borough and with a high number of entries already received it highlights the prestige of the Ulster Rally and the tremendous work of the NI Motor Club team."
The rally is open to spectators for free, all those in attendance are asked to read the Spectator's Guide, which outlines the guidelines for watching and how to get a good view of the race without obstructing drivers or trespassing on private property. It includes a schedule, maps, and details of the rally competitors.
Rally enthusiasts can also avail of a number of special events where you can meet the drivers, get up close to the cars and join in the excitement over the weekend. These events will take place at the following locations:
Friday, August 18, 3pm: Modern Tyres headquarters, Service Park, Carnbane Industrial Estate, Newry.
Friday, August 18, 5pm – 7pm: Civic Building, Banbridge.
Saturday, August 19, 12pm: Armagh City Hotel.
Wayne Turkington, Clerk of the course of the 2023 Modern Tyres Ulster Rally, spoke of the organisers' appreciation for the support provided by the Council through the International Tourism Events Fund.
He said: "Preparations are well underway and going to plan for what should be one of the key highlights of the Northern Ireland motorsport calendar. It is going to be fantastic to have crews from the two main Championships in the UK and Ireland resume their friendly rivalry in Banbridge this August, to see who will come out on top.
"We are very pleased to have a strong entry of top-class competitors because as a motor club we ensure every effort is made to make the Ulster Rally a success, ultimately it is the crews and the fantastic supports that make it a spectacle."
On Tuesday August 15, a free Ulster Rally Spectators Guide will be available to download on the Ulster Rally website.
The Ulster Rally website and Facebook page will also provide a link to access video streaming of the event, which will run throughout both days with live coverage, results, and commentary.
Sign Up To Our Newsletter