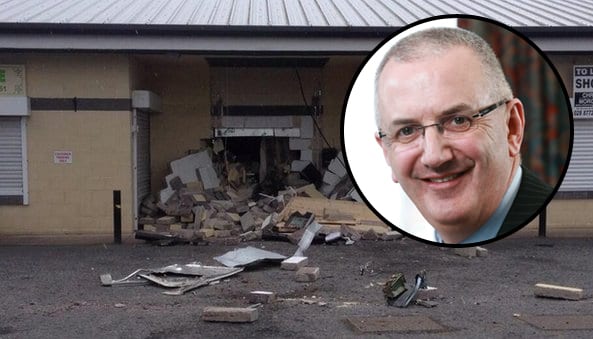 Courts need to adopt a policy of imposing sentences that act as both a punishment and deterrent.
The assertion was made by Newry and Armagh MLA Ulster Unionist Danny Kennedy during a sitting of the Justice Committee this week.
During the course of a wide-ranging debate, Mr Kennedy raised concerns over various types of criminal activities in border areas of the constituency.
He said legitimate businesses were feeling the pressure of those involved in criminal activities.
Mr Kennedy also made reference to the theft last month of an ATM from Gregory's filling station in Bessbrook, and warned that the future viability of these cash facilities in rural locations could be put in jeopardy due to rising insurance premiums.
His comments came during a debate in the Assembly giving consideration to a Business Crime report produced after a stakeholder event back in May.
Mr Kennedy said with Newry and Armagh, there were a number of challenges faced by legitimate businesses as "they seek to operate in an environment where they face competition from those who operate outside the law".
He told the Assembly: "I am talking mainly about the high incidence of fuel fraud, which, unfortunately, takes place almost on an industrial scale in the border area, but I also have concerns about the spate of ATM thefts and, indeed, rural crime, generally."
The local MLA said he had sympathy with the PSNI in that their numbers are often stretched, and they often find it very difficult to acquire the evidence that is required to secure prosecutions and convictions.
He continued: "However, Retailers Against Crime highlighted that the under-reporting of crime was an issue due to a lack of confidence and a perception that retail crime was not treated as seriously as other types of crime. The FSB (Federation of Small Businesses) contended that the under-reporting of crime was particularly evident in relation to rural crime.
"I also note with interest that Retailers Against Crime raised concerns that those convicted of retail crimes received inadequate penalties, which served as no deterrent. That is a theme that I have more than a degree of sympathy with.
"It is absolutely imperative that the courts adopt a policy that involves sentences that act as a punishment and a deterrent. That is the case with regard to fuel fraud, particularly. The cost of fuel fraud to society is already well known. It lines the pockets of criminal gangs, puts legitimate traders out of business, endangers public health through pollution of waterways, affects the local environment and defrauds the public purse of money that could be spent on hospitals, schools and roads. I welcome the addition of the National Crime Agency to those forces ranged against this serious and organised crime.
"I am confident that they will prove a great support to the police and HMRC as they bid to combat the organised crime gangs who make millions of pounds from this illegal trade."
Mr Kennedy highlighted the reports by the FSB that organised crime groups operating across Northern Ireland and the Republic had been involved in crimes such as cash-in-transit robberies, ATM robberies and rural crime, including the theft of machinery, metal and livestock.
He added: "Just over four weeks ago, there was a case in my constituency involving an ATM at a petrol station between Bessbrook and Camlough. It was the second such attack in six years on a well-respected family-run business. As the FSB highlighted, that puts up insurance premiums for businesses and can risk the future viability of ATMs in some rural locations."
Mr Kennedy said all MLAs who represented rural constituencies would have first hand experiences of rural crimes, particularly theft from farms, a significant number of which take place in border areas.
"As with fuel fraud, it is clear that a major part of this involves criminal enterprises operating on a cross-border basis," he continued.
I welcome the good work that is already ongoing between the PSNI and the gardaí. Clearly the presence of more officers on the ground would be helpful. The enhanced role of the National Crime Agency also offers hope that life will be made more difficult for those criminal gangs that seek to make their living at the expense of the decent law-abiding majority.
"I am pleased to note that the police have engaged positively. I look forward to continuing dialogue between business, the police and the Assembly as we all seek to reduce business crime."
Read more news:
Tributes paid to 'beautiful' county Armagh doctor who lost battle with cancer
Watch: Firefighters in dramatic rescue as five trapped in Moy Road flood waters
County Armagh home targeted in 'disgraceful' petrol bomb attack
Brave police officer rescues distressed man from River Bann
Man (70) believed to have been swept away by flood waters
County Armagh boy (11) planning Transplant Games fundraiser
Three in custody after goods stolen in Portadown recovered in Rostrevor
Sign Up To Our Newsletter