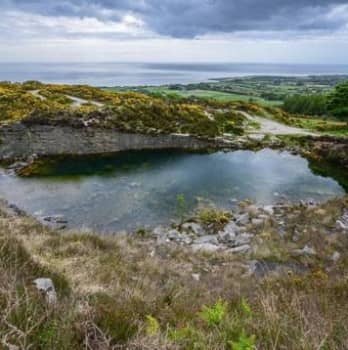 The good work carried out in Armagh in highlighting the dangers of disused quarries is to be rolled out to other areas across the Province.
Environment Minister Mark H Durkan has personally written to Armagh City and District Council thanking it for its work on undertaking a risk assessment exercise in relation to disused quarries within its boundary and in identifying those which posed the highest risk to public safety as a result of unauthorised access.
The Minister has encouraged the council to continue to regularly monitor those quarries which posed the highest risk and to take action, where appropriate, and within its remit to mitigate the risks identified.
Minister Durkan has also informed Armagh Council that, having considered a range of options on how to deal with the issue of high risk quarries, he now believes the best way forward was to promote awareness through a targeted educational campaign, which would be focused on delivering awareness to schools and community organisations in the vicinity of the highest risk quarries identified by councils across the Province.
The Minister has commended the "good work undertaken" in that respect in Armagh by the Quarry Products Association NI (QPANI), the Armagh Policing and Community Safety Partnership and Armagh City and District Council.
And he has therefore asked QPANI, which has already developed a range of educational material on the issue, to consider how it might work with other Policing and Community Safety Partnerships in other district council areas to give prominence to the issue of quarry safety.
SDLP Cllr Gerald Mallon said it was "good to see Armagh being used as a benchmark for other areas".
Last year Armagh Council issued a coloured dye to five of its most "concerning" quarries in a bid to stop people from swimming in them.
Quarry owners had been offered the black dye as concerns mounted following the deaths of four people in just two months in rivers and a disused quarry across Northern Ireland.
"In the last year, Armagh City and District Council's environmental health department carried out a desk top survey of over 180 quarries in the district," a spokeswoman said at the time.
"While none of the disused quarries met the legal definition of 'being a public health nuisance', officers did have concerns about five of these. The owners of these five have been contacted and offered signage and dye.
"Environmental health (officers) have also been liaising and exchanging information with the local PSNI."

Read more news:
Increase car parking charges set to be introduced at Craigavon and Daisy Hill hospital
Closure of Armagh's Minor Injuries Unit 'will save no more than £50,000′
Two arrested on suspicion of burglary after £80,000 jewellery theft
'Deplorable' graffiti attack on house and business
Rug House Newry invests £350,000 to create Ireland's largest
Recruitment process for board of new Education Authority announced
Over 300 fixed penalties issued during four week road safety operation
House ransacked in Armagh and car stolen in Benburb
Newsletter
Sign up for our weekly newsletter here.