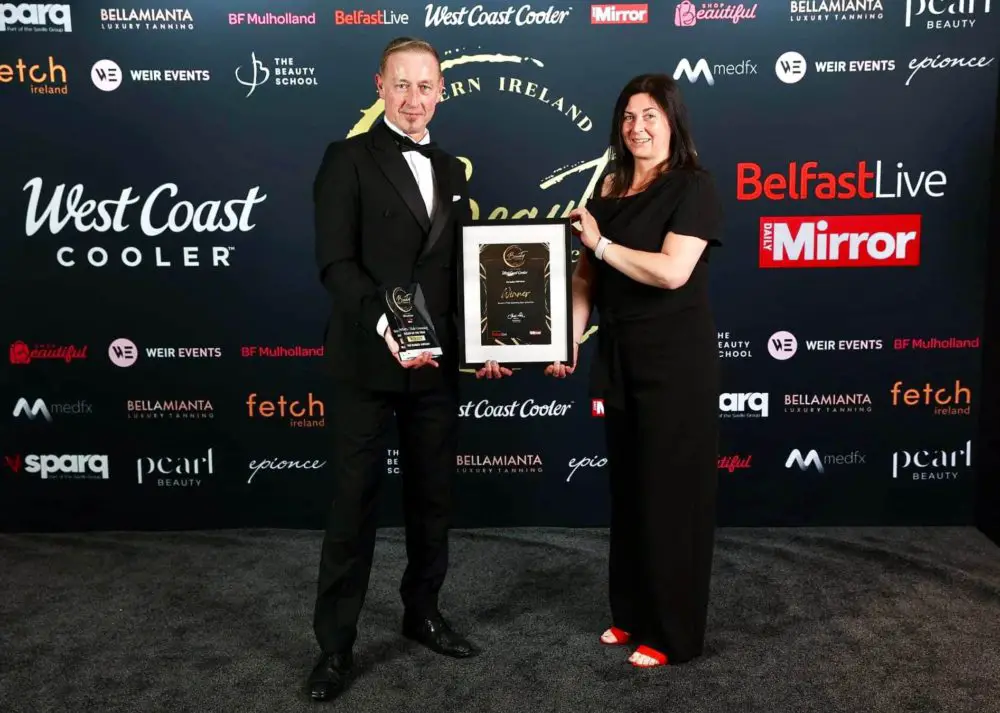 Two County Armagh businesses scooped top gongs at the Northern Ireland Beauty Excellence Awards on Sunday night.
Nearly 600 people attended the glitzy event – hosted by Pamela Ballantine – at the Crowne Plaza in Belfast.
The Barber, Armagh run by Mark McSherry picked up the Male Grooming Salon of the Year title while Rouge Beauty & Skincare Clinic in Camlough took home the Beauty & Skincare Salon of the Year award.
Also on the night, Dr Emma Clinics, won the Excellence in Marketing award.
Mark McSherry, speaking to Armagh I, said "absolutely delighted" especially after being highly commended in 2019 – this time he's gone one better.
"The effort from choosing and sending in the right pictures, or videos, right through to what and how your social media performs, the winter nights thinking what to write in response to the questions asked, it really has been worth it.
"Obviously, they emphasised a lot of the award from Covid right through to presently, which made me think The Barber had a chance, having played by the rules, built up my business successfully again, from carrying out charity work. To me, it's the way you're brought up and I'm always saying 'ye give, ye get good."
Mark said he had a "a good feeling" as he celebrates 21 years open at the Shambles; having also just been made a Grand Master Barber.
"Yes, something was telling me more good was ahead."
Mark added: "I also found a voicemail on my phone the day before the awards, from my best friend Joanne, who passed away recently. After I had listened to it, and being a great believer in angels, I just knew she had my back and she surely was there with me."
The avid Manchester United fan says he making up for the disappointment of being loyal to a team struggling on all fronts presently, made worse by Liverpool's dominance and quest for an unprecedented quadruple.
"We too have our own quadruple, with three more finals to go, including a trip to London to represent Ireland in The Salon business magazine awards, The Northern Ireland Hair and Beauty in three categories in a couple of weeks, and trying to retain both titles in the British Hair and Beauty Awards in July.
"For now, I'm still on a high. I just feel lucky to be alive doing what I love, having great clients ,and having Marisa and Sarah behind me most days to make my life, work and days all the brighter. As I always say, you're a winner everyday you're fit to get out of bed."
Judging, Paul Stafford – who is also an award-winning hair stylist – said: "What an inspirational night. We have some of the most dynamic and innovative hair, beauty and aesthetic businesses right across Northern Ireland, and it was a pleasure to be in the room with them all and feel the buzz of passion for our industry.
"We received more than double the amount of entries from our inaugural event in 2019, which just goes to show how determined these businesses are in bringing new and exciting products and services to Northern Ireland, training up the next generation of stylists and clinicians, and providing valued and professional services in Northern Ireland. Congratulations to all our finalists, highly commended and winning businesses."
Here is a list of all winners along with those highly commended:
Outstanding Contribution to the Industry
Alyson Hogg MBE, Vita Liberata
Day Spa / Boutique Spa of the Year
Winner: Radiance Beauty and Day Spa
Product of the Year
Highly Commended: BTY 501 Foundation Brush
Winner: bBold Super Serum
Barbers / Male Grooming Salon of the Year
Winner: the barber ARMAGH
Hair / Beauty Training Provider of the Year
Winner: Young Nails Academy
Nail Salon of the Year
Highly Commended: The Nail and Beauty Shack, Ballymoney
Winner: Vanity Throne Nails
Makeup Studio of the Year
Highly Commended: Clare McKinney Makeup & Beauty
Winner: Natasha O'Hare Make Up

Semi or Permanent Makeup Specialist of the Year
Winner: Donna Dorothy Permanent Makeup
Hair Loss Specialist of the Year
Winner: Enhanced Hair Studio
Hair / Beauty Retailer or Supplier of the Year
Winner: BTY Cosmetics NI
Hair Extension Specialist of the Year
Highly Commended: La Bella Vita
Winner: Hair by Ciaran
Beauty & Skincare Salon to Watch
Highly Commended: Jade Holistics & Skincare
Winner: Fabulous Beauty Studio
Beauty & Skincare Salon of the Year
Highly Commended: Aspire Face and Body Clinic
Winner: Rouge Beauty & Skincare Clinic
Aesthetics Clinic to Watch
Highly Commended: Berkeley Aesthetics
Winner: B. Aesthetics by Dr Bonny
Aesthetics Clinic of the Year
Winner: Beyond Skin Clinic
Hair Salon to Watch
Winner: Boho and Sass
Hair Salon of the Year
Highly Commended: Bridgeen King Hair Salon
Winner: Jax Hair and Beauty Salon
Excellence in Marketing
Winner: Dr Emma Clinics
Cosmetic Dental Practice of the Year
Winner: Gentle Dental & Implant Clinic
Innovation of the Year
Highly Commended: Elite Aesthetic Clinic
Winner: Paste Dental
Specialist Salon of the Year
Highly Commended: The Brow Artisan
Winner: Brows & Co
Specialist Clinic of the Year
Winner: Belfast Skin Clinic
Sign Up To Our Newsletter