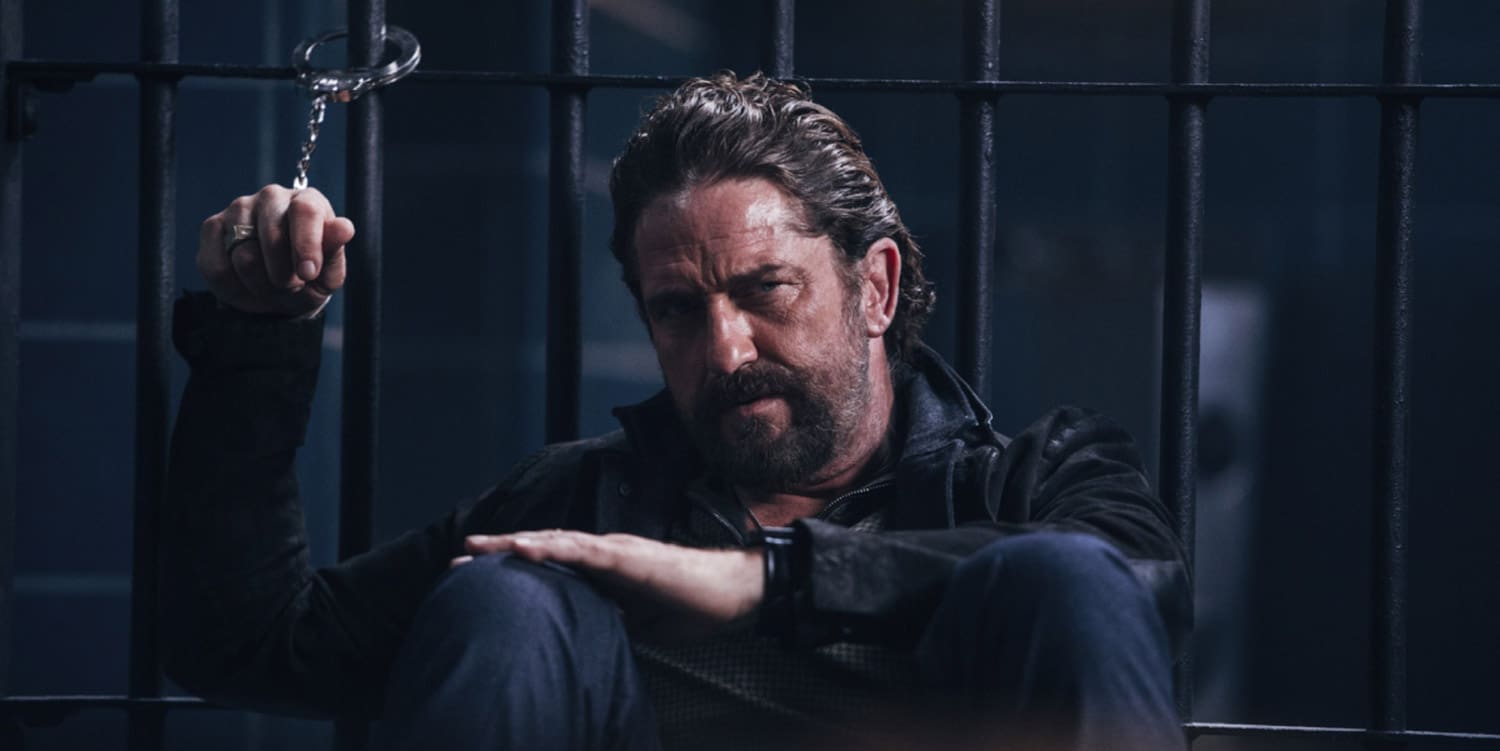 Fancy a long overdue night at the cinema?
Of course you do! And you can have the tickets on us, courtesy of our friends at Armagh Omniplex. The tickets can be used at any Omniplex of your choosing.
All you need to do is comment in the comments section at the bottom of this article. Winner will be replied to and emailed the tickets next week. Congratulations to Michael Kiernan who was last week's tickets winner.
Here's what's on this week..
Copshop
This week sees the return of Gerard Butler to the big screen in the new release Copshop.
The plot begins with on-the-run con man Teddy Murretto (Frank Grillo, reteaming with Carnahan after Boss Level) getting himself deliberately arrested by punching out rookie cop Valerie Young (Alexis Louder). He's intending to avoid hired killer Bob Viddick (Gerard Butler), but the assassin pulls a similar trick and soon the pair are facing each other from opposing cells.
Without giving too much away, chaos breaks out at the police station, a situation compounded by the fact that one of Valerie's colleagues is hiding a dark secret.
Description
A small town police station becomes the unlikely battleground between a professional hitman, a smart female rookie cop and a double crossing conman who seeks refuge behind bars with no place left to run.
Starring
Frank Grillo, Gerard Butler, Toby Huss
Director
Joe Carnahan
Genres
Action, Thriller
Times: Daily at 6.30pm and 8.50pm.
---
Malignant
Description
Madison is paralyzed by shocking visions of grisly murders, and her torment worsens as she discovers that these waking dreams are in fact terrifying realities.
Starring
Annabelle Wallis, Maddie Hasson, George Young
Director
James Wan
Genres
Drama, Horror
Times: Daily at 6pm and 9pm
---
Shang Chi And The Legend of the Ten Rings:
Description
Shang-Chi, the master of unarmed weaponry based Kung Fu, is forced to confront his past after being drawn into the Ten Rings organization.
Starring
Simu Liu, Awkwafina, Fala Chen
Director
Destin Daniel Cretton
Genres
Action, Adventure, Fantasy
Times: Daily at 5pm and 8pm and Extra showings on Saturday and Sunday at 2pm, 4pm and 7pm- special subtitled screening on Monday at 5pm.
---
Free Guy:

Description
In Twentieth Century Studios epic adventure-comedy "Free Guy," a bank teller who discovers he is actually a background player in an open-world video game, decides to become the hero of his own story…one he rewrites himself. Now in a world where there are no limits, he is determined to be the guy who saves his world his way…before it is too late. Starring Ryan Reynolds, Jodie Comer, Joe Keery, Lil Rel Howery, Utkarsh Ambudkar and Taika Waititi. Directed by Shawn Levy from a story by Matt Lieberman and a screenplay by Lieberman and Zak Penn. Produced by Ryan Reynolds, Shawn Levy, Greg Berlanti, Sarah Schechter and Adam Kolbrenner with Mary McLaglen, Josh McLaglen, George Dewey, Dan Levine and Michael Riley McGrath serving as executive producers.
Starring
Ryan Reynolds, Jodie Comer, Taika Waititi
Director
Shawn Levy
Genres
Action, Adventure, Comedy
Times: Saturday and Sunday at 3.05pm
---
Jungle Cruise:
Description
Join fan favorites Dwayne Johnson and Emily Blunt for the adventure of a lifetime on Disney's Jungle Cruise, a rollicking thrill-ride down the Amazon with wisecracking skipper Frank Wolff and intrepid researcher Dr. Lily Houghton. Lily travels from London, England to the Amazon jungle and enlists Frank's questionable services to guide her downriver on La Quila—his ramshackle-but-charming boat. Lily is determined to uncover an ancient tree with unparalleled healing abilities—possessing the power to change the future of medicine. Thrust on this epic quest together, the unlikely duo encounters innumerable dangers and supernatural forces, all lurking in the deceptive beauty of the lush rainforest. But as the secrets of the lost tree unfold, the stakes reach even higher for Lily and Frank and their fate—and mankind's—hangs in the balance.
Starring
Emily Blunt, Dwayne Johnson, Jesse Plemons
Director
Jaume Collet-Serra
Genres
Adventure, Family, Fantasy
Times: Saturday and Sunday special sensory and subtitled screening at 1.00pm
---
Space Jam: A New Legacy:

Description
NBA superstar LeBron James teams up with Bugs Bunny and the rest of the Looney Tunes for this long-awaited sequel.
Starring
Sonequa Martin-Green, Don Cheadle, Xosha Roquemore
Director
Malcolm D. Lee
Genres
Adventure, Animation, Comedy
Times: Saturday and Sunday at 12.10pm
---
Paw Patrol: The Movie:
Description
Ryder and the pups are called to Adventure City to stop Mayor Humdinger from turning the bustling metropolis into a state of chaos.
Starring
Dax Shepard, Iain Armitage, Randall Park
Director
Cal Brunker
Genres
Adventure, Animation, Comedy
Times: Saturday and Sunday at 12.05pm and 4pm
---
The Croods: A New Age:
Description
In 2013, the world was introduced to the first family of the prehistoric era, The Croods. The Academy Award®-nominated comedy about a clan dealing with their changing world captivated global audiences, reminding us of the timeless importance of family…and just how little we've evolved. In 2021, DreamWorks Animation invites you on an all-new adventure back in time with THE CROODS 2. Returning stars Nicolas Cage, Emma Stone, Ryan Reynolds, Catherine Keener, Cloris Leachman and Clark Duke welcome Leslie Mann and Peter Dinklage to the film's cast as The Croods face their biggest threat since leaving the cave: another family. The film is directed by Joel Crawford and produced by Mark Swift.
Starring
Nicolas Cage, Ryan Reynolds, Emma Stone
Director
Joel Crawford
Genres
Animation
Times: Saturday and Sunday at 1.55pm
---
Sign Up To Our Newsletter