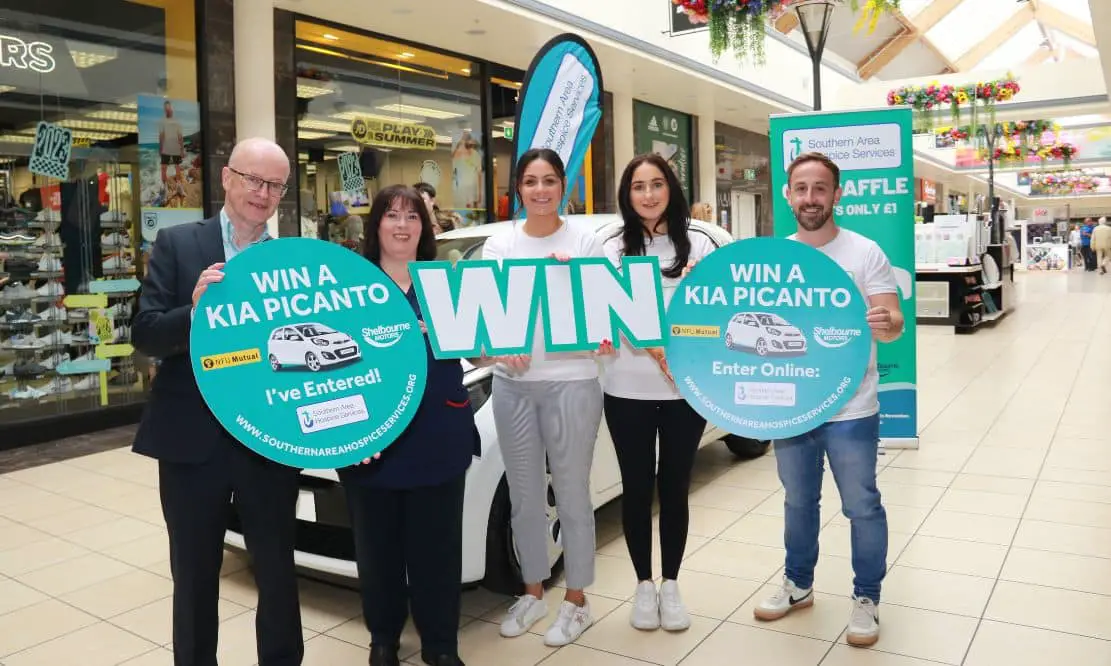 Southern Area Hospice Services are delighted to launch their 2023 Annual Car Draw with their 'Win a Kia Picanto' raffle which is kindly supported by NFU Mutual and Shelbourne Motors!
This raffle will give people the chance to win a brand-new Kia Picanto with one year's free insurance for just £1 – all whilst raising vital funds for Southern Area Hospice Services.
Southern Area Hospice will once again sell tickets in the Buttercrane Shopping Centre Newry and the Oaks Shopping Centre Dungannon and other local venues. They are hoping that the public will continue to support this campaign and get their entries in for the chance to win this beautiful car, and at the same time help support their local Hospice.
Ruth Atkins of NFU Mutual and Dwyane Harbinson from Shelbourne Motors joined Orlagh Loftus of Southern Area Hospice and Peter Murray of Buttercrane Shopping Centre in Newry to launch the fundraiser.
Speaking at the launch, Orlagh Loftus, Clinical Sister at Southern Area Hospice thanked the companies for their support. She said: "On behalf of Southern Area Hospice Services, I would like to extend our sincere thanks to the team at NFU Mutual & Shelbourne Motors for their support of our car raffle.
"The annual car raffle is one of our most prominent fundraising campaigns, and it is only made possible through the invaluable support of local businesses like NFU Mutual & Shelbourne Motors. Their generous contribution allows us to allocate all ticket sales directly to Hospice care, making a real difference in the lives of our patients and their families. I would encourage everyone to get their entry in, as not only will you be supporting the Hospice, but you might be the lucky new owner of this fabulous Kia Picanto in November."
Chris Donaldson, Senior Partner at NFU Mutual Armagh and Markethill Agency, said: "We're extremely proud to have nominated the Southern Area Hospice for this donation and are delighted to be able to support the vital contribution they make to our community. NFU Mutual's Agency Giving Fund was first created in 2020 in response to the pandemic, and this ongoing support is helping to change lives, providing both emergency support and building long-term resilience."
Dwyane Harbinson from Shelbourne Motors said: "At Shelbourne Motors we are delighted to be yet again supporting the Southern Area Hospice Services 'Win a car' campaign. This year a lucky winner could drive away in a stylish new Kia Picanto which is both spacious and compact, big on practicality and safety, and comes with the standard Kia 7-year of warranty.
"We look forward to inviting the lucky winner to our Armagh Road dealership later this year and handing them the keys to their brand-new Kia. We'd like to wish everyone the best of luck and encourage support for this campaign which helps raise vital funds for the Hospice."
To purchase your ticket simply visit participating venues, visit the website here or call the Hospice on 028 302 67711 (Monday – Sunday 9am – 8pm) to enter the raffle over the phone. Tickets are only £1 each and all proceeds are in aid of Southern Area Hospice Services.
Closing date for online entries is Wednesday November 1, 2023 at 9pm. The draw will take place on Saturday November 4, 2023 at 5pm at Buttercrane Shopping Centre.
Southern Area Hospice would also appreciate help with selling tickets, so if you feel you can volunteer for an hour or two – please contact Rosie on 02830267711 or chat with James or Sarah from the Fundraising department. If any local businesses would like to host ticket sales, please also get in touch.
Sign Up To Our Newsletter