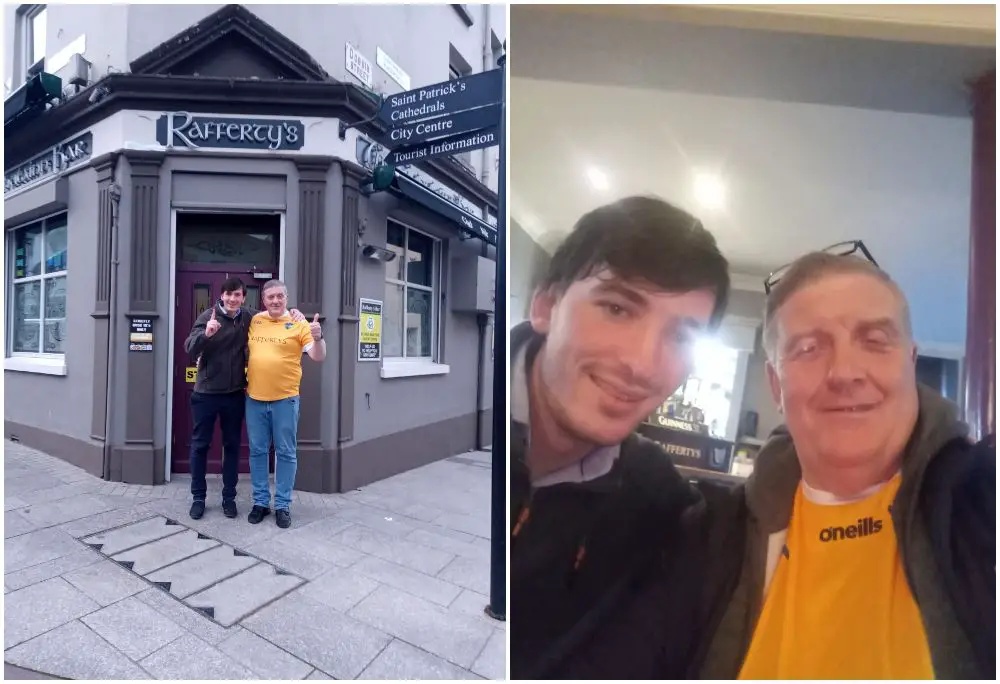 It turns out that Crossmaglen wasn't the final stop for Kilkenny man Luke O'Connor, whose 130-mile walk to get a pint saw him trending on social media.
Rather than going home as planned, the 25-year-old decided to continue on foot to Armagh city yesterday (Tuesday) before ending up in Rafferty's bar on Thomas Street.
And he chose a good night for it, because not only were some of the regulars in for a pint, but so were members of  Cúchulainn Hurling Club team – sponsored by the bar – who had just played a Junior B final.
"We had a great night's craic," said Berny Rafferty, Armagh's longest serving publican. "He's a barman himself and a nice fella. He stayed here for four or five hours and was talking to everyone and got photographs taken .
"He put a post up saying: 'This is my type of bar and my type of people'. He enjoyed it and he was a good laugh.
"Luke said he wanted to see the city because he hadn't been in the north before. He was walking around looking for a pub and he spotted mine. He got himself booked in to Armagh City Hotel for the night and some of the hurlers walked him over at the end of the night.
"He walked here from Crossmaglen. He had blisters on his feet, the poor lad, but he never complained or anything."
Added Berny: "His family owns a few bars and he's used to talking to people. I got on with him like a house on fire. I could have talked to him all evening.
"The walk was a fun thing but there was a serious side to it too for him. It was more or less a protest walk that the north's hospitality was opening up and they can't do anything in the south.
"I offered to give him a tour of Armagh city and he was keen, but said he would probably need to get home.
"I was going to bring him to the  Navan Fort, the cathedrals, the planetarium and the gaol, and had contacted Donna Fox about a tour. It was about promoting Armagh too.
"It's a brilliant town but we seem to be forgotten sometimes. At Navan Fort, we have the oldest ancient Celtic site in Ireland but it is Newgrange, the second oldest, that gets a million and a half visitors every year on average."
On Monday, Luke told Armagh I  that he was undertaking the talk to highlight the reopening of the hospitality sector in Northern Ireland.
He said: "The underlying thing is, there is so much hate at the restrictions in Ireland and length of the lockdown. They are going to vote to extend the government's emergency powers on June 9.
"They protest everywhere else but not here in Ireland. I come from a family of publicans. I mean, that is 40-grand going down the drain every month for them."
Sign Up To Our Newsletter