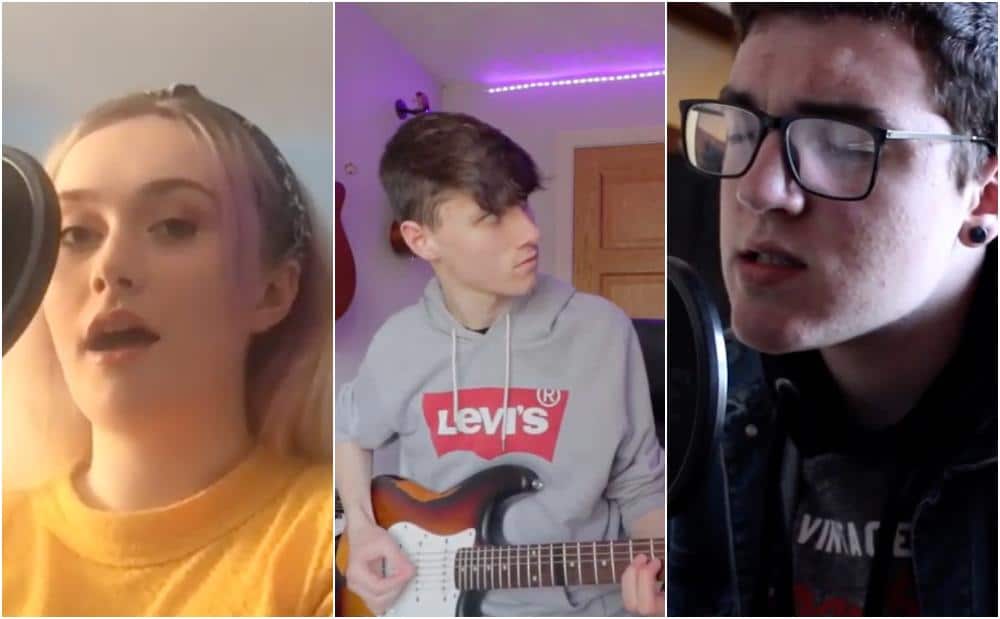 A Co Armagh teenager and two pals have collaborated from their own bedrooms to record a hard-hitting song encouraging people to 'Stay Inside'.
Oisin Clendenning, from Middletown, together with Cathal Carlin and Sarah Devlin, between them wrote, arranged and recorded this song for the times we are living in.
All three are just 17 years of age.
Oisin and Cathal perform together as a band under the name 'Never Yellow' and regularly call each other over Discord to record songs.
The new song – with a video of them simply singing and playing their instruments in their own homes – is a powerful track which tells of a mother dying in hospital and how her life, and thousands of others, could have been saved if people just did as the title urges, 'Stay Inside'.
Oisin attended MD Rafferty Guitar School in Armagh and achieved his Grade 8 in guitar rock and pop for Trinity College.
He met Cathal, from Derry/Londonderry, through the Irish Camping and Caravaning Club in 2012 and both quickly established that they had a common love for music.
They released an album in 2019 entitled 'Redshift' and meet up in their spare time to perform their own music and covers at gigs.
Oisin plays the guitar and also provides lead vocals and is the male vocalist in the Stay Inside video, while Cathal plays drums and piano and he mixes the music.
Both boys met Sarah Devlin, who also hails from the Maiden City, through an Education Authority programme called Camp Rock and they all participate in an EA course, Cadi.
Oisin said they felt compelled to write and record this topical track.
He told Armagh I : "Cathal and I had produced the instrumental and knew that we wanted to talk about a current relevant topic.
"We asked Sarah to feature in the song and she wrote lyrics to the instrumental that we had already made.
"The three of us recorded our individual parts of the composition and sent it to Cathal who mixed it into the song.
"We all felt strongly that this was a message that needed to go out as people are becoming more challenged to stay inside as the weeks of lockdown progress."
Hopefully people will listen to Oisin, Cathal and Sarah and take heed…
The full lyrics to Stay Inside are below:
Mama why can't you come home,
I'm stuck here and I'm all alone,
Mama I'm living in fear,
Cause someday soon you won't be here,
They said stay inside,
They said save a life,
Or else thousands will die,
They said stay inside,
They said save a life,
Or else thousands will die,
If only they stayed inside,
That way they'd have saved her life,
Now there's another child in this world with no mother's hand to hold,
She's lying in a hospital bed,
With wires and tubes wrapped around her head,
Seconds pass her breathing slows,
Her crying children watch through the glass as she goes,
If only they stayed inside,
That way they'd have saved her life,
Now there's another child in this world with no mother's hand to hold,
If only they stayed inside,
That way they'd have saved her life,
Now there's another child in this world with no mother's hand to hold
Sign Up To Our Newsletter