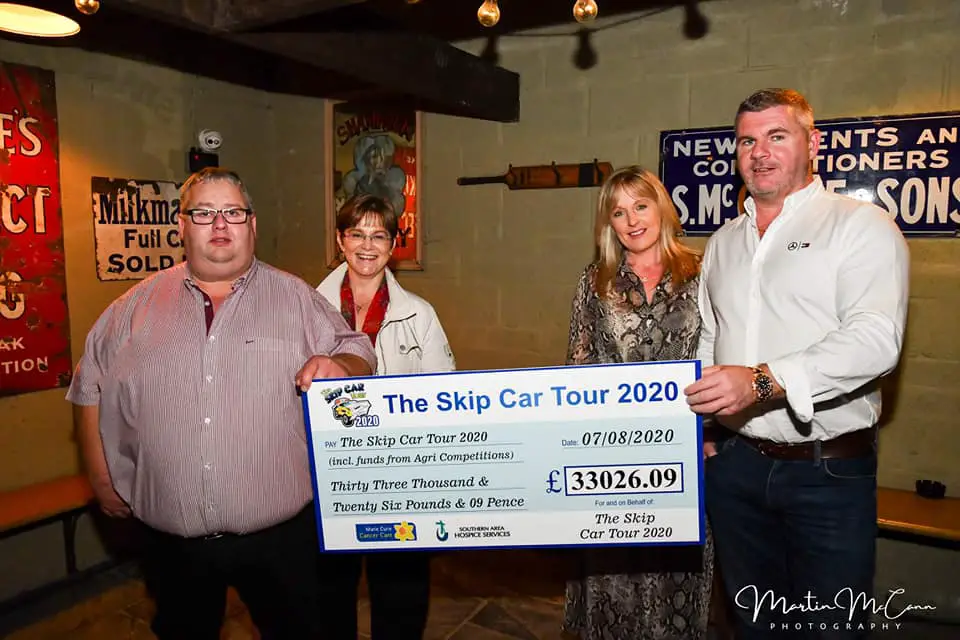 The Skip Car Crew was delighted to present a final total of £33,026.09 to Marie Curie Cancer Care and Southern Area Hospice at the recent presentation evening in Basil Sheils following weeks of fundraising activities throughout May and June.
The tremendous amount was raised in the most unusual of times due to the Covid-19 pandemic and without great support and generosity of the Skip Car Tour's online followers the much needed funds would not have been able to be given to the two worthy charities.
The organisers hosted a successful virtual truck and tractor run along with a kiddies truck run in May, as well as online raffles through Agri Competitions, Model Truck Raffles and Sales and Kathryn Shaw Art in June.
Organisers welcomed fantastic support from thousands of contributors across the world, who sent in video footage of their tractors and trucks which were blended into a montage by Fabian Murphy Video Services.
A virtual concert was then hosted, with entertainers like Paul Kelly, James McGarrity, Joe Moore, Cara McCloskey and Vincy Walmsley all performing via Facebook Live allowing audiences to relax and enjoy some top tunes from the comfort of their own homes.
Speaking at the presentation evening, Sean McArdle of The Skip Car Tour said:  "It has been a remarkable year for The Skip Car Tour, at the beginning of the Covid-19 Pandemic, we feared that we may not be able to run our event and raise funds for two fantastic charities in Marie Curie Cancer Care and the Southern Area Hospice, for the first time in eight years.
"However, The Skip Car Team put our heads together and decided to think outside the box about how we could work around the implications of the lockdown and raise funds for the charities because we knew they needed our support this year more than ever.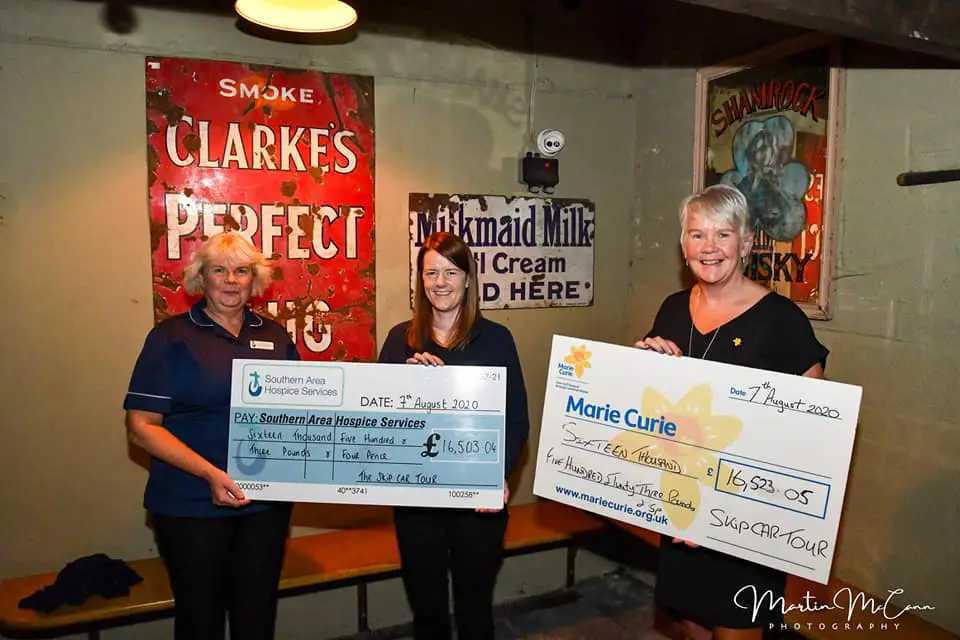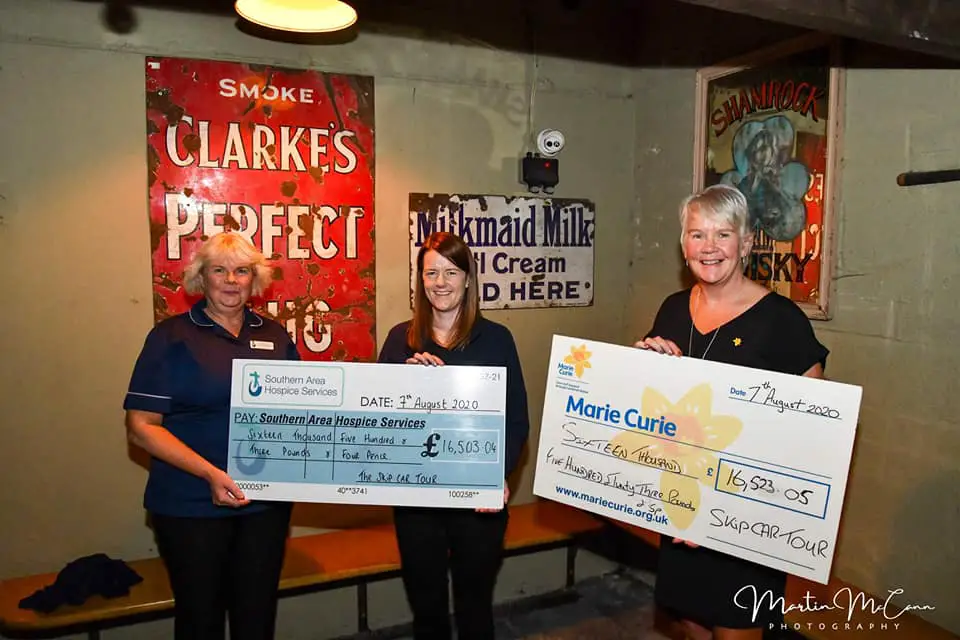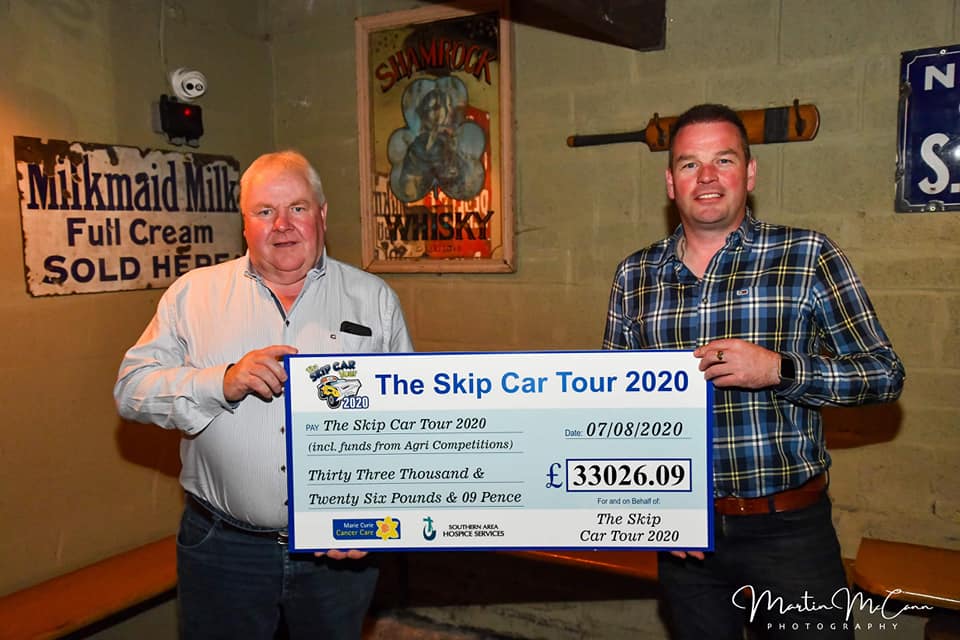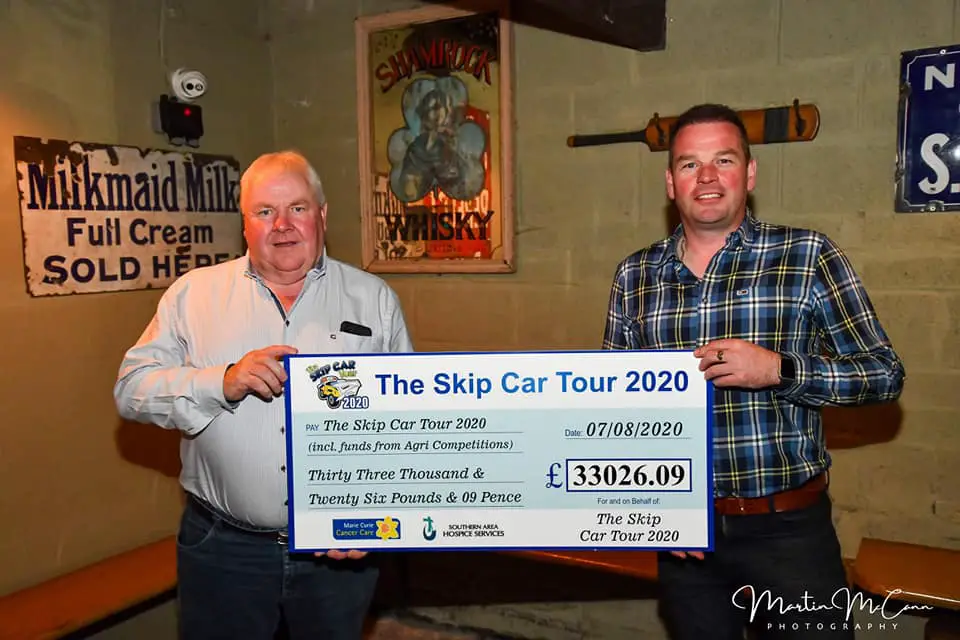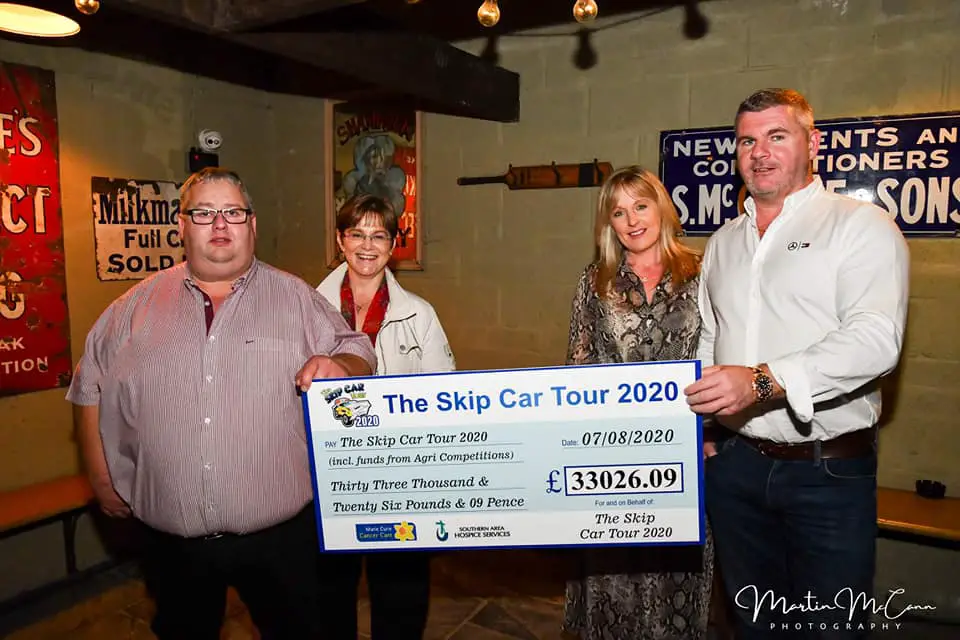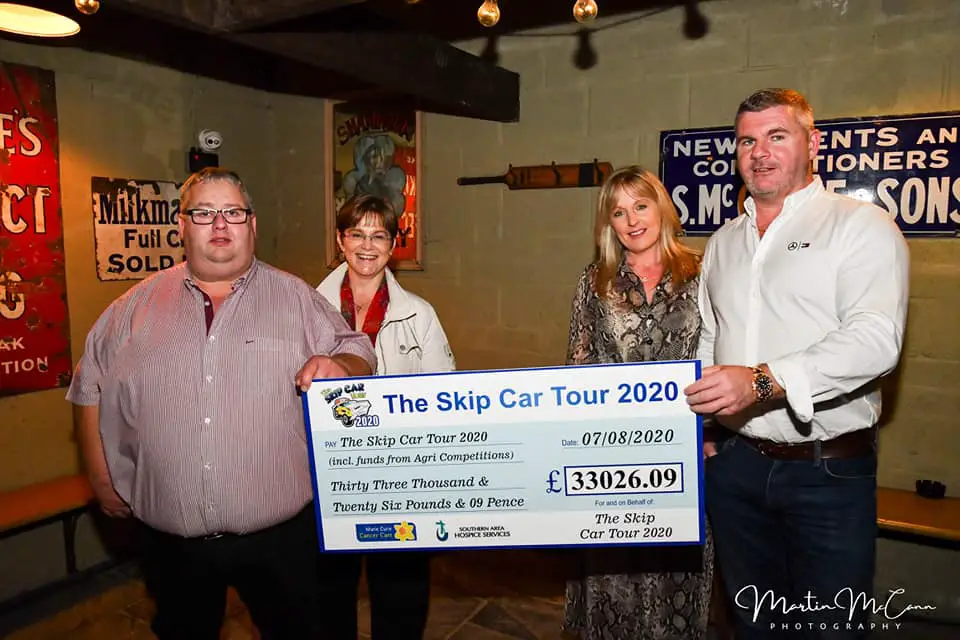 "We weren't sure how successful we would be in our attempts because to our knowledge very few had run a virtual fundraiser similar to this, but this evening we're standing here very proudly with £33,026.29 in donations made by our kind and giving supporters."
He added: "I'd also like to take this opportunity to thank all those that contributed to our virtual events including Martin McCann for his photography services, Fabien Murphy video services, Agri Competitions, Model Truck Raffles and Sales and Kathryn Shaw Art. Our entertainers, Paul Kelly, James McGarrity, Joe Moore, Cara McCloskey and Vincy Walmsley. This year's sponsors McGeown Commercials and our Tractor Run sponsor, S.G Curry Ltd, and to Basil Sheils Bar and Restaurant for hosting this presentation."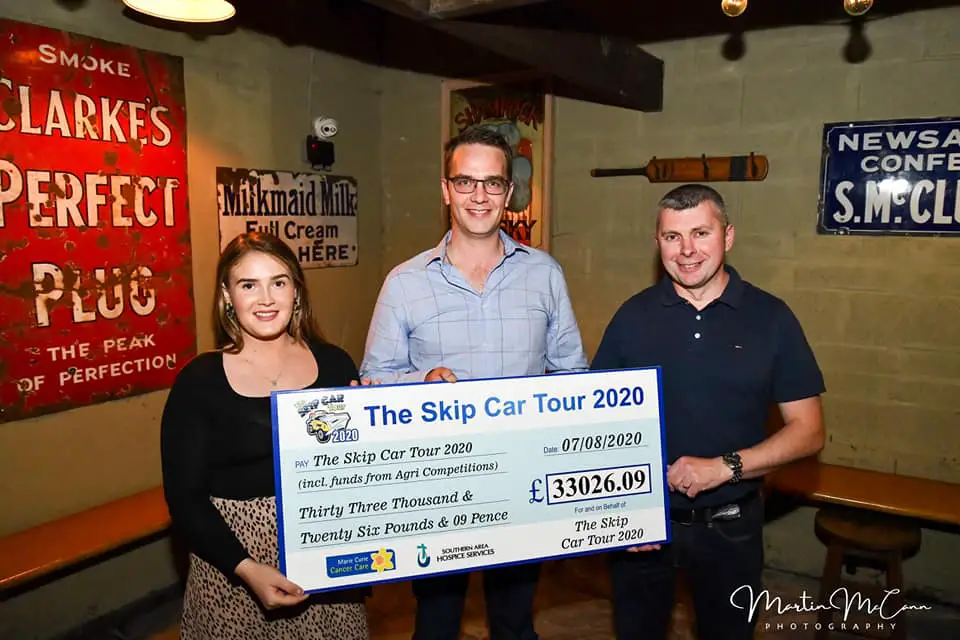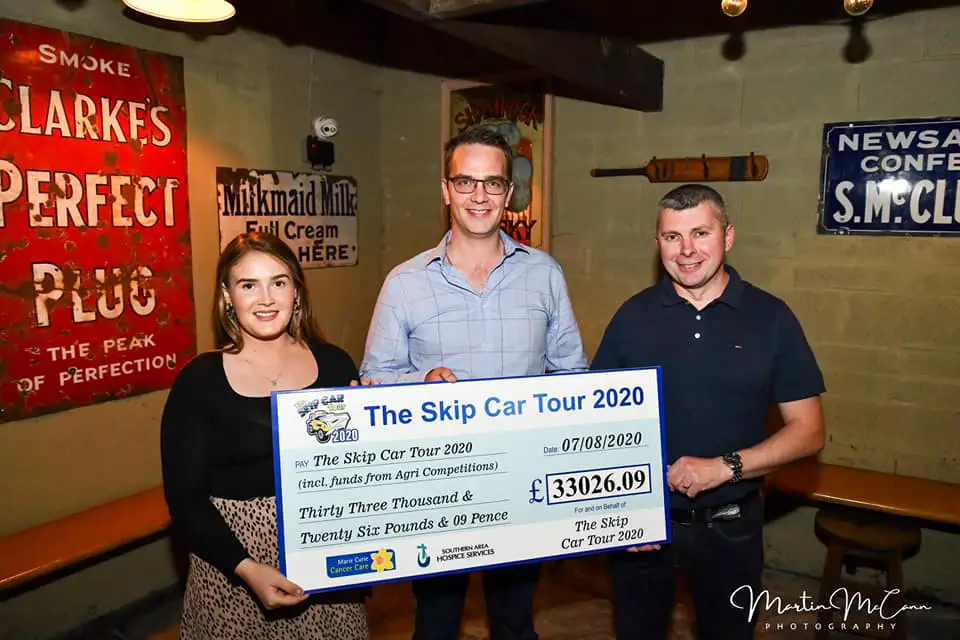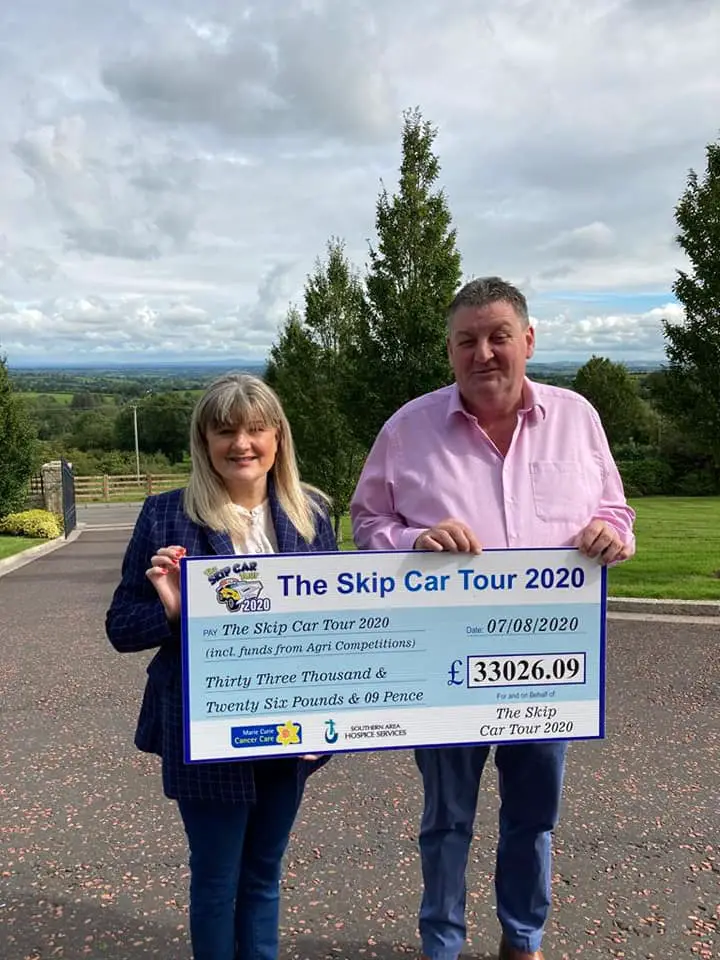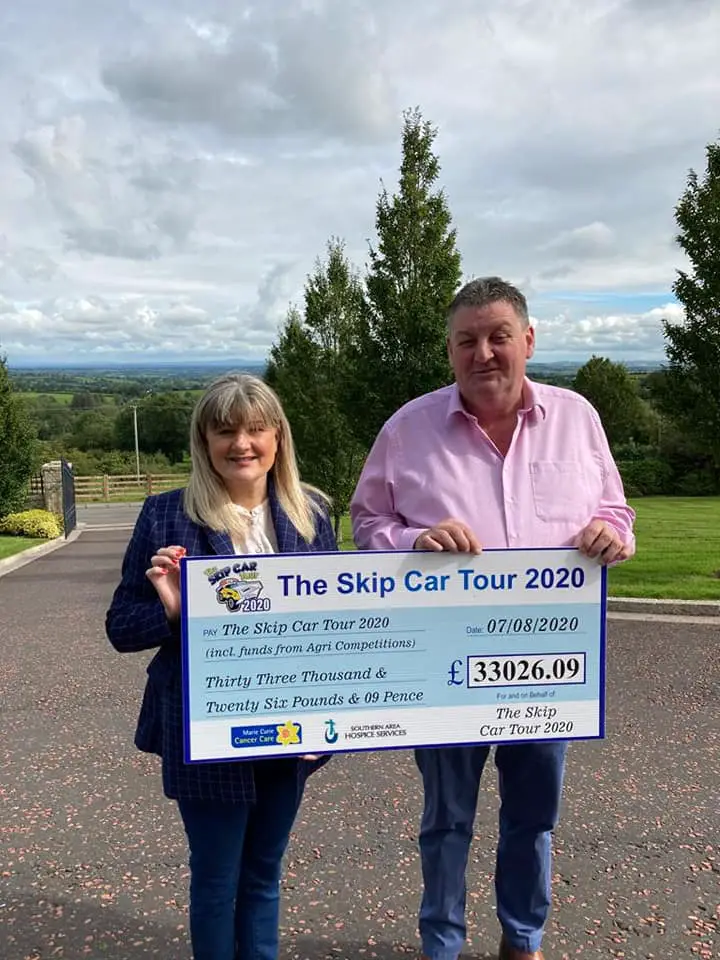 The money raised will go a long way in helping Southern Area Hospice Services to continue their work in the local community, caring for people who are living with Cancer and other life-limiting illnesses, such as Multiple Sclerosis and Motor Neurone Disease, and Marie Curie Cancer Care, who provide care and support for more than 50,000 terminally ill people and their families in the UK each year.
Sign Up To Our Newsletter