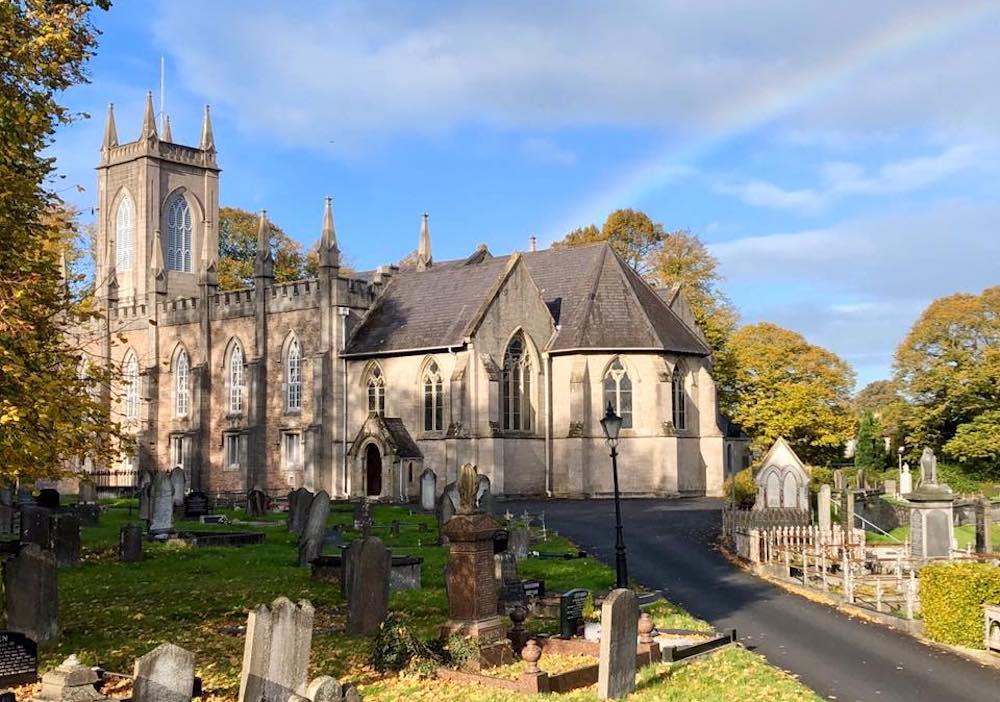 Mourners at the funeral of an Armagh man who died after falling into a river on his way home from his own 50th birthday party heard how he was "fun to be around and evidently adored by his family and close friends".
Victor Teggart, who passed away in the early hours of Sunday, August 8, after falling into the Folly River, was laid to rest following a funeral service in St Mark's Church in Armagh.
The 50-year-old was on his way home from a night of celebration in the Cricket Club on the Mall when tragedy happened.
It was a night Victor relished; albeit a surprise, he had it sussed and was dressed to impress as always.
Reverend Malcolm Kingston told mourners how the lorry driver was "quite a character".
"He had this craze for Minions and his lorry always had Minions on display in his cab," he explained.
"He loved classic cartoon characters and was renown for dressing up as cartoon and film characters for special events, primarily for the enjoyment of his nephews and nieces.
"He had a range of musical tastes ranging from classical music which he listened to in his lorry, to rave music, and personally favourite songs for Victor including 'Crazy Frog' and Bon Jovi's 'Living on a prayer'.
"Victor was fun to be around and evidently adored by his family and close friends.  When he was going to special events, Victor liked to look his best.  Whether in costume, or in conventional attire, presentation mattered to him."
He added: "Victor's last family event was his 50th Birthday party, on Saturday evening.  It was supposed to be a surprise, but Victor was on to them.  Characteristically he was dressed up for the occasion, they really enjoyed their evening together."
"As we can imagine, Victor's loved ones were absolutely devastated to learn of the tragedy that would follow during the same night."
Reverend Kingston told the congregation how Victor's dad, Thomas, worked in the building trade, and his work brought the Teggart family to Manchester when Victor was a small child.
Tragically, Thomas was killed in a traffic accident, so Victor's mum, Anne and her young family moved back to Northern Ireland, first of all to Ballymena and then back to Armagh.
Anne married a local man, Mr John Burgess, and Victor and his family lived at Milford, before moving to the Lisanally, in Armagh, and then on to Ballinahone.
Victor attended three primary schools, Dunclug in Ballymena and then Milford and the Armstrong Primary Schools, before he became a student of what is now the City of Armagh High School.
When Victor was a schoolboy, he had a part time job working in Emerson's Shop, which he continued after school.
After leaving school, whilst still working for Emerson's, Victor also had another job working for Ormo Bakery, helping with deliveries.
Rev. Malcolm revealed that achieving his Duke of Edinburgh Gold Award was "a big highlight for Victor in his younger years".
"It was a very proud day for he and his Mum to meet the late Duke of Edinburgh at the award presentation.
"Outdoor activities were greatly enjoyed by Victor as a young man and indeed he loved being part of the Cadets.  Victor gained the rank of Sergeant in the Cadets and always looked forward to the camps, such as at Ballykinler.
"Victor would have loved to join the Army full time and to train as a mechanic, but Victor was not able to enlist on medical grounds."
Victor went on to become a delivery driver for Thompson Eggs and in time he undertook his lorry driving test, enabling him to drive Heavy Good Vehicles for Zwecker Transport and then Hannon Transport.
His journeys took him away from home for a week at a time.
"On the road was something of Victor's way of life," said Rev Kingston. "He loved his work and he was passionate about cars and motorbikes.
"Victor had quite a collection.  He often said that his cars and bikes were cheaper to keep than a woman!  Cars which he kept, restored, resprayed and generally enhanced, included a Porsche, a BMW and Classic Novas.
"He owned three motorbikes, one of which he only bought last Friday.  Amusingly, one of his motorbikes is what is know as a Monkey Bike, a miniaturised motorbike on which I am told that he was quite a sight!"
As a boy Victor was a member of the Junior Orange Order and in the 1980s and 90s, he played with Drumderg Loyalists Flute Band who recently posted an affectionate tribute to Victor online.
In the post they shared that Victor "… was well liked in the community with an infectious but maverick personality with no filter or back doors. What you seen was what you got with Victor in his laid back approach to life."
Rev Malcolm continued: "Victor's family were of immense importance to him. Victor was deeply chuffed to be best man to his sister, Jenny's groom, Gary, and to be godfather to Jenny and Gary's son, Max. Victor enjoyed a very close relationship with all of the children of his family.
"He was most caring towards his mother, Anne and Grandmother Sadie, especially since John's passing three years ago. In recent times he would cook Sunday lunch for Anne and Sadie, before taking them to the Co. Down coast for an ice cream.
"As a brother, Victor is remembered for his generous spirit, his thoughtful desire to be of help to his family and for the fun that he brought to family occasions."
He added: "Understandably Anne, and all in her family are heartbroken and all of our thoughts and prayers are with them at this terribly difficult time.
"Victor's family would like to extend their sincere thanks to Victor's friends, with whom he shared so much.  You know who you are and the family would like to publicly acknowledge your loss also in Victor's untimely passing.
"Victor's family would like to thank Mr Eric Dunne who helped Victor at the time of his accident and would like to pay tribute to the Emergency Services who did their very best to save him. With thanksgiving we remember Mr Victor Teggart."
Following the service, Victor was laid to rest in Ballynahone Cemetery.
Sign Up To Our Newsletter