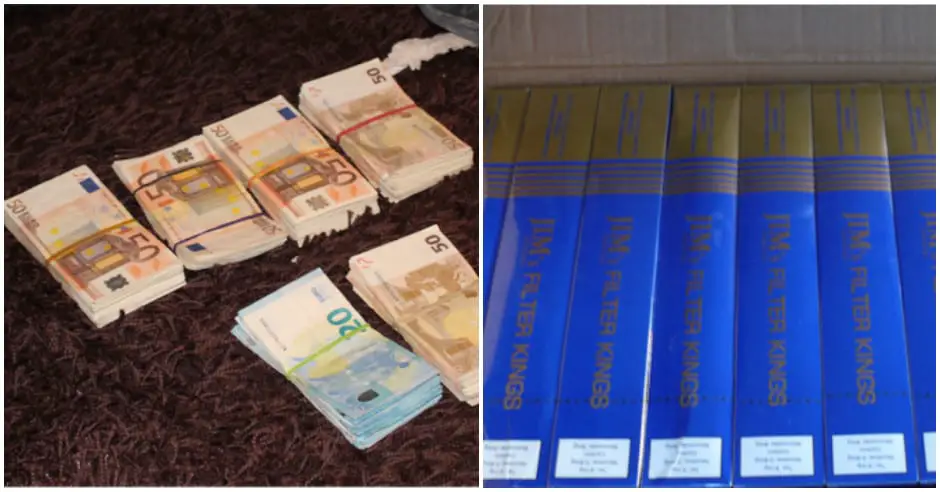 Two County Armagh men have been arrested in the Netherlands as part of an international investigation into suspected money laundering and tobacco smuggling.
The arrests were part of a joint operation by HM Revenue and Customs (HMRC) and Dutch Customs (FIOD) officers on Thursday.
The men are aged 36 and 42 remain in custody.
Meanwhile, a Dutch national was also arrested in the operation.
HMRC officers, supported by the PSNI, searched three residential properties and a commercial premises in County Armagh as part of the operation.
A property in County Tyrone was also searched.
Officers seized 30kgs of tobacco, 50,000 cigarettes, believed to be illicit, and 30,000 euros (£25,100) in the County Armagh raids. Two vans and computers were also seized.
Steve Tracey, from HMRC, said: "Money laundering facilitates organised crime, and it's something HMRC takes very seriously.
"We use a wide range of tough sanctions and will not hesitate to investigate where money laundering is suspected."
Read more news:
Transplant legacy for 'Bambi' as young dad's organs give four strangers gift of life
Co Armagh family in lucky escape after carbon monoxide engulfs home
'He's a fighter' says sister of teenager fighting for his life after crash
Young Armagh man dies in hospital days after dream holiday Down Under
Three men pretending to be collecting for charity in Armagh arrested
Unexploded pipe bomb found outside Armagh house
Council again says 'no' to £1.8 million housing plan on Armagh playing fields
Church hold prayerful vigil for Sam after serious road traffic collision
Sign Up To Our Newsletter