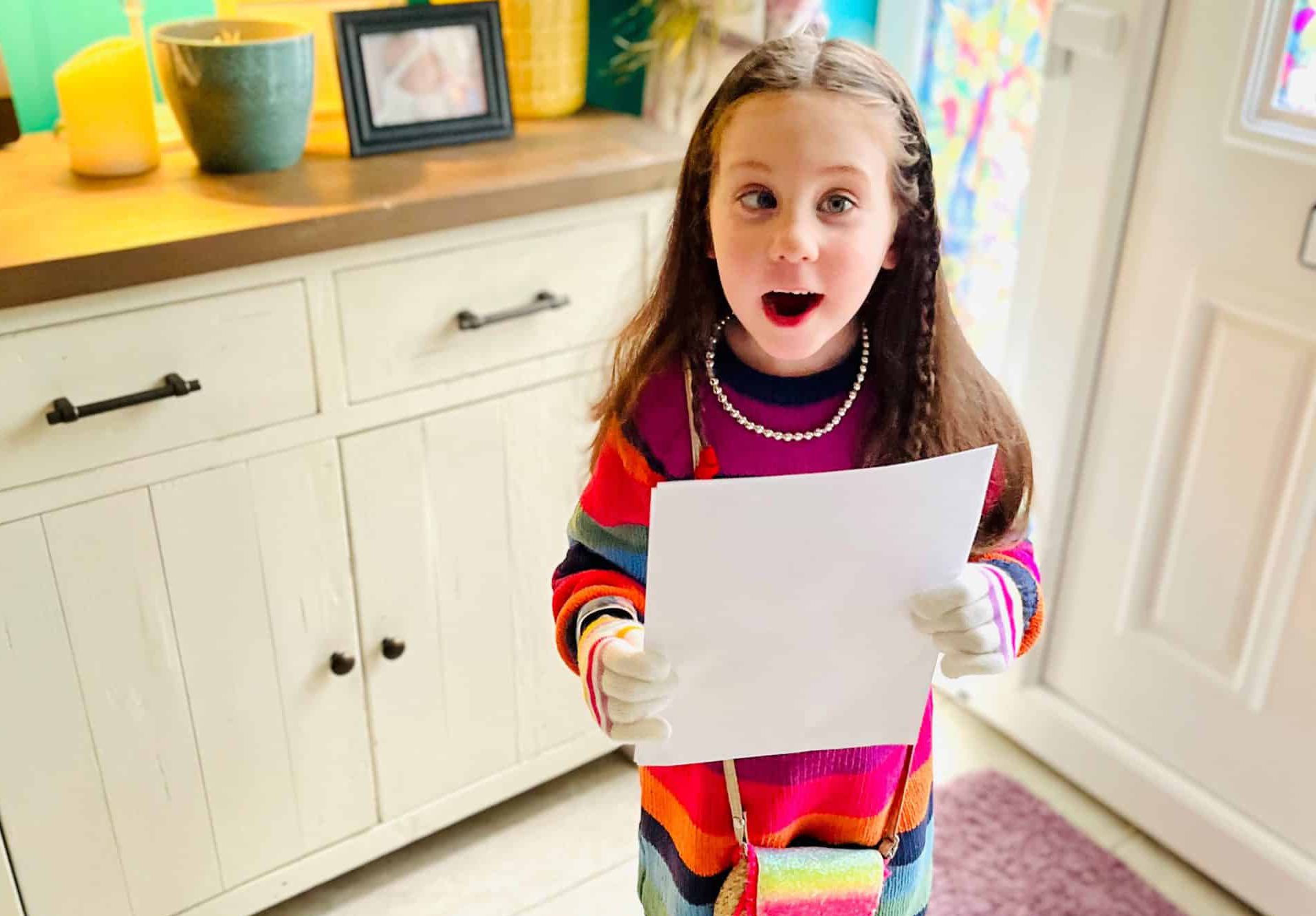 A County Armagh schoolgirl – diagnosed with a congenital eye condition as a baby – is one of hundreds who have been experiencing the magic of Christmas thanks to a local charity.
As the excitement for the festive season builds, RNIB NI (the Royal National Institute of Blind People) is once again reaching out to deliver for blind and partially sighted children.
With the help of the elves at RNIB, children who are unable to read standard print can receive a very special letter from Santa in their preferred reading format.
As Christmas fast approaches, Santa is once again expecting to receive millions of letters from children around the world with endless lists of what they'd like to receive in their stockings when the big day arrives.
To ensure children living with a vision impairment in Northern Ireland get a reply from Santa, he has teamed up with RNIB to make his letters available in accessible formats, including braille, audio and large print.
Órlaith Brannigan is five years old and lives with her mum Emma and dad Jon in Tullysaran.
At aged one, Órlaith was diagnosed with Achromatopsia, a congenital eye condition that results in sensitivity to bright light and loss of colour vision.
Mum Emma explains: "Órlaith has poor depth perception and she's very sensitive to light. Her visual acuity is also badly affected and Órlaith can only see black and white or different shades of grey. At the moment she's learning her colours by associating symbols and shapes with each colour and learning to read by using a larger reading font.
"As parents, we know how important it is to let Órlaith have that little bit of independence when she's out playing with her friends but she does have difficulty with distinguishing kerb edges and things like that so there would be the odd trip or fall.
"For now, Órlaith doesn't use a long cane or guide dog but we know that as she gets older, that might change.
"Órlaith's a bit of a joker. The other day we were in her bedroom and I asked her was there anything in her room that she found hard to see. She thought for a moment and said, 'well I can't see my back'.
"The Brannigan household are all very excited for Christmas and this year Órlaith has written her letter to Santa asking for a LOL beauty salon and spa but she also likes everything Barbie too.
"The RNIB's Letter's to Santa initiative is such a great way of making sure children like Órlaith, who maybe can't read a standard print letter, can experience the magical thrill of opening a special personalised letter from Santa. It's magical moments like this that we parents love too. It's what memories are made of."
This year, Santa's friends at card company Hallmark have also helped him write replies in braille so every child with a vision impairment can read their letter independently.
Last year, the elves sent more than 1,400 letters from Santa to blind and partially sighted children across the UK, helping them experience the same magic of Christmas as sighted children.
If you know a child who has a vision impairment and who would love to receive a letter from Santa, please send their Christmas letter to: Santa Claus, RNIB, Northminster House, Northminster, Peterborough, PE1 1YN.
Santa can receive letters through his email address. Email santa@rnib.org.uk by Tuesday 20 December for an email response with a large print attachment.
Letters can also be requested through RNIB's website at www.rnib.org.uk/santa. Postal letters and website requests need to be sent by Friday 2 December.
There is no cost to receive an accessible reply from Santa but in the spirit of giving, donations can be made via the RNIB website.
Sign Up To Our Newsletter