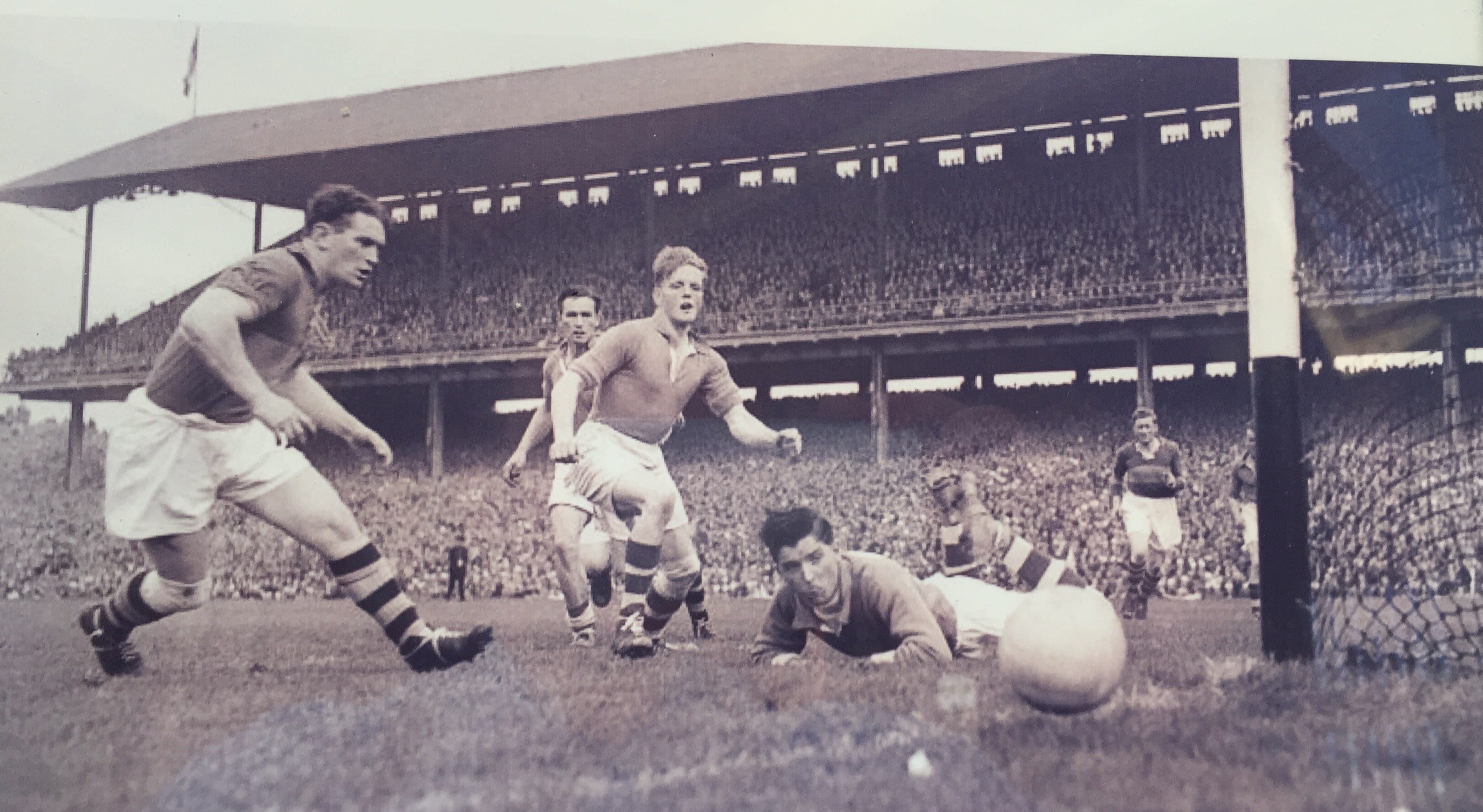 Tributes have been paid to a distinguished solicitor and legendary Armagh GAA player following his death earlier this month.
John McKnight played on the first Armagh teams to contest All-Ireland minor and senior finals.
As a player he starred for Killeavy, UCD, Armagh and Ulster, and was named in a 'team of the century' of players never to have lifted Sam Maguire.
In his working life he also maintained close contact with the GAA as a trusted legal adviser, playing an instrumental role its transformation into a modern, commercially-aware organisation.
John grew up in Cloghogue outside Newry, where his father George had a hardware shop on Mill Street.
He was a boarder at St Patrick's College, Armagh alongside his brothers Michael, Felix and James and played football any chance he could, whether in school, in street leagues in Newry or with his club Killeen, which later amalgamated with Killeavy.
"As a child my strongest memory of John was him taking the head of my doll, and using it as a football," his sister Mary recalled.
He first came to wider attention as a tigerish corner-back on the Armagh minor team which beat Kerry to win the All-Ireland in 1949, with elder brother Michael also featuring as a substitute.
Four years later he took up the same position against the same opponents in the county's first senior final, this time losing by 0-13 to 1-6 in front of 86,000 fans.
Quick, strong and clean in the tackle, the "fair-haired McKnight" of the song sung that year was a fixture for Armagh throughout the '50s as well as for Ulster in the Railway Cup.  On one memorable day for the family, John, Felix and Michael made up the entire full-back line in an Ulster championship clash.
John studied law in UCD, where he won two Sigerson medals, and worked in Ballyshannon and Belturbet before returning to Dublin.In 1964 he and former Fermanagh footballer Gerry Charlton formed the practice of Reddy, Charlton and McKnight.
John was a specialist in property law and his expertise became invaluable in the painstaking process of registering the legal titles of Croke Park.  He also gave day-to-day advice to the association as it grew and modernised.
He did not retire until the age of 72 and among the many young solicitors he mentored was Tom Marren, now head of the property department at Reddy Charlton.
"John was man of great honesty and integrity and gave great service to his clients," he said.
"He was a true gentleman and a very good colleague, a fine man."
John was married to Ita (nee) King of Claddaghduff in Connemara and they had nine children, whom he doted on.  They lived in Clonskeagh and then Howth, where his funeral Mass was celebrated by younger brother James.  Son John was presented with gifts symbolising his life including a slice of apple tart, framed photographs and a chocolate bar (one of John's grandchildren had devoured half before it got to the altar), while an Armagh jersey provided by Danny Kelly was draped over the coffin.
Emotions of grief and pride were shared by remaining members of the Armagh team known as 'The Dublin 5' – Danny, Brendan Donaghy and Jimmy Whan, with Kevin Halfpenny away on holiday.  A heartfelt tribute was paid by John's eldest child Paul.
Mary O'Neill, wife of Down All-Ireland winner Kevin, also described her older brother as "a role model for us all in every way", telling how he and Michael had filled the breach at home when their father passed away in 1954.
The coffin was carried out to a beautiful rendition of The Boys from County Armagh and John was laid to rest the next day on Omey Island on the Galway coast.
John McKnight died aged 85 on July 9. He is survived by his wife Ita, children Paul, Johnny, Fergal, Catherine, Mairéad, Deirdre, Brona, Orla and James, siblings Bridie, James, Felix and Mary and family circle.
Obituary drafted by Justin McNulty
Sign Up To Our Newsletter