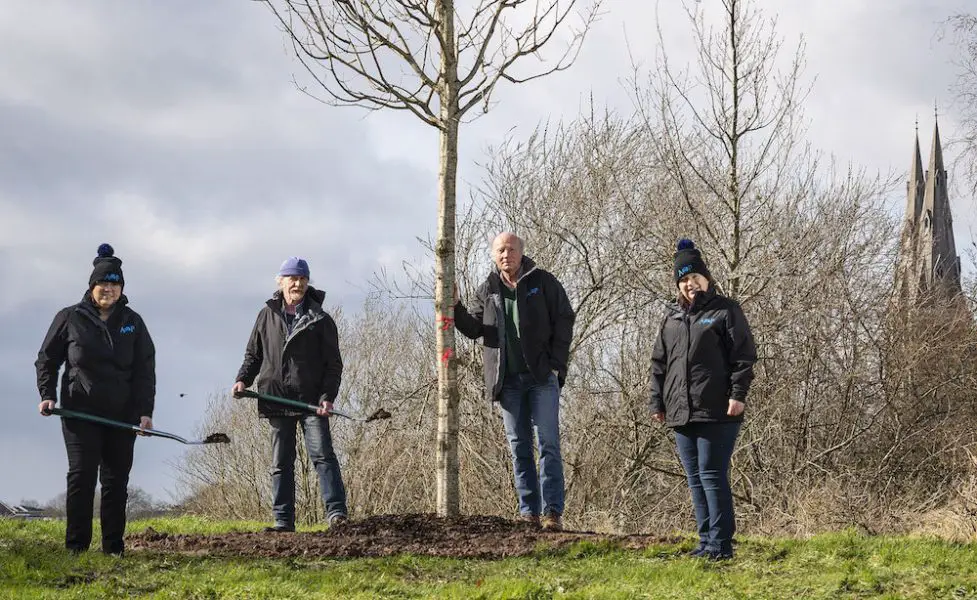 A tree planting operation is set to get underway at one of Northern Ireland's historically significant sites in an effort to absorb carbon and help maintain the centuries-old aesthetic of the estate.
The Department for Communities has helped fund this project which will see Armagh Observatory and Planetarium (AOP) plant 16 trees in the Astropark area of its historic grounds after several have been taken down by storms or needed to be felled due to disease in recent years.
The Armagh Observatory is set within a historic landscaped estate and the Historic Garden Reference appears on the Northern Ireland Heritage Gardens Inventory (1992) as a landscaped park.
The Observatory was one of many buildings constructed by Primate Robinson. Along with the city's Robinson Library, the Observatory was a key building as Primate Robinson sought to establish a University in Armagh.
Head of Corporate Services at AOP, Carol Corvan said: "We recognise we are merely custodians of this estate which is much-loved throughout Armagh and across Northern Ireland.
"It is a privilege to work in such an historic setting and we are determined to maintain the buildings and grounds for future generations."
The tree planting taking place this month, although situated in the more modern area of the estate, seeks to replicate tree lined avenues which appear on historic maps, with some of the original trees still in situ.
Also, within this area an Astropark, constructed in 1992, is home to a number of astronomical concepts, the most recent project being the augmented reality interactive stations throughout the site.
Many of the trees which have been lost in recent years had stood for hundreds of years, some may even have survived dramatic meteorological events such as the Night of the Big Wind of 1839.
AOP is grateful to its funder, Department for Communities (DfC) for funding this replanting scheme, as it is very important not only to maintain the historic landscape, but trees also help absorb carbon from the atmosphere.
Dr Marc Sarzi explained: "These historic trees must have felt in their roots the more recent overall warming of our planet. Whereas air temperature measurements are subject to erratic fluctuations dictated by the weather, underground temperatures are more stable and, as AOP's own daily meteorological record shows, can reveal the inexorable upward trajectory of climate change.
"The study of other planets in our Solar system reveals dramatic past changes in their climate, billions of years ago. At AOP we are acutely aware of both the fragility of our planet and its uniqueness, leaving us with the responsibility to cherish our own home."
Supporting the efforts of AOP to restore the historic grounds, Communities Minister Deirdre Hargey said: "This is a shared space for the whole community, and I am glad my Department was able to contribute £50,000 towards grounds and tree maintenance and the replenishment of the natural woodland within this historic area. This investment will help preserve and ensure the natural beauty of this area is protected and enhanced for locals and visitors to enjoy."
AOP remains closed but to keep up-to-date with everything that is going on there visit www.armagh.space or follow Armagh Observatory and Planetarium on Facebook.
Sign Up To Our Newsletter