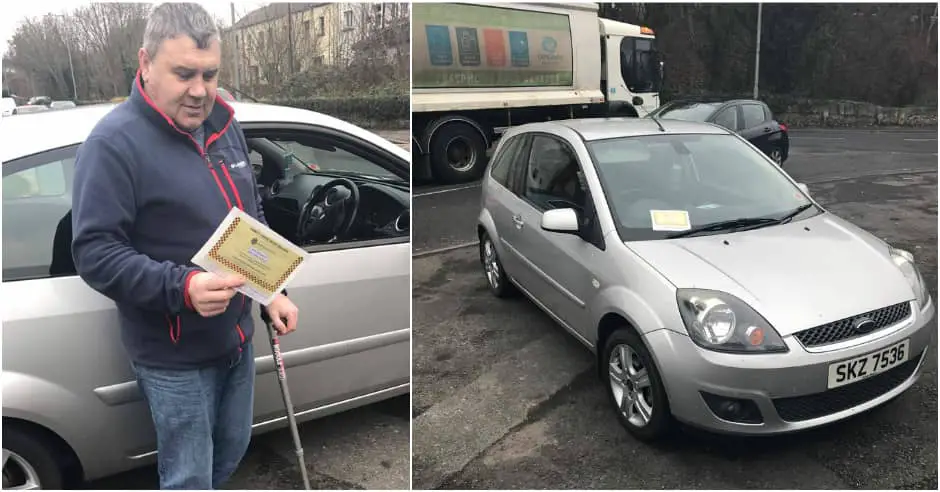 Despite refusing to overturn a penalty charge for a disabled Armagh man earlier this week, TransportNI say his case will now be investigated.
On Wednesday morning, Stephen Blayney was handed a £90 fine on for parking in a spot he has done so every day for the last 25 years.
Mr Blayney had stationed his car in a tarmacked area, just before turning into Drumadd Terrace from Victoria Street.
Armagh I understands Mr Blayney will contest the fine, despite being told that there existing no waiting at any time restrictions and corner restrictions along Drumadd Terrace. As a result, Transport officials will review the case before a final judgement is made.
Armagh I also understands that the parking area between numbers 66 and 76 is a separate tarred area built 25 years ago specifically for parking and has been used as such since then.
TransportNI advise that: "Any driver, who believes a Penalty Charge Notice (PCN) has been issued incorrectly, may submit a challenge either online via the NIDirect website or in writing using the contact details provided on the rear of the PCN.
"A full investigation can then be carried out after which drivers will be informed in writing of the result and the next steps if required."
Earlier this week, Mr Blayney's daughter Emma, spoke to Armagh I.
She said: "There are no signs to say that that area is restricted in any way, and if so, why is it only an issue now after all these years?
"There is absolutely no resident parking apart from that area of tarmac which is now out-of-bounds, or the side of the road, which causes enough obstruction as it is because of the narrow road," she vexed.
"Years have gone by and nothing has been said, all of a sudden..why now? What do they expect the residents to do? There is nowhere else to park, we all live here and have parked there for years."
Read more news:
Vigilantes target suspected sex offender after name is made public
Man arrested as vintage tractor is recovered week after it was stolen
Police confirm identity of woman found dead in Lurgan
Community stunned as woman 'murdered' yards from school
Murder investigation launched after woman's body discovered
Department of Infrastructure respond to Armagh parking ticket furore
Thieves ransack elderly lady's home in 'callous' attack
Armagh arson attack 'could have had a tragic outcome'
Police raid suspicious building in south Armagh but it wasn't what they expected
Sign Up To Our Newsletter