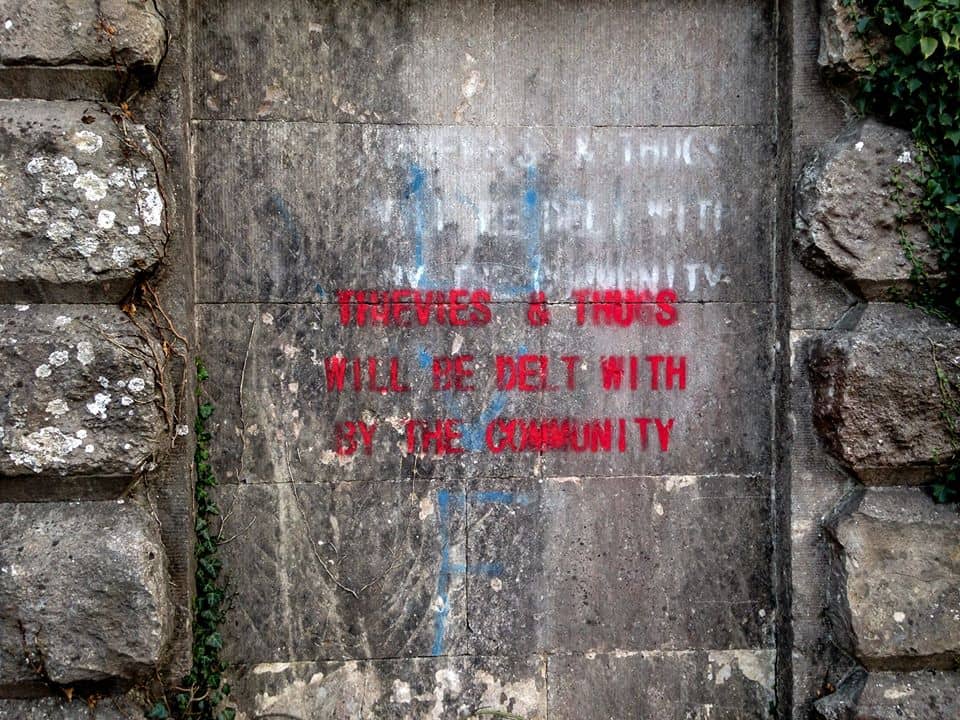 Graffiti threatening vigilante-style behaviour has been sprawled across a wall at the side of a road in Armagh.
The fresh 'artwork' has appeared on the outskirts of Armagh warning that action will be taken to deal with escalating criminal activity in the area.
The stencilled warning has appeared at the old gated entrance to the farm estate on the junction of Drummanmore Road and Ballybrannon Road, off the Portadown Road, Armagh.

It reads: "Thieves & thugs will be delt (sic) with by the community."
A passerby who sent us this picture said: "It seemed pretty newly painted. I drive that way occasionally and hadn't noticed it before. There was a faded similar one in white underneath."
Vigilante behaviour has been condemned by police in the recent past.
Speaking before Christmas, Supt. Paul Reid, said: "It is important that this vigilance does not become vigilante activity. Such activity would not be tolerated in a peaceful society and I would caution any individual or group against taking the law into their own hands.
"Those who do may themselves risk committing offences that may subsequently leave them liable to prosecution."
The correct authority to deal with is the PSNI who can be contacted on 101.
Read more news:
Business owner offering £1,000 for info after thieves steal catering van
Brave John's family direct donations in lieu of flowers to help other cancer sufferers
Emergency services at scene of two car collision near Craigavon Area Hospital
Friends and family devastated as inspirational John McNally loses brave battle with illness
Seven more cattle belonging to hospitalised farmer found – but appeal to find final four
Silver Mitsubshi Shogun stolen from farmyard in Armagh
Large concrete block used to smash into Armagh home
Newry school to get major extension costing well in excess of £3 million
Sign Up To Our Newsletter