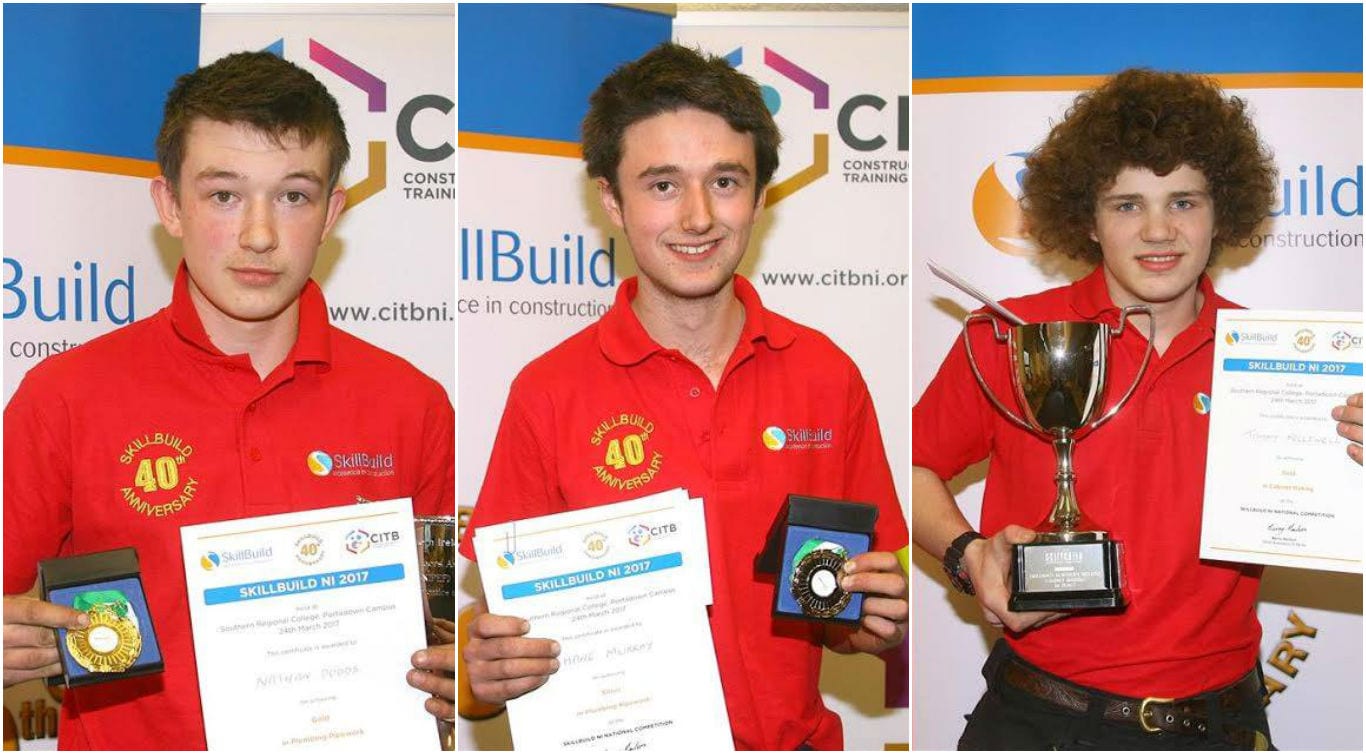 Students from Southern Regional College have won a record haul of awards at Northern Ireland's premier construction skills competition.
A total of 17 awards were presented to SRC during Skillbuild NI, the prestigious annual construction industry awards for apprentices, which was also held at the SRC campus in Portadown for the first time.
At an event in which more than 80 promising students from right across Northern Ireland pitched their skills to win 11 coveted titles ranging from brickwork to wall and floor tiling, SRC sailed home with six first-place medal titles and six second and third-place medals combined.
SRC was duly awarded the Skillbuild NI Department of Economy Cup for the highest number of medals won in the competition as well as the Skillbuild NI Chairpersons Cup for the largest number of entries.
SRC also won the prestigious David Cooper Trophy for biggest tally of medals secured across 40 years of competitions.
Skillbuild NI is run and governed by CITB NI and is supported by the Department for Economy and key local employers and organisations such as the Construction Industry Federation, City and Guilds, Colleges NI and the Federation of Master Builders, is designed not only to encourage trainees to improve their skills but to showcase examples of the quality workmanship produced locally.
Every apprentice is challenged to produce quality work in tight timeframes and are continuously assessed on their performance by an expert panel of industry professionals.
Richard Shannon won the Haldane Fisher Cup for Best Overall Skillbuild NI Young Apprentice.
Armagh Campus student successes saw, in the Plumbing competition, Nathan Dodds from Castleblaney taking first, and Shane Murray, from Keady, second. Tommy Helliwell, from Tandragee, came first in Cabinet Making.
Maurice Johnston, Chairman CITB NI said: "CITB NI is proud to have been involved in construction skills competitions for 40 years. Skillbuild NI is about raising the status and standards of professional and technical education and training. We have a proud record of success at skills competitions not only on a local level but also on a regional, national and world level.
"Skillbuild NI gives all the competitors a chance to showcase their skills and we congratulate everyone who has taken part and those who have excelled in their trade. Skillbuild NI couldn't happen without the support of the local sponsors and training network and we extend our thanks to all who have helped the apprentices to be able to compete at this competition.
"We would also like to extend our best wishes to the Northern Ireland competitors who will be taking part in UK team selection for WorldSkills Abu Dhabi in October. Our young people are more ambitious than ever and we hope that Skillbuild NI National Finals will be part of their journey and future careers within the construction industry."
In a highly competitive environment, marks were awarded for showing essential skills such as following detailed instructions, producing accurate work outputs, being economical with materials and working to strict timescales. Apprentices representing SRC made the biggest impact on the competition.
Brian Doran, Chief Executive, Southern Regional College, said: "We at Southern Regional College are privileged to have been selected to host this year's prestigious Skillbuild NI National Finals. I congratulate the competitors, many of whom have travelled long distances to participate in this event.
"For competitors, today is an important stepping stone to future skills competition success throughout the UK and Worldskills competitions.
"I wish all the competitors every success in the future and I have every confidence that those selected to go forward to UK and Worldskills competition will continue the proud tradition of success at a national and international level."
Winners for SRC at Skillbuild NI 2017 were:
Brickwork 1st Thomas Fegan – Newry (Greenbank Campus)
Cabinet Making 1st Tommy Helliwell – Tandragee (Armagh Campus)
Cabinet Making 3rd-Michael Hughes – Newry (Greenbank Campus)
Joinery 1st Richard Shannon – Kilkeel (Greenbank Campus)
Painting and Decorating 1st Conor McClelland – Hilltown (Greenbank Campus)
Painting and Decorating 2nd Jordan Hughes – Bessbrook (Greenbank Campus)
Plumbing 1st Nathan Dodds – Castleblaney (Armagh Campus)
Plumbing 2nd Shane Murray – Keady (Armagh Campus)
Plumbing 3rd Jacob Reid – Dungannon (Portadown Campus)
Wall and Floor Tiling 1st Sean McLoughlin – Newry (Greenbank Campus)
Wall and Floor Tiling 2nd Daniel McBurney – Banbridge (Greenbank Campus)
Wall and Floor Tiling 3rd Cathal Murphy – Newry (Greenbank Campus)
SRC won Skillbuild NI Chairpersons Cup for highest number of entries
SRC won Skillbuild NI Department for the Economy Cup for highest number of medals won in 2017 competition
SRC won David Cooper Trophy for Most Medals over last 40 years of Skillbuild NI competitions
Richard Shannon won the Haldane Fisher Cup for Best Overall Skillbuild NI Young Apprentice
Paddy Maguire, Painting lecturer, won the Hugh Gettinby Trophy for Excellence in Construction Training (awarded each year to an individual involved in training of young people who has displayed high standards of success and dedication towards Skillbuild NI ethos)
Sign Up To Our Newsletter