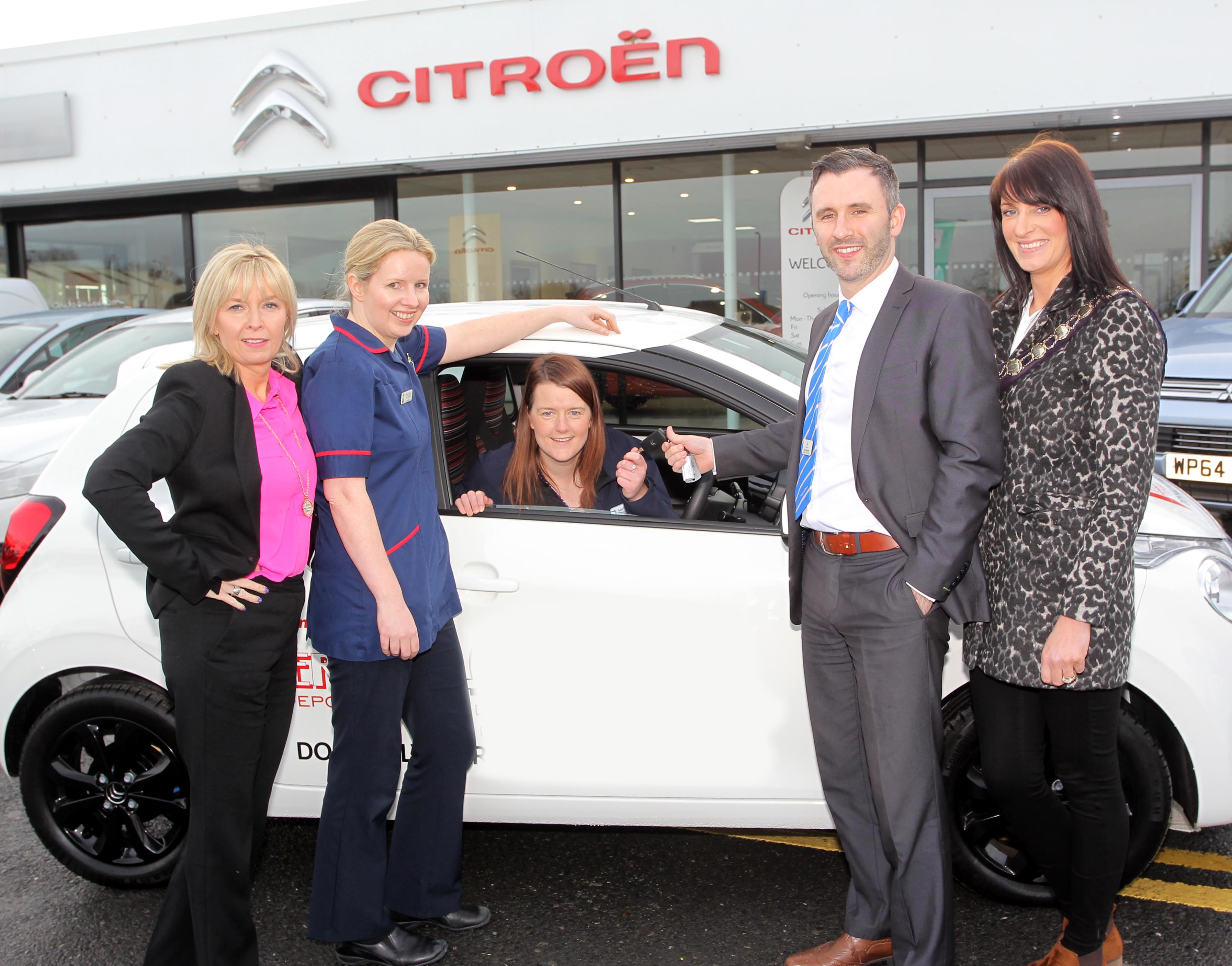 Southern Area Hospice Services are delighted to announce that their Citroen C1 Car Raffle will be arriving in The Mall Shopping Centre in Armagh on Monday, April 25.
This year's raffle, which is in association with the Oaks Centre and Donnelly Group, will see one lucky winner drive away in a brand new white Citroen C1.
As well as the first prize which is a brand new car, there are also two cash prizes of £250 and £100 to be won.
The Mall Shopping Centre in Armagh has proved to be a lucky venue in the past with last year's winner, Rose McKenna from Caledon having purchased her winning ticket at the venue.
The tickets for this year's car raffle, which are only £1 each, will go on sale at the Mall Shopping Centre from Monday for one week, with ticket sales finishing on Sunday, April 31.
All proceeds go towards helping Southern Area Hospice Services to continue their work in the local area, providing special care for people who are living with Cancer and other life-limiting illnesses, such as Multiple Sclerosis and Motor Neurone Disease.
Southern Area Hospice Services provide their specialised care through a number of services in the local area including a 12 bed in patient unit in Newry, Day Therapy Units in Newry and Dungannon, Outpatient Clinics in Daisy Hill, South Tyrone and Craigavon Area Hospitals, a homecare nurse in the Armagh and Dungannon district. Southern Area Hospice Services also offer counselling services and facilitate bereavement and carer support groups in their Resource Centre which is located at 23 Irish Street in Dungannon and in the Donaldson Centre in Newry.
To continue to provide the level of care currently available to local people, the Hospice must raise £2.42 million in 2016 alone and the car raffle makes a valuable contribution towards this.
If you would like to purchase tickets for the raffle, volunteer to help us with ticket sales, or if you have a business or upcoming event where we could sell the tickets please contact Anne Mac Oscar, Regional Marketing Officer for Southern Area Hospice on 028 30251333 or email macoscara@southernareahospiceservices.org for more information.
Pictured at the launch of the 2016 Citroen C1 Car Raffle are (L-R) Maureen Hanna, Oaks Centre Manager; Clare Gillan, Dungannon Day Hospice sister, Southern Area Hospice; Anne Mac Oscar, Regional Marketing Officer, Southern Area Hospice; Paul Donnelly of Donnelly Group and Councillor Linda Dillon, Chairperson of Mid-Ulster Council.
Read more news:
Officer cleared of breaking car window 'despite being offered keys'
Club honours tragic and much-loved Peter Hughes with poignant jersey tribute
Plans to merge Armagh libraries but where will they go?
'Long-term potential' to attract university to Armagh
Castle Leslie's Sir Jack passes away peacefully surrounded by his family
Fr Kevin Donaghy announces retirement as principal of St Patrick's Grammar School
Armagh's Lennox House shops and office complex is put up for sale
Sign Up To Our Newsletter