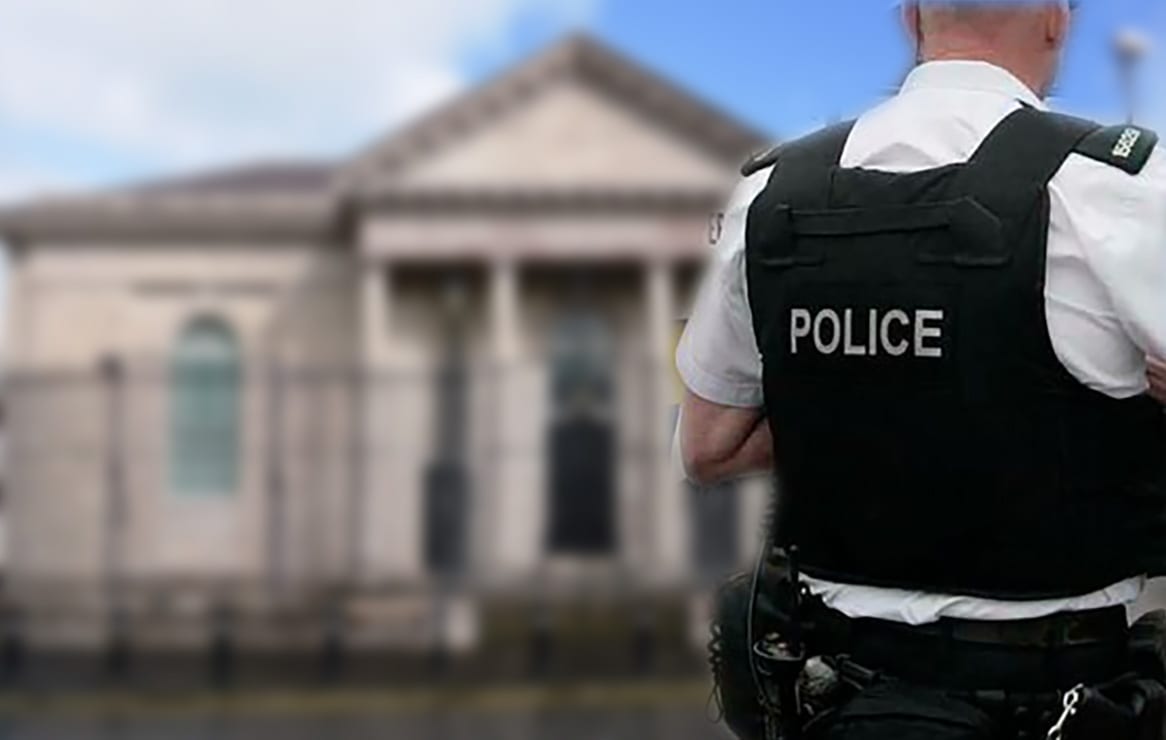 A Middletown man who engaged in "nuisance" offending and spat in multiple police cars whilst on probation has been sentenced to six months in custody.
Paul Halligan, of Canal Court, appeared before Armagh Magistrates' Court, sitting at Newry Courthouse, via video-link from Maghaberry.
The 38-year-old appeared before the court charged with a range of offences over a period of time, totalling five cases against him.
Three of the charges within the cases related to breaches of a community-based order, whilst the others included criminal damage, assault on police and disorderly behaviour.
In relation to the first case, prosecution outlined that on April 16 of this year, police received a report that a male was present on Irish Street in Armagh, "kicking out at cars".
On police arrival, staff from the Toby Jug Bar informed them that the male was the defendant and he had since got a lift home.
Police spoke to the injured party regarding damage to his car. He stated that he had been passing the Toby Jug before the defendant kicked the rear passenger-side door of his car.
Police called at the defendant's address to speak to him regarding the allegations, where they observed that he was "extremely intoxicated".
They decided to let him sleep it off and speak to him the following day. As police got into their vehicle, the defendant started walking from his house and "gesticulated widely" at police. They then observed him strike out at a parked Mercedes, causing a dent on the rear side driver's panel.
The defendant was subsequently arrested on suspicion of two counts of criminal damage.
He was observed by the owner of the car, who was the sister, and she made a statement to police.
The defendant was placed in the rear of a vehicle, where he began to spit on a police officer's leg, and on another officer's face and chest. He was arrested for two assault on police and a further charge of criminal damage.
Due to his behaviour, he was transferred to a cell van, where he spat in the cell, necessitating cleaning.
The second incident relates to events on June 13 at 1.30am, when police received a report that a male was kicking at the front door of a reporting person, who, "did not want him at his door".
Police spoke with the defendant – who was drinking from a pint glass in the street – and he became "immediately abusive" towards them.
Police requested that he stop his abusive behaviour, which he did not, and he was subsequently placed under arrest for disorderly behaviour. He continued to be abusive towards police whilst in the vehicle and "spat all over" the passenger head rest.
Police checks showed that the defendant was also on bail and, when requested to conduct a breath sample, he refused and was further arrested.
The third case relates to events on August 10. At approximately 2.30am, police received a report of an unknown male – who appeared to be intoxicated – who was knocking on windows in Armagh.
On arrival, police observed the male – known to them as the defendant. Police checks were conducted and bail conditions were in place that the defendant was not to be intoxicated in a public place.
The defendant was "unsteady on his feet" and appeared to be intoxicated. Police asked him to provide a preliminary breath test, which read that he was three times the driving limit, at 106.
He was arrested in the early hours of the morning and was taken to custody. Due to his behaviour, a cell van was required in order to transfer him to custody. Whilst being conveyed to custody he "spat several times in the van" and was further arrested for criminal damage.
Halligan's defence solicitor said: "I appreciate that sentencing options are very much narrowed by the breaches of the enhanced combination order that was imposed in this court last year."
He told the court that the defendant had completed the 100 hours community service of the order, but that "problems seemed to begin in the early part of this year" with "sporadic attendance" at probation appointments.
The court heard that the three sets of offences were committed whilst under that probation order.
"He certainly hasn't covered himself in glory throughout this year," defence added.
"By and large, this is nuisance type behaviour where he's attending at the home of either friends or family and police are called. The behaviour thereafter, in terms of being in police cell vans or within a police cell, with regard to spitting, is appalling. He knows that.
"I have to concede that those are aggravating features.
"Mr Halligan's issue with drugs and alcohol are well known at this stage. There's never been proper and meaningful long-term engagement with any of these services and that's reflected in his repeated returning in front of your worship for almost the exact same type of offending.
"I have to concede that the custody threshold is indeed crossed."
District Judge Anne Marshall, presiding, said to the defendant: "The custody threshold is most definitely passed in light of your record."
In relation to the incidents on April 16, Halligan was sentenced to four months in respect of each of the charges. For the matters on June 13, he was sentenced to one month, to run consecutively with other charges.
For the matters on August 10, he was sentenced to a further month to run consecutively, leaving a total of six months imprisonment.
District Judge Marshall said it was "disgraceful behaviour spitting in a police car……It's an awful nuisance and behaviour that just won't be tolerated."
For the breaches of the community order, District Judge Marshall said: "You did manage to complete your 100 hours. Probation obviously wasn't very successful because I've just given you sentences for three offences that occurred when you were on probation."
District Judge Marshall sentenced Halligan to two months custody for the breach matters, to run concurrently with the six months imposed.
Sign Up To Our Newsletter