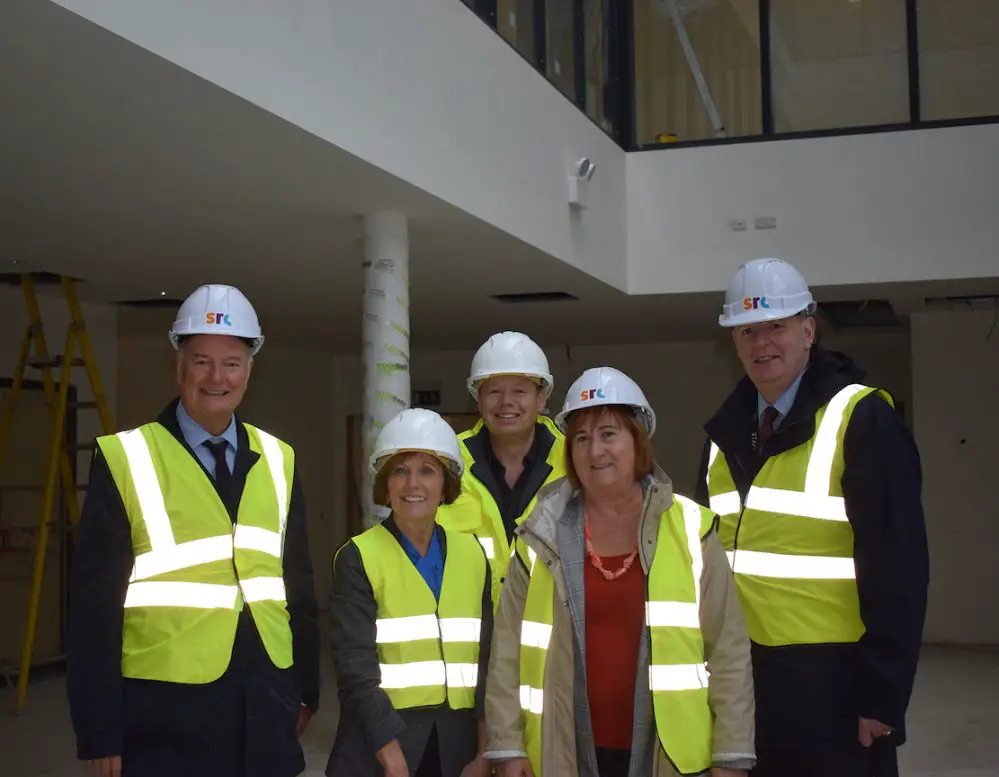 Senior officials from the Department for the Economy completed a site visit to the new SRC Armagh Campus this week to view the construction progress of the new flagship campus.
Construction is due to complete in spring next year and the new state-of-the-art campus will open its doors to new students in September 2020.
Newry-based company, Felix O'Hare and Company Limited, is spearheading the construction of the new £35m campus development in Armagh which will facilitate students and staff in a brand new state-of-the-art facility.
Designed by WYG Group, the new Armagh campus features around 14,000m2 of specialist accommodation that will facilitate world class professional and technical education and training.
Supported by an overall investment of £97 million from the Department for the Economy, SRC is developing three new campuses in total with new developments in Banbridge and Craigavon completing the current programme.
Construction of the new SRC Banbridge campus is well underway and is due to also open in September next year. Planning permission for the SRC Craigavon Campus was approved in January 2019.
SRC Chief Executive, Brian Doran, said: "We are delighted to see that the construction of this new flagship campus in Armagh is progressing well.
"I look forward to welcoming people from across Armagh city and the district to the new campus early in the new year, to view for themselves the new build and to explore the new curriculum that will be on offer from next September."
Beverley Harrison, Director of Further Education at the Department for the Economy, said: "This very impressive new campus in Armagh will deliver first class facilities in purpose built learning spaces for students and staff at Southern Regional College – enhancing the education, skills and employability of our young people.
"The construction of this new flagship facility is providing a significant boost to the local construction industry, supporting employment as well as providing valuable apprenticeship training and development opportunities.
"This investment in SRC is testament to the strength of the local Further Education Sector and, in recognition of the important role the Sector plays in driving economic growth, this is part of a wider funding package of £215m from this Department which will see the delivery of seven major projects across the province."
Sign Up To Our Newsletter