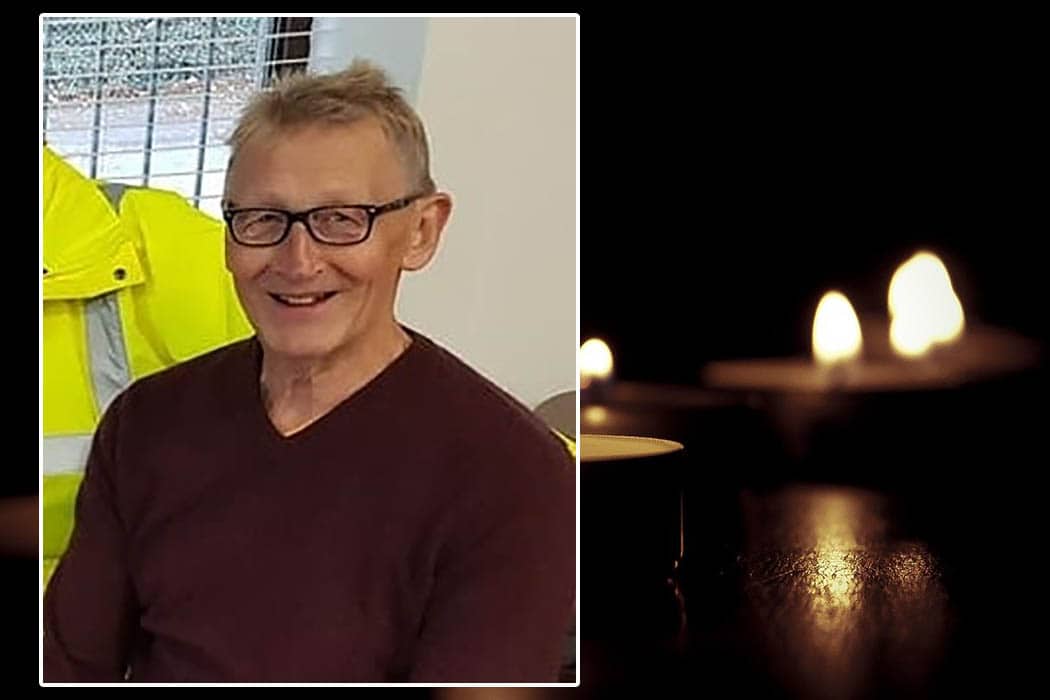 One of life's true gentlemen who always wore a smile on his face and had a friendly word for everyone.
That is how Armagh man Keith Somerville will be fondly remember by the many who were lucky enough to encounter him over the years.
Keith sadly passed away in hospital on Tuesday following a brave battle with cancer.
Along with his wife Lorraine, who is the daughter of the late Wilfie McVeigh, he helped run the Hole in the Wall Bar in Armagh – known to many simply as Wilfie's – for a number of years.
A friendly word, a bit of craic and an infectious smile and laugh, he was the affable mein host who, along with Lorraine and their team of friendly staff, ensured the popular city hostelry continued to retain its charm, character and joviality after the sad passing of Wilfie himself.
It was a role which he fulfilled while holding his own full-time career with the Department of Environment Planning Service. He was a diligent, hugely professional and competent public servant, and represented the Department during monthly meetings with Armagh District Council, and was highly regarded by his peers and elected representatives alike.
Both behind the bar and away from it, Keith made an indelible impression on all he met. He had a rich generosity of spirit and could switch from telling a joke to offering valued advice in the blink of an eye as the situation required. He made friends easily and these were friendships which endured, such was his personable nature and his genuine interest in others.
Joanne McCall, who now runs the long-established bar on McCrums Court, led the tributes and summed him up perfectly. He was indeed "one of life's true gentlemen".
"Words will never be enough to express how heartbroken the Wilfie's family are hearing of the death of Keith Somerville," she said.
"One of life's true gentlemen, his presence was one that always made you feel at ease. He always had a kind word, a wonderful smile and no matter where you met him he always had time for a chat.
"When I first took over the bar I went to visit Keith and Lorraine. The words of wisdom I learnt that night have helped me many times over the years and I will be eternally thankful for all the times we shared.
"Our thoughts and prayers are with Lorraine Somerville, Lesley, Lynsey and Laurie and all the family. Always in our hearts, Joanne."
Keith was also a highly regarded committee member of North Armagh Motor Club.
A statement from the Club read: "Keith, who lost his battle with cancer on Tuesday evening at Craigavon Area Hospital, had a long involvement with Northern Ireland motorsport as a top rally competitor.
"Since retiring from regular serious competition he shared his vast experience as a leading member of our committee, organising many successful events over the years and was our face at all events signing on.
"We can say that Keith was a true gentleman and well respected by our competitors; he cannot be replaced. His cheerful presence and organising skills will be sadly missed but never forgotten."
Caroline Mc Guinness, of Marshals Info NI, commented: "I wish to extend heartfelt sympathy to the family of Keith and also to his friends and fellow members of North Armagh Motor Club on his passing.
"Keith was a gentleman and so helpful whenever I needed any paperwork in my role as chief marshal at North Armagh events.
"When I would be signing on marshals Keith would be busy signing on competitors as event secretary, a role he regularly carried out in the years I knew him. Always a smile on his face. A true lover of motorsport, he will be sadly missed."
Tributes also flowed in over social media.
Mark Stevenson commented: "Such sad news, the Hole in the Wall has always been my local, great barman and gentleman. Never seen him lose it over the years but we pushed him a few times…"
David Lester added: "As said by many, Keith was a gentleman, a great barman, great craic and to many a great friend. Both Keith and Lorraine were very good to WJ which we are very thankful for. My thoughts and prayers are with Lorraine and family at this very difficult time."
Diane Scott said: "When I think of Wilfie's, I see Keith and his never ending smile, his blonde hair and of course his cool temperament. I don't think I ever seen him lose his cool over the years. One of life's true gentlemen."
Walter Donald recalled: "This truly has made me sad. The Hole in the Wall has been and always been my local from I was 18. Lorraine's father was a Gentleman, then Keith and Lorraine took it over, always a smile when you went in; laughing carrying on. He just wasn't the man that pulled the pints with a big smile, he was a friend to all that walked through the doors. Keith I will always remember you with a smile RIP my friend."
Wendy Stewart added: "Keith was a true gentleman and as you said also had time to chat to you. He had a very close family with all his girls and grandchildren. Thoughts and prayers with them all. God always takes the good people to soon."
Keith was the dearly loved husband of Lorraine, much loved father of Lesley, Lynsey and Laurie, dear father-in-law of Lee, Sean and Mark and a devoted grandpa (Pa) of Evie, Charlie, Louie, Archie and Harry.
Sadly, due to the current restrictions house and funeral are strictly private. Friends wishing to pay their respects can do so along the route, whilst maintaining social distancing, as the cortege leaves the family home on the Markethill Road, Armagh, on Friday at 12.15pm, to St Mark's Parish Churchyard, Armagh, for a private committal.
Family flowers only please. Donations if desired for Macmillan Cancer Support, c/o Jackson Stoops & Sons, Funeral Directors, 44 Moy Road, Armagh BT61 8DL.
He is lovingly remembered by his wife, daughters, brothers Trevor and David and all the family circle. "Safe in the arms of Jesus".
To all Keith's family and many friends, we at Armagh I would like to offer our heartfelt condolences at this saddest of times.
Sign Up To Our Newsletter