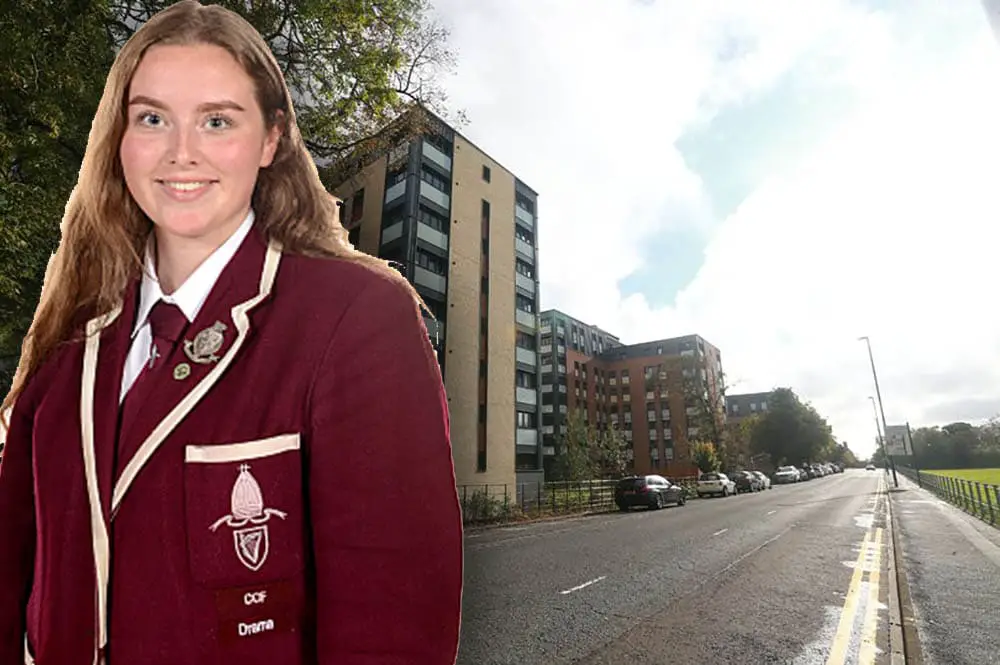 The Royal School in Armagh has paid tribute to Jeni Larmour, describing the 18-year-old – who died in Newcastle-Upon-Tyne on Saturday – as a "model pupil".
Jeni, who was the Deputy Head Girl at the Armagh School last year, passed away just weeks after moving to Newcastle to further her studies.
The popular student, from Newtownhamilton, was discovered unconscious at halls of residence and died at the scene, despite the best efforts of paramedics.
The much-loved teenager, who had just started her course studying Architecture and Urban Planning at Newcastle University, will be remembered by her alma mater as one who "exemplified many of the values which this school seeks to promote".
Headmaster Graham Montgomery said the school community learned of the news of Jeni's passing with a "profound sense of sadness and loss".
And paying tribute to Jeni, who touched the lives of so many and made a huge difference during her time there, Mr Montgomery said it was her "outstanding qualities" which led to her being recognised in her final year with her richly-deserved appointment as Deputy Head Girl.
It was, according to the Headmaster, a "role she carried out to a very high standard".
Paying tribute on social media, Mr Montgomery recalled the former student's influence and her power and desire for doing good and seeking to improve our own local environment – and enriching the lives of others – through her selfless deeds and actions.
Said the Headmaster: "It was Jeni's ambition to attend the Royal School and she wasted none of the opportunities offered to her here. Jeni threw herself enthusiastically into school life. She was part of the highly successful Combined Cadet Force 'mil skills' team and she worked closely with younger cadets to encourage them to develop their skills.
"Her capacity for encouraging others and showing leadership were evident when she was chosen for the important role of Student Leader at the Gordonstoun International Summer School in the summer of 2019.
"She was a highly valued member of the Chamber Choir and was blessed with a beautiful singing voice. She combined that beautiful voice and a brilliant sense of comic timing when she masterfully played the role of Madame de la Grande Bouche in the school production of Walt Disney's 'Beauty and the Beast'.
"In October 2019 Jeni was part of the school's signature charity project, the ASHA team which spent ten days in the Trilok Puri slum in New Delhi. This trip required significant commitment and was the culmination of a year of fundraising activity by Jeni and the other team members.
"Jeni was a spirited and independently minded girl with clear views which she was happy to articulate in a respectful manner and she was possessed of a well-developed sense of justice.
"Through her work on the School Council, she was instrumental in promoting plans for the 'greening' of the school site through tree planting.
"We have no doubt, that given her academic ability and personality, Jeni had a bright future ahead of her and we are saddened that has been so suddenly cut short.
"We extend to her many friends, her family, brother, and parents our sincerest sympathy at this tragic time and assure them of our prayers and practical support."
Meanwhile, Northumbria Police, investigating the deaths of four young people over the weekend in Newcastle have made ten arrests.
A large-scale investigation is ongoing after two 18-year-old women, and two men, aged 18 and 21, were found unresponsive at addresses on Saturday and Sunday.
Sign Up To Our Newsletter