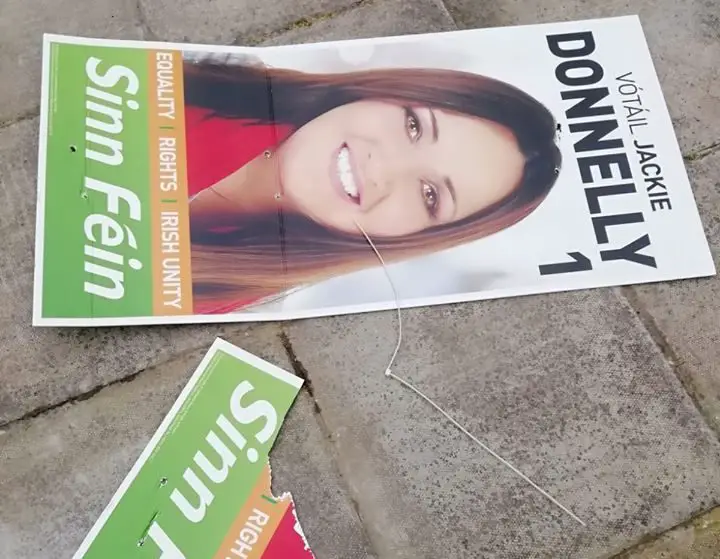 Sinn Fein has said it will not be intimidate or deterred in its election campaign after reports of further incidents of posters being vandalised.
In recent days, election materials erected on behalf of councillor Darren McNally were taken down within hours after being put up.
And now more posters, for Sinn Fein candidate Jackie Donnelly, have been "pulled down and destroyed" in the Mullacreevie area of Armagh.
Newry and Armagh MLA said such incidents will not deter the party from "promoting our message for change".
He described the actions of those responsible as "disappointing" and laid the blame at the door of "anti-Sinn Féin, anti-democratic elements".
Said Mr Boylan: "In recent days, a number of election posters belonging to Sinn Féin candidates Darren McNally and now Jackie Donnelly  have been targeted.
"This criminal behaviour must not be tolerated. It is a gross interference in our party's legitimate election campaign and an attack on democracy.
"I will be raising the criminal damage of our party's posters directly with the PSNI's district command and seeking assurances that a rigorous police investigation will be conducted immediately in order to identify those responsible and put them before the courts.
"Sinn Féin will not be deterred or intimidated from promoting our message for change. The momentum for equality and rights in the north is now unstoppable, and Sinn Féin is absolutely resolute about taking that forward.
"There will be no 'no go' areas for  equality. The bigots will not deny any section of this society from receiving Sinn Féin's equality and rights message directly from our candidates.
"These attempts at subverting the democratic electoral process will fail. Sinn Féin's local election campaign will not be deterred.
"Our candidates will ensure that the right to have equality, respect and integrity entrenched at the heart of the political process will not be silenced."
Sign Up To Our Newsletter