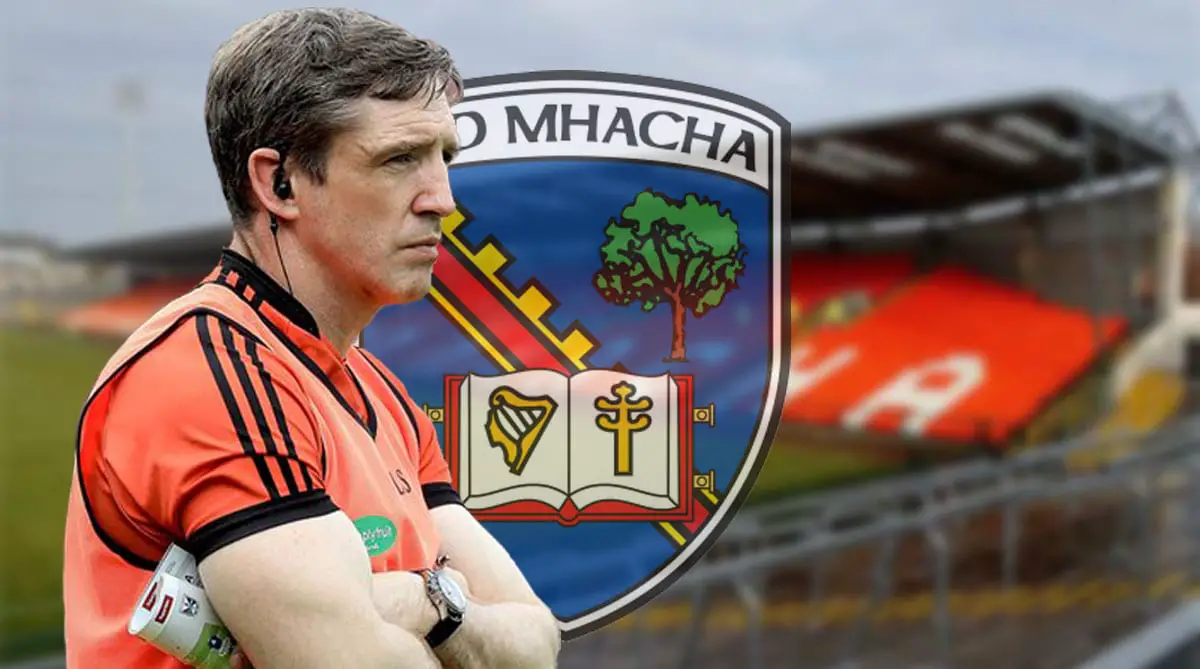 Armagh stepped up to the mark when it mattered and will live to fight another day after seeing off Fermanagh in a tense All-Ireland Senior Football Championship Qualifying Round 1B encounter.
The Orchardmen were handed their 'get out of jail' free card after a pulsating 0-20 to 0-11 win at the Athletic Grounds tonight.
It will be a huge relief for Kieran McGeeney who watched the action from the stand knowing that nothing but a win would do.
Fermanagh may have had a lead early in the first half but when push came to shove Armagh knew what had to be done.
Armagh had just one change from McGeeney's original starting 15 with Killeavy's Ciaran O'Hanlon replacing the injured James Morgan.
The Orchard County opened the scoring after just 90 seconds care of a sweetly taken point by Andrew Murnin and Armagh followed up with a delightful free out on the left from captain Rory Grugan.
The Ernemen opened their account almost immediately after Paul McCusker was fouled and Tomas Corrigan, 25 metres out, pointed the free, and Ryan Lyons made it two points apiece a minute later.
An absolutely beautiful point from Fermanagh courtesy of Tomas Corrigan's sideline score and then they doubled the lead with that man Corrigan again delivering the goods with a well-pointed free given after Mark Shields had grabbed his jersey.
Niall Grimley could and should have reduced the deficit again but amazingly he failed to put it over the bar with 11 minutes on the clock. Rory Grugan, Anto Duffy and Andrew Murnin also had easy chances amount to nothing in quick succession, all firing wide after creating the openings.
Pete McGrath's Fermanagh were proving to be a force to be reckoned with and they extended their lead when Eoin Donnelly found space and his fine shot sailed over.
But then Armagh began to take the game to the visitors and were proving the more dangerous.
They replied almost immediately when they managed to penetrate the Fermanagh defence with Jamie Clarke, finding Niall Grimley before Murnin finished.
And then Clarke did what he did best, with two Fermanagh players trailing him he coolly slotted his left-foot effort over the bar. Rory Grugan brought Armagh level and then gave them the lead with back-to-back frees, before Ciaran O'Hanlon made it two clear.
But Tomas Corrigan pulled one back and Armagh restored their two-point lead in injury time again from Rory Grugan after Charlie Vernon had pushed his way through.
H-T: Armagh 0-8 Fermanagh 0-6
A brilliant start to the second half for Armagh; the ball was won in the middle of the field and after some fine ground work by Stephen Sheridan, Grugan and Clarke, it was Niall Grimley's well-placed kick from 40 metres out that put them three ahead just a minute in.
Four minutes later and Niall Grimley again after a 50-metre run into the Fermanagh defence and no mistakes with the free. Tomas Corrigan pointed a close range free soon after after he was fouled before Niall Grimley added another two.
Corrigan was pulled down after 50 minutes but the referee waved play on and no penalty given, while Stefan Campbell added a further long-range point from play while Fermanagh were still protesting. Grugan added a free to make it 0-13 to 0-7, before Fermanagh were reduced to 14 men after Eoin Donnelly picked up a second yellow card.
Fermanagh scored just their second of the half an hour in via Sean Quigley but there was still five points to find.
Goals would be needed and it looked like Fermanagh might have been in luck, but Danny Teague was denied by the Armagh goalkeeper Blaine Hughes who came off his line and Quigley added another point when the rebound fell to him.
Niall Grimley added another free before Jamie Clarke pointed, after some good work by the impressive Campbell, and Corrigan then added another to his tally when he pointed a free after Teague was fouled.
Ryan Lyons pulled one back and Jamie Clarke cancelled it out before Ethan Rafferty, just introduced for McParland, got his name on the scoresheet.
Just before stoppage time Stefan Campbell could have had a goal but he settled for the point instead.
Niall Grimley added the 19th and then one more, from a long range free, for good measure.
It's only McGeeney's second championship win in three years but it is one which the fans will savour.
F-T: Armagh 0-20 Fermanagh 0-11
Armagh Panel: Blaine Hughes, Ciaran O'Hanlon, Charlie Vernon, Aaron McKay, Aidan Forker, Brendan Donaghy, Paul Hughes, Stephen Sheridan, Niall Grimley, Mark Shields, Anthony Duffy, Rory Grugan, Jamie Clarke, Andrew Murnin, Gavin McParland.
Patrick Morrison, Gregory McCabe, Shea Heffron, Ciaran McKeever (for O'Hanlon), Joe McElroy, Aaron Findon, Stefan Campbell (for Murnin), Oisin O'Neill  (for Grugan), Ethan Rafferty (for McParland), Colm Watters.
Sign Up To Our Newsletter