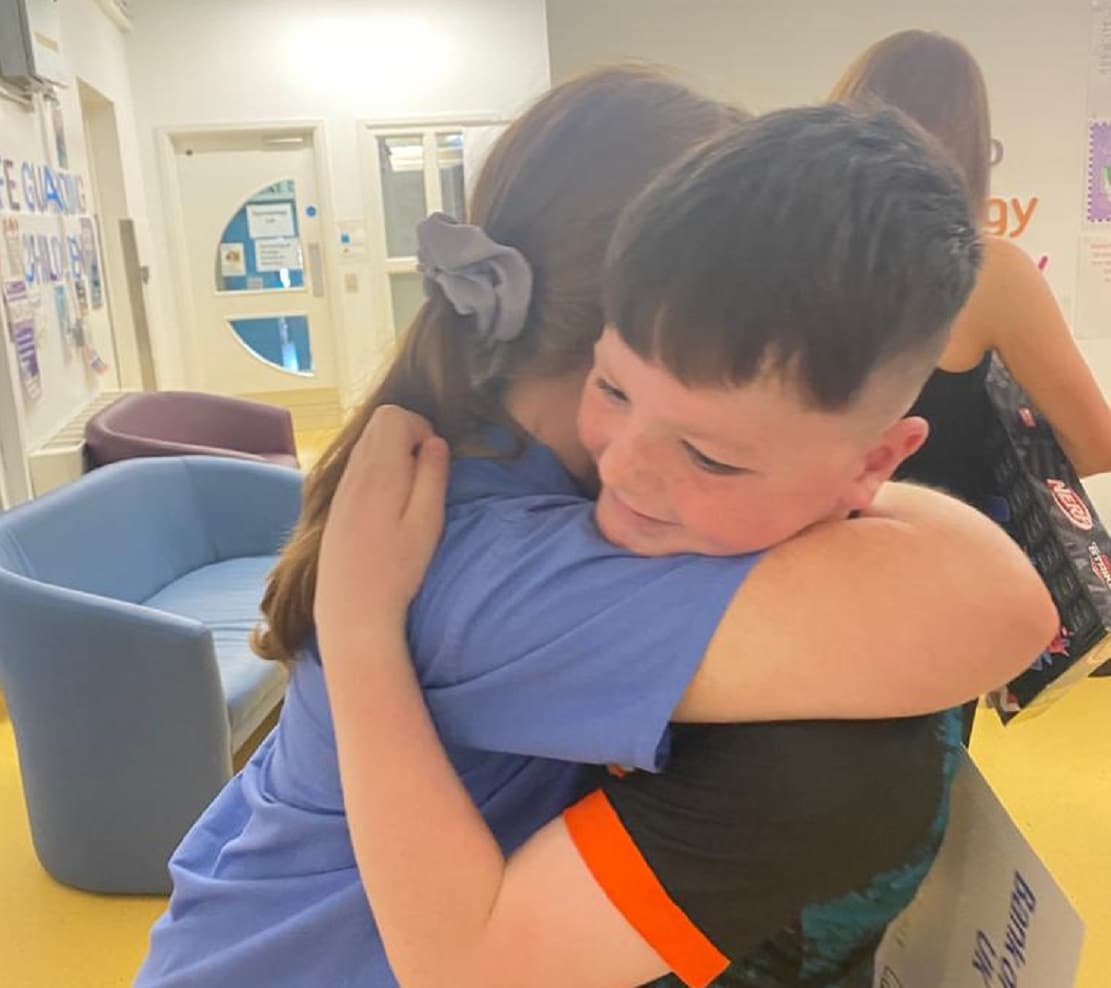 The mother of a Ballymacnab boy who has been battling leukaemia for over three years has spoken of her delight and relief that he has finally finished his treatment.
Niall Smyth, now aged 10, rang the bell at the Royal Belfast Hospital for Sick Children on April 29 – signalling the end of a gruelling chemotherapy regime.
On the same day, the family handed over three cheques totalling £81,000 to three charities which supported them – the Children's Cancer Unit at the hospital, Angel Wishes and Young Lives vs Cancer (previously Clic Sargent).
The money was raised by the family's campaign, 'Warrior Kids Fight Against Leukaemia', which culminated last month in a gala ball.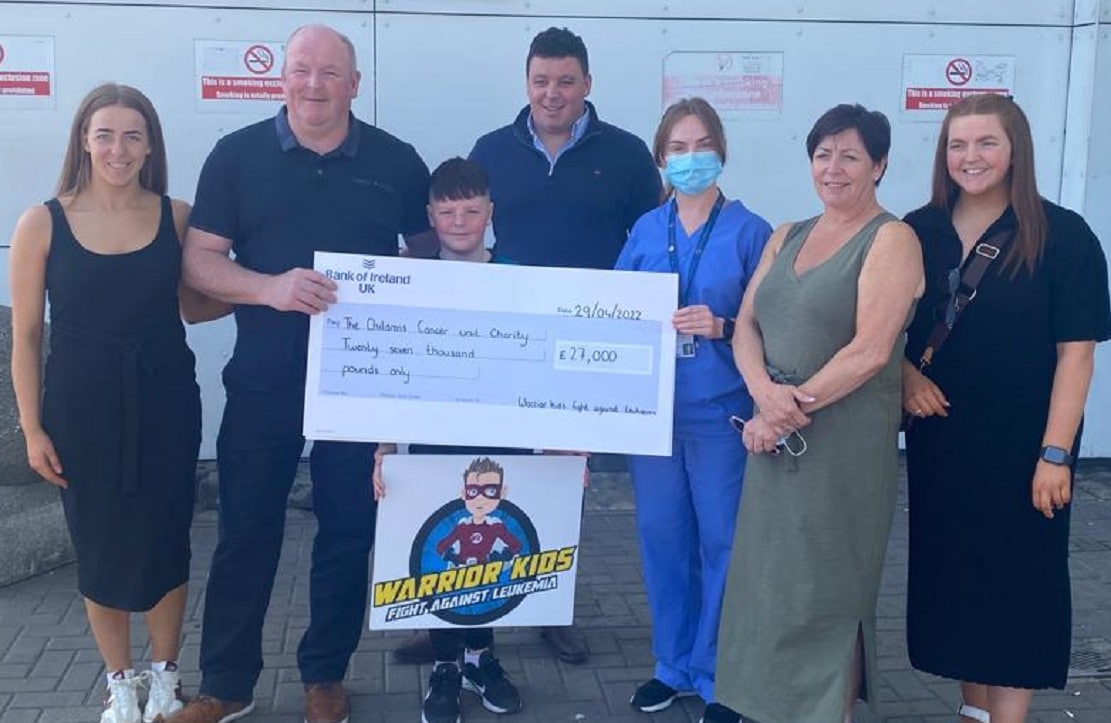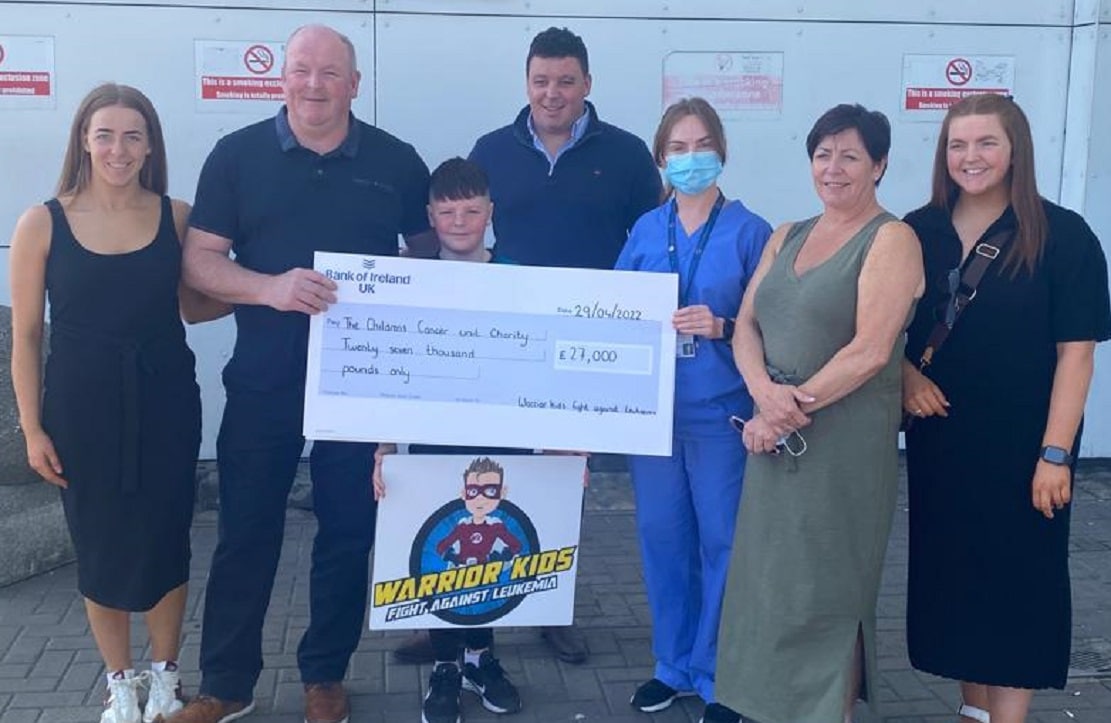 "It's such a relief. It has been a very, very long three-and-a-half years," said mum Siobhan. "We are just delighted that we were able to meet the three charities on the same day and hand over the money."
Niall will still have to attend hospital regularly for check-ups and his mum is also mindful of "other families and friends we have made who have got to this stage and who haven't had the same outcome".
"We are so lucky that we have had good friends and family and lots of support to raise the money for these charities and for those other children," she said.
"Niall was six when he was diagnosed and he has had to grow up so much. The procedures that the poor wee children have to go through are unbelievable and he just had a fear of everything.
"Every person who came through the door, he was afraid of them because he thought they were going to do something to him or stick something in him."
Niall, a pupil at Foley Primary School, is now in "great form". He has returned to hurling and football and is playing soccer as well.
"The school has been absolutely brilliant. He went back in the middle of his treatment and they were so, so good, " said Siobhan.
"He has a lovely wee network at the sports clubs as well. I can drop him off and know that people are all watching out for him. He doesn't want any fuss. He just wants to be an ordinary kid like the rest and I thinks it's probably better for us to try and let him do that."
Niall went through five phases of chemotherapy, with the final one being the longest.
"All in all, he managed it quite well," said Siobhan. "It's very, very intensive. He was on steroids a lot and they were nearly worse than the chemotherapy."
Niall was accompanied to the hospital for the big hand-over day by his mum and dad Kevin, along with brother Eoin and sisters Eimear and Aine who were there to greet him when he came out.
Siobhan said she and Kevin couldn't have managed without the help and hard work of the fundraising committee, made up of her sister Dette Hughes and family members Edel O'Toole, Simon Hawkins, Dean Skinner and Jack Grugan.
"Whenever Kevin took this notion to fundraise, we were still in the hospital and Niall had only been diagnosed about six weeks. They knew how much we wanted to make the fundraiser work," she said.
"They were also the same folks who were there for us every day, bringing food and clothes up to us, and taking Kevin out for a cup of coffee and a bit of a walk to get his head showered."
And Siobhan said the family's fundraising hasn't finished yet.
Next year, after they have had a break, the family plans to raise money for Daisy Lodge, a therapeutic centre in Newcastle for families affected by cancer, which is run by the Cancer Fund for Children.
"When we agreed to do the gala ball, we hadn't even heard of their services," she said. "We went there for two weekend breaks and it was absolutely unbelievable, so we want to do another big fundraiser for them."
Sign Up To Our Newsletter