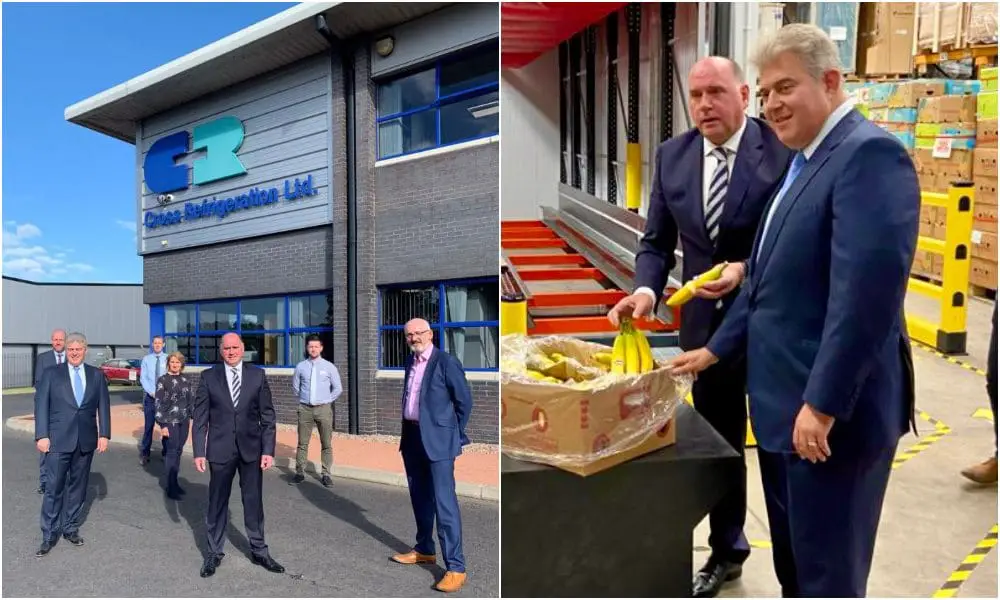 The Secretary of State for Northern Ireland, Brandon Lewis MP, recently paid a visit to Armagh-based business, the Cross Group for Brexit discussions and the impact of COVID19.
The Minister also took the opportunity to congratulate Managing Director, Andrew Nesbitt, on the company's success in winning its first contract in Australia for its fruit ripening division.
The contract with the Australian based supermarket Coles and their construction firm, Qanstruct Pty Ltd was for the design, manufacture and installation of 60 banana and avocado ripening rooms at Truganina, Melbourne.
The new facility can ripen five million bananas and 2.5 million avocados per week and the contract is valued at £7.1 million.
The Cross Group has received support for exporting activities from Invest NI, through its Growth Accelerate Programme.
The Coles Group, established in 1914, is one of Australia's largest food retailers, with over 2,500 outlets nationwide.
The Cross Group has been at the forefront of global banana ripening project delivery since the 1980's.
The Armagh company places a clear focus on design innovation, energy efficiency and the building of lasting relationships with its customers. Banana ripening facilities have been built by The Cross Group in the UK and Ireland for major fruit suppliers including Fyffes, Total Produce, Compagnie Fruitiere and Primafruit.
The design work for the new fruit ripening facility was produced by the specialist team of engineers in Armagh.
The new project will benefit from accurate temperature control to plus or minus 0.1 degree, with remote monitoring by Coles or Cross group engineers.
Produce shelf live is improved in controlled conditions and the system reduces electricity costs, delivering up to 70% energy savings.
Managing Director, Andrew Nesbitt commented: "This new contract was the culmination of four year's work following initial discussions at international trade show, Fruit Logistica in Berlin.
"Coles awarded the contract following an international tender process. Cross Group were able to bring industry leading innovations from Europe, delivering maximum energy savings through the use of our bespoke technology and cloud based software."
Following a company presentation and discussions relating to the impact of Covid-19 and Brexit, Brandon Lewis commented: "Having spent time with the Cross Group I now understand the impact COVID19 has had and how they have navigated their way through the pandemic and the economy recovery roadmap will support their business."
A socially distanced tour of the Cross Group facilities rounded off the Secretary of State's visit.
Sign Up To Our Newsletter