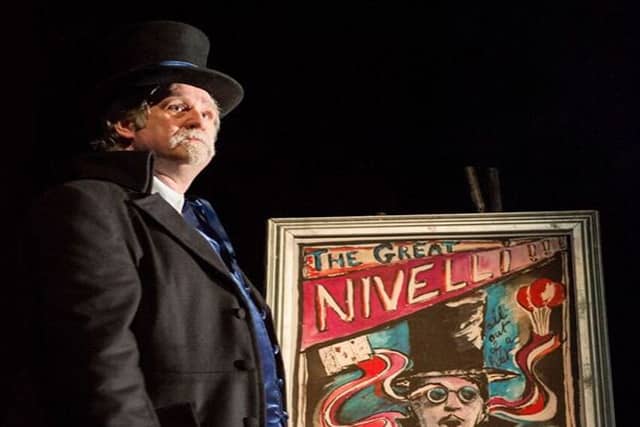 An Armagh man is counting down the weeks to a directorial dream for a Broadway stage!
Paul Bosco McEneaney is the founder of Cahoots NI.
And the award-winning company will join forces this spring with the Lyric Theatre to present 'Nivelli's War' in Belfast and in New York – on 42nd Street in the iconic Times Square.
Set at the end of World War II, 'Nivelli's War' is based on a true, heart-warming story of an incredible journey and an unlikely friendship.
Starring Dan Gordon, it is told through a blend of theatre, magic, illusion and original music.
New York has been a receptive home to the Lyric for many years, and strong links were evident during its capital development campaign, the success of Adrian Dunbar in 'Brendan and the Chelsea' in 2013, and more recently, Jimmy Fay directed Owen McCafferty's 'Quietly' in the summer of 2016.
Meanwhile, Cahoots NI have built up a distinguished international reputation, showcasing Northern Ireland as a region with a thriving theatre industry and a skilled creative workforce.
The company has appeared at prestigious arts festivals in South Korea, Malta, Japan, Germany, and are currently on a three month tour of North America with two productions.
Paul – who has directed Nivelli's War – is looking forward to the coming months said he is looking forward to working with the Lyric Theatre in bringing back to the stage one a drama which has been one of Cahoots NI's most successful productions.
He said: "Together the two organisations will reimagine this extraordinary, award-winning production, which captured audience's imaginations when first produced, and present it for Belfast audiences before opening on Broadway in April.
"I believe this – and our future plans together – shows a real and meaningful commitment to creating and presenting world class children's theatre to audiences."
The Lyric's Executive Producer, Jimmy Fay, added: "The Lyric is extremely proud to be able to draw on the unusually rich quality of our artists and I am proud to say that the Lyric is a home to some of our finest practitioners in playwriting, directing, design and acting.
"Our programme of work is distinctive, it resonates and engages with Belfast's people, but we also showcase our artistic excellence nationally and internationally. International engagement not only attracts investment and promotes Belfast as a creative city, but enables us to articulate and build cultural relationships and visibility for our exceptional talent.
"Through touring, the Lyric and her artists, offer a fresh, positive and energising narrative. We are thrilled to be collaborating with Cahoots NI on a story which has universal significance."
The principal funder of the production is the Arts Council of Northern Ireland, and Gilly Campbell, Arts Development Officer for Drama and Dance, said they were committed to supporting professional artists in showcasing their work on the international stage, demonstrating its world-class standing.
"The extraordinary quality and range of work produced by our artists here goes beyond what might be expected of such a small region," she added.
"Cahoots NI and the Lyric Theatre are outstanding arts organisations whose work merits international exposure and we are delighted to support them as they open Nivelli's War on Broadway, where it will be seen and enjoyed by thousands, putting Northern Ireland on the world map for all the right reasons."
Nivelli's War will take to the stage at Lyric Theatre Belfast from March 2 to 19. Book tickets now.
The production will be staged at the New Victory Theatre, New York from April 28 until May 11.
Find out more about the Lyric Theatre's Spring 2017 Season here.
Picture: Nivelli's War, presented by Cahoots NI in association with Lyric Theatre and starring Dan Gordon will take to the Broadway stage this April and May.
Read more news:
Up to 100 freshly-bedded kerbstones ripped up by mindless 'idiots'
'Jobsworth ******s' PSNI bust some myths around speeding
Co Armagh care home 'not fit for purpose' shuts suddenly
Woman sentenced after subjecting 15 horses to unnecessary suffering
Libraries continue to decline as only one in four adults visited last year
'Thieves and thugs will be dealt with' warns vigilante graffiti
Business owner offering £1,000 for info after thieves steal catering van
Brave John's family direct donations in lieu of flowers to help other cancer sufferers
Emergency services at scene of two car collision near Craigavon Area Hospital
Sign Up To Our Newsletter