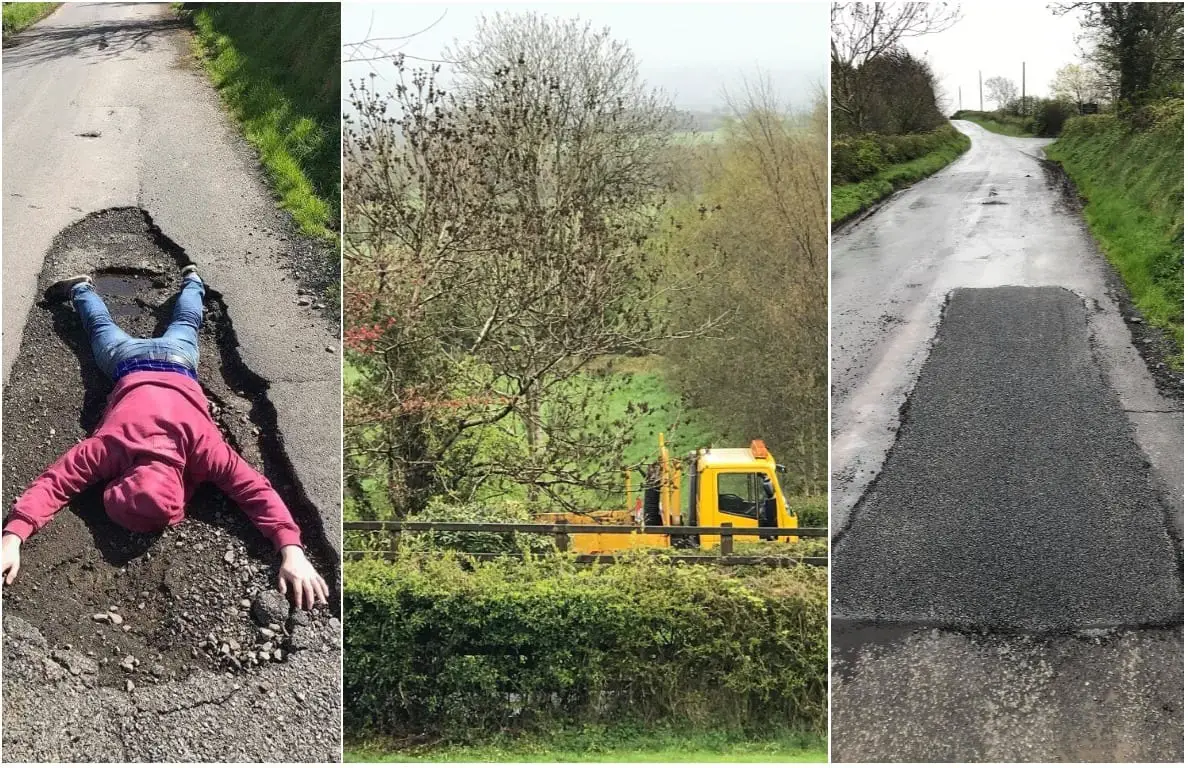 The power – or should that be tar – of Armagh I !
For a year now residents and frequent users of the Redrock Road have watched a pothole 'grow up'.
What started as a little crack on the road "just kept expanding", as local lady Catherine Dougan reflects.
So from tiny beginnings they watched with something resembling pride as it would grow, on a daily basis, and turned into an adult – or rather big enough to swallow an adult with plenty of room to spare!
It is two days ago that Armagh I posted a photograph of the deep chasm where the road has just crumbled to nothing.
And giving an indication of the scale of the pothole, a man lay down, arms and legs outstretched, and still could not reach from one end to the other.
Hundreds of people reacted to the picture and hundreds more shared the image which brings home – as if it's needed – just how bad our roads really are.
And lo and behold, on Thursday morning – just two days after that picture was posted – a yellow truck trundled over the hillside laden with more tar than you could shake a stick at!
And a short time later they were done!
The Dougan family had watcheed the pothole flourish outside their home.
They are happy that the work has been carried out.
But there are mixed emotions too – it had become something of a running joke to see how long it could sit and how large it had to get before something was done.
Catherine told Armagh I : "I've always found by adding a little humour to a situation that needs tackled the solution to the problem gets addressed quick. I know there were several complaints to the roads service about this.
"But showing anger gets you nowhere. We all got a laugh out of it."
Catherine said the road was "extremely busy" with a few businesses along it too.
"I haven't damaged my car but several others have," she added. "When there was heavy rainfall and it disguised the 'sink hole' many people got caught out. It was always a case of stopping to let others pass by."
The verdict is that it's a tar-ful job altogether! The work has been done and it's made a big difference!
"It takes Armagh I to solve the mess of the roads," adds Catherine.
"The only downside is my son will no longer have fun jumping in the large puddle when he's out for his walk. 
"And we had high hopes for offering hot tub parties in the summer too!"
Sign Up To Our Newsletter