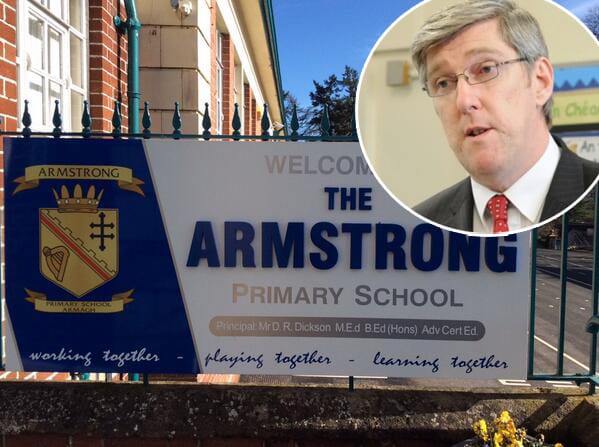 The first brick in the £2.45million extension and refurbishment works at the Armstrong Primary School in Armagh has been laid today.
Education Minister John O'Dowd marked the occasion in the city today.
The project, which is proceeding under the School Enhancement Programme, will involve the refurbishment and extension of the original school and provide resource areas, classroom stores and a multi-purpose room as well as new heating, lighting and ancillary works.
Speaking as he visited the school, Mr O' Dowd said: "The School Enhancement Programme is one of the programmes we use to enhance the school's estate. The new facilities here at The Armstrong will benefit the entire school community and improve the learning environment and ensure that this school is well equipped to deliver the curriculum to the existing pupils and future generations."
The School Enhancement Programme (SEP) was introduced in 2013 for projects up to £4million. The programme takes forward smaller scale works, where a new build is not deemed deliverable.
Concluding the Minister said: "I always enjoy visiting schools and meeting with staff and pupils. It is particularly enjoyable when I am highlighting investment that not only has an impact on the lives of those connected with the school but also provides a boost to the local construction industry. Since the launch of the School Enhancement Programme, 34 projects have commenced, representing investment of £80million. In addition, I have now announced a further £35million investment to enable another 12 projects to proceed to construction.
"I thank everyone involved with this project for their hard-work and commitment in taking the project forward to completion. I wish everyone well for the future."
Meanwhile, Mr O'Dowd also opened a new school library at St Patrick's Primary School in Cullyhanna.
Today is World Book Day, the aim of which is to encourage children to explore the pleasures of books and reading by providing them with the opportunity to have a book of their own.
The Minister said: "I am delighted to be here with you, on what is World Book Day, to open your new school library. Within this library there are many different books covering all sorts of topics which give the children of St Patrick's the opportunity to realise the pleasure and joy of reading and in turn allow them to develop their literacy skills. Reading is a greatly rewarding activity which cannot be matched by television, video games or mobile devices.
"I also want to take this opportunity to praise the Parent Teacher Association at the school who have been heavily involved in refurbishing the library and fund-raising to support it. Your involvement in encouraging reading is one of the key messages of my Education Works campaign. Research has shown that young children who are read to at home in Primary One did much better at school than those who are not read to.
In conclusion the Minister said: "I also very much enjoy discovering new books and am always open to the possibility that there are books out there that I will enjoy even more.
"One thing is for certain: reading is something that I encourage all young people to get involved with and enjoy."
Read more news:
First look inside new trampoline park at the Outlet Business Park
Police in urgent appeal to help find 'high risk' missing person David Duprey
Picture Exclusive: Memorial Battle of the Somme seats for Armagh and borough's towns and villages
Top fire officials state case for cutbacks in Armagh as firefighters attend fatal blaze
Pensioner dies after cottage destroyed in lunch-time blaze
Man in tuxedo suffers serious injuries following attack by five men
Tributes to 'true gentleman' who dies suddenly in tragic circumstances
Become a member
Support local, independent businesses by becoming an independent member.
Become a member