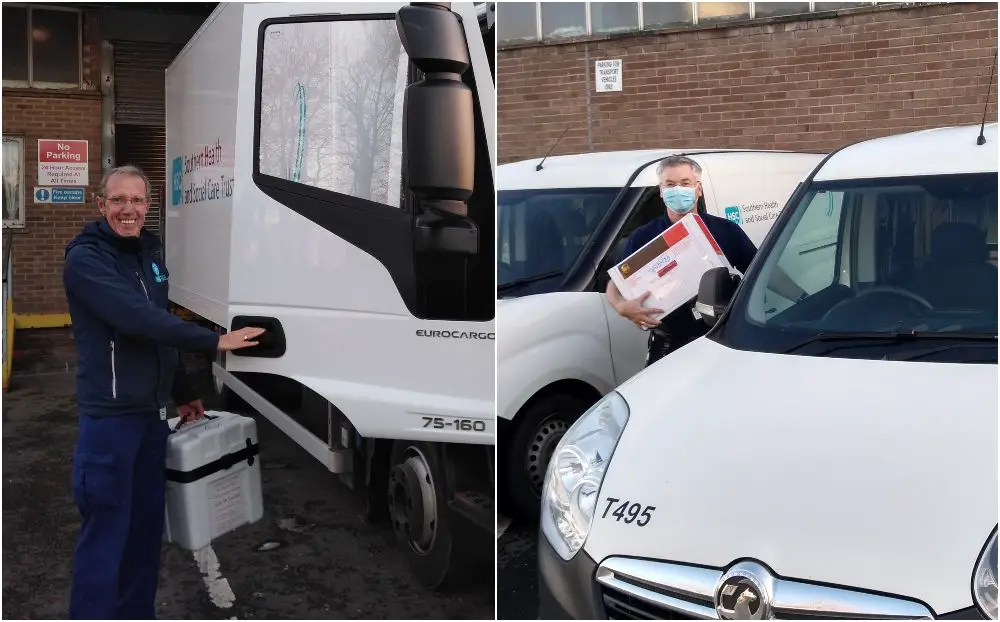 If you happen to be on the roads on Christmas Day you might just encounter two of Craigavon Hospital's transport drivers working through the day.
Phillip Brown (64), from Portadown, and Roy Mitchell (61), from Milford, are no strangers to working over the holidays.
They will be making sure that any needs, in particular pharmacy, bloods and clinical requests, are met throughout.
Have you worked Christmas Day before?
Roy said: "Yes I have worked every Christmas Day since I began in the Trust – from the year 2000. Christmas Day is a busy and demanding day for transport with frequent requests from all wards and clinical areas in particular pharmacy, bloods and clinical requests".
Meanwhile Phillip, who is also no stranger to working over the festive period, said: "Christmas Day is a busy day with ad-hoc requests from Craigavon Hospital ward areas so it's all go."
Obviously, Christmas Day is going to be very different for many of the patients, how are you going to keep spirits high this year?
"I don't have much contact with patients but would have contact with staff, which is great as everyone is in great form," said Philip.
Roy commented: "It is difficult this year to have any interaction with patients due to coronavirus restrictions. Staff on the other hand, welcome a cheery smile and Christmas greeting to lift all spirits during this difficult time."
Describe how it has been working through the pandemic?
"I have had no problems working through this pandemic; it is a very different time and we have all had to work differently during Covid-19 and following Infection Prevention Control requirements to keep everyone safe," said Phillip.
Describing it as "very strange and surreal", Roy added: "We have all had to adjust significantly in line with current Covid-19 requirements to ensure everyone's safety."
In what has been a difficult year, are there any positives which you have been able to take from it?
Phillip said: "I have been very fortunate not to have suffered from this virus and this is definitely a positive. I also feel there has been an increase in support from colleagues to work together."
Roy said: "I feel that during this pandemic our transport department has worked tirelessly as a team to ensure all requests have been met in a timely, professional and friendly manner.
How do you feel about the reaction from members of the public to the work you have
done?
"I feel the public have been very positive and grateful for the work NHS staff members have undertaken," said Phillip.
Roy added: "I feel the public have been very sympathetic to me as an NHS staff member, which I am very proud of."
What are your plans for Christmas, how will you be celebrating this year?
Both men are still looking forward to enjoying their Christmas dinners with their respective families over the festive period.
Sign Up To Our Newsletter