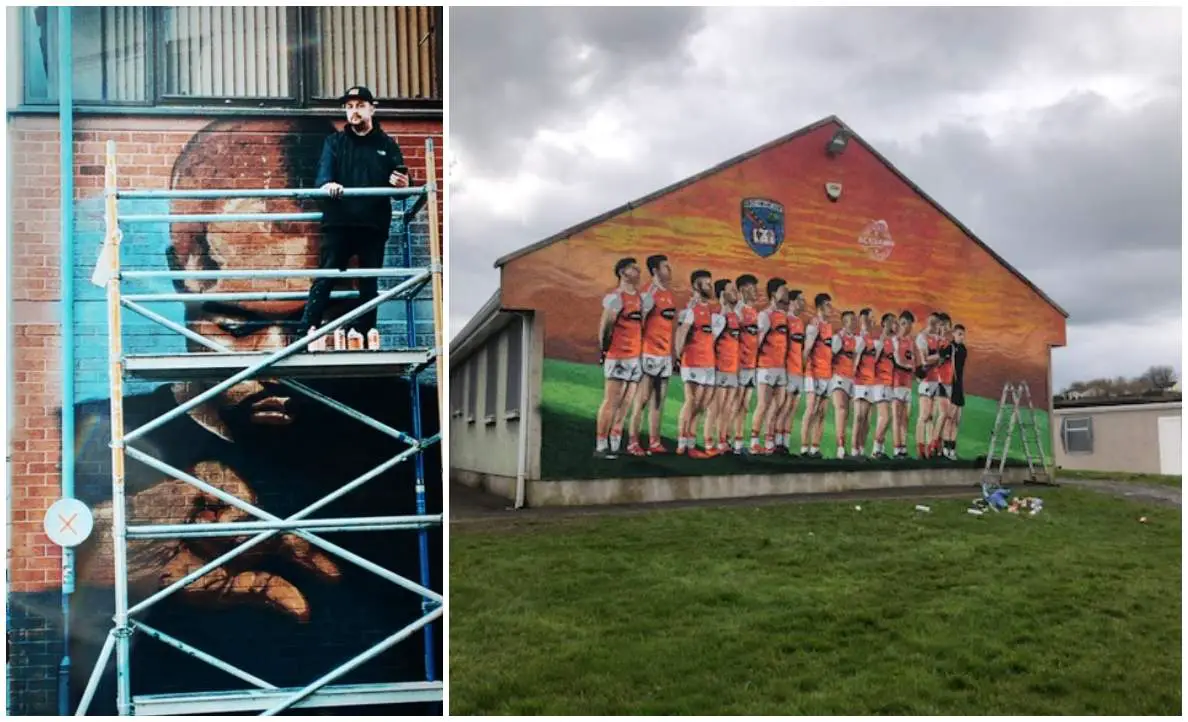 A stunning new mural of the Armagh senior football team has been painted on a wall at the Orchard County's training grounds in Callanbridge.
You may have seen images of the artwork shared on social media to wide acclaim – check out the step-by-step gallery of it coming together at the bottom of this story.
Well it is the creation of Laurelvale's own Dean Kane – aka Visual Waste – and we were thrilled to catch up with him today (Thursday).
Speaking to Armagh I, Dean explained the whole process started some months back when he was contacted by someone from Armagh GAA about the possibility of a mural at the practice grounds.
"That is before all of this kicked off," he said. "Just with the way my schedule was it sort of landed that it was done this week, so I had a few days in Armagh painting that.
"It was roughly three days painting. It took longer because I couldn't get equipment – such as a scissor lift – hired so it was all done with a ladder. Normally I could do one of that size in about a day and a half."
Dean has been creating street art masterpieces and murals as his full-time job for the last eight years. And in that time he has worked for sports clubs to brands, and everything in between.
He said: "With the majority of things, you sort of get a mixed reaction but over the past few years I have noticed that people are more susceptible to it.
"They are seeing more of it and they are starting to see the meanings behind the things you do, why they are being painted, so they start to become interested in it.
"I would find that a lot of people that are following my work wouldn't necessarily be into graffiti or street art, it is just because of the vast portfolio I have.
"I could be painting the Joker or Catwoman in Belfast City Centre one week and then the next I am painting the GAA club, so it is quite a mixed bag."
Dean said that when he originally started he would have used monotone colours to make his work more distinctive, but he has in the last few years started to use a lot more colour.
When contacted by Armagh GAA, Dean said that the he was given "a very loose brief".
"They just wanted what represented togetherness and a brotherhood, everyone working towards one goal. So I asked for a lot of different images that they had, maybe team meetings before the matches or at the start of the match, images when they are all sort of huddled in.
"I spotted that image, I thought it was great. I thought it fitted the wall because it was quite long and I wanted it to represent the team, so we have the 15 players.
"Then I got the dusk type background and part of the pitch. I wanted all the colours to match the pallet of the county. I suggested that to the guys and they loved it."
Explaining just how he does it – and makes it seem so effortless – Dean went on: "I always document the murals, as much as I can. The process I used with this one was a mixture of stencils and gridding techniques
"In the images you can see, it starts out as a sketch and then there would be a grid in the background. I then use doodles X's and squares and triangles which I use as reference points.
"That means I know a foot is needed on the X or the triangle symbolises a hand. It is quite difficult when you are so close up, so it is a lot of back and forth, stepping away to see the full picture."
Dean was delighted with how well received his artwork has been and we – like everyone else – thinks he has done a fantastic job too!
Check out more of Dean's work on Facebook, Instagram and Twitter or visit his website.











Sign Up To Our Newsletter