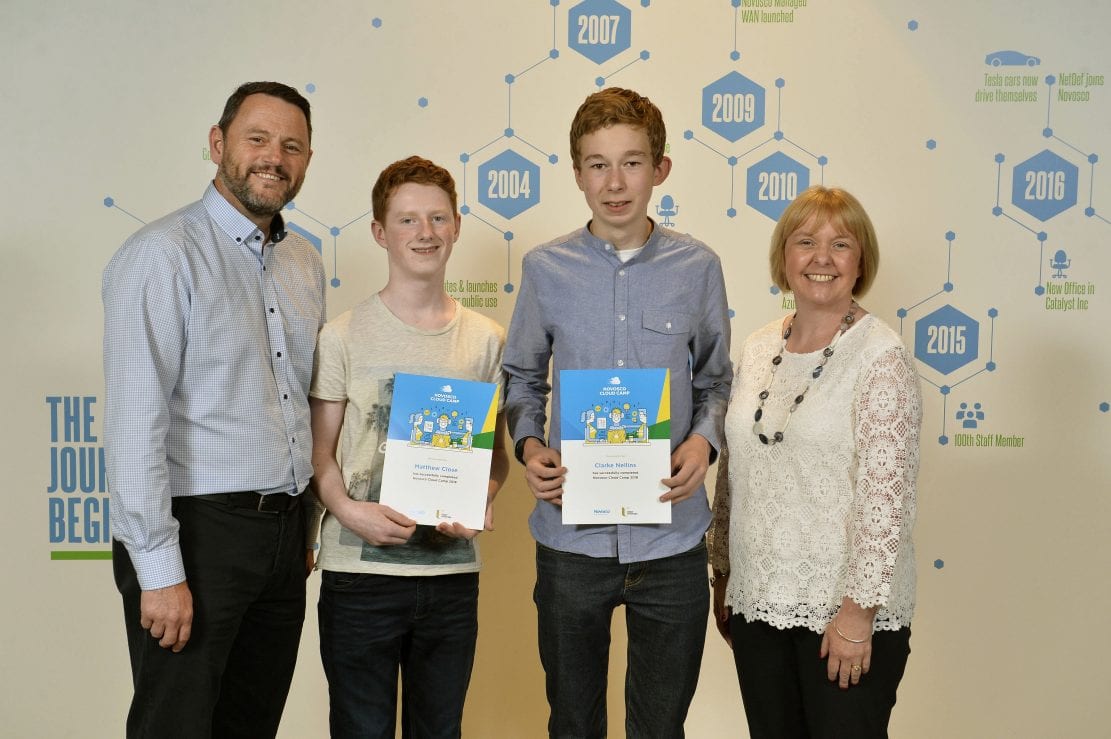 Two Co Armagh students were among a select group of 40 who successfully completed one of Northern Ireland's leading IT infrastructure summer camps.
And the organisers of the event have said they were "blown away by their commitment and enthusiasm".
The 2018 Novosco Cloud Camp – in partnership with Ulster University – took place at Ulster University's Jordanstown campus.
Matthew Close, who studies at St Patrick's in Armagh, and Clarke Nellins, a pupil of Markethill High School, impressed leaders.
The five-day summer camp, which is free to students aged 16 and 17 and enrolled at schools and colleges across Northern Ireland, provided first-hand, practical experience in the management and development of IT infrastructure and systems in a fun and engaging learning environment.
Professional IT engineers from Novosco, experts from the Connected Health Innovation Centre (CHIC) at Ulster University and lecturers from the Ulster University School of Computing facilitated the camp, which also included a tour of Novosco's state-of-the-art Belfast headquarters at Catalyst Inc.
A mix of theory and hands-on experience, the camp covered networking, programming, IoT (Internet of Things), cloud computing, AI (Artificial Intelligence) and more.
The camp also utilised Ulster University's smart environment labs, which includes some of the latest smart technologies, as well as a state-of-the-art robot, Sandy.
In a bid to nurture future IT talent during the camp and beyond, each student was provided with a third-generation Raspberry Pi, a small and affordable computer used to learn programming, which they could keep.
Novosco Managing Director Patrick McAliskey said: "This year 40 students from across Northern Ireland took part in the Novosco Cloud Camp and we were blown away by their commitment and enthusiasm.
"They demonstrated real promise for the future of the IT industry here as it continues to grow and create new and exciting career opportunities over the next few years, opportunities which this year's intake of students will undoubtedly excel in.
"We were delighted to be able to partner with Ulster University for the first time to deliver the camp too.
"Their facilities, expertise and reputation for nurturing some of the industry's brightest and forward-thinking programmers, developers and engineers was integral to the success of the camp."
Dr Nicola Ayre, Associate Head of the School of Computing at Ulster University, commented: "The future of the IT sector in Northern Ireland is hinged on educators returning highly-skilled and industry-ready students grounded in theory and practical knowledge.
"We were thrilled to partner with Novosco to deliver the 2018 Novosco Cloud Camp and hope to welcome some of this year's students to Ulster University in the near future to further develop the skills sought-after by the IT sector and maximise each individual student's appeal and employability."
Novosco is an IT infrastructure and managed cloud provider with clients in the public, private and voluntary sectors across the UK and Ireland, including Premiership football teams, some of the UK's largest health trusts and many top companies.
The cloud provider recently secured a seven-year, £107million contract with Cambridge University Hospitals NHS Foundation Trust and announced the creation of 150 new jobs over the next three years.
Headquartered in Belfast, Novosco also has offices in Manchester and Dublin.
For more information on Novosco, visit novosco.com and for more information about the Novosco Cloud Camp, in partnership with Ulster University, visit novoscocloudcamp.com.
Sign Up To Our Newsletter