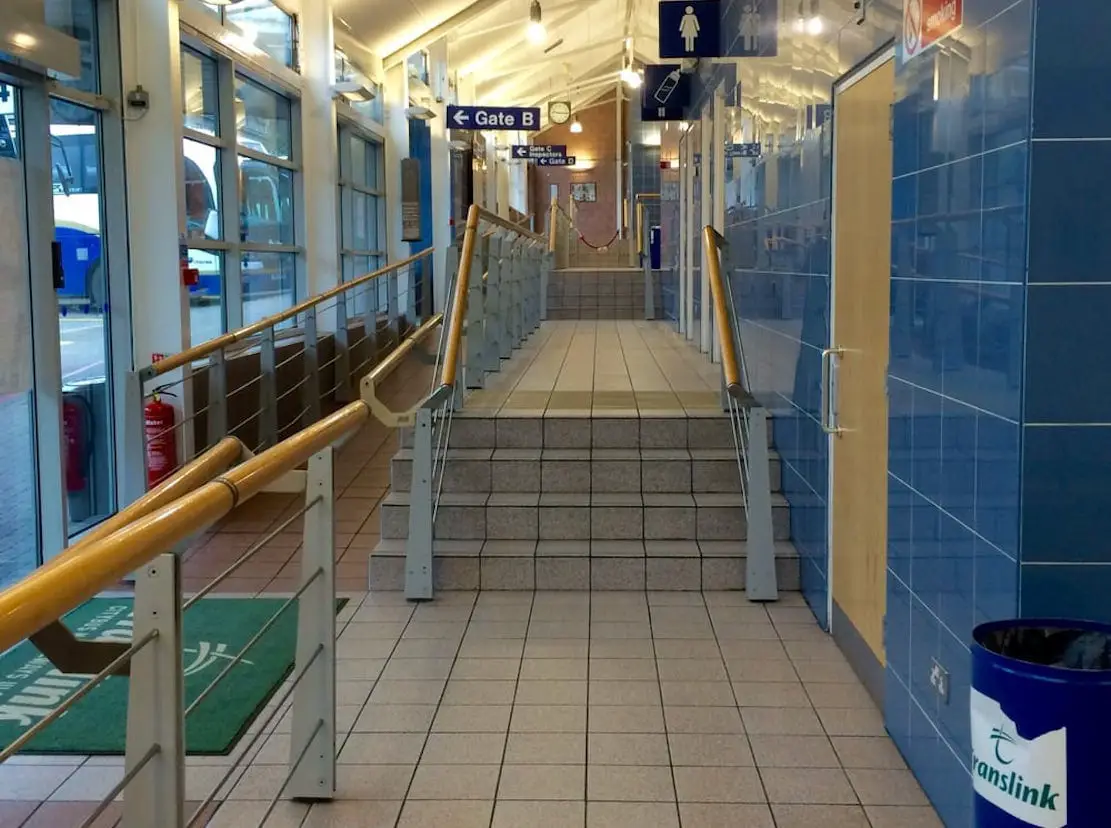 A Co Tyrone man who squeezed a schoolgirl's buttock as she waited on a bus with friends has been jailed.
Thomas McDonagh (46), of Sydney Street in Aughnacloy, admitted sexually assaulting the teenage girl at the Translink depot in Armagh.
McDonagh, a member of the Travelling Community, had originally approached the girl and her friends, asking for a cigarette.
He carried out the sexual assault, and had also asked her name and called her "sexy".
The girl – who was under the age of 18 – reported it to a bus driver after the assault at the Lonsdale Road depot.
Details of the incident, which happened on October 10, 2016, were recounted at Armagh Magistrates' Court on Tuesday.
The court was told a man had approached the teenager and two of her friends asking for a cigarette, and she had recognised him as she saw the defendant once or twice a week at the bus station.
McDonagh went on to ask the girl for her name and called her "sexy".
Telling the trio he was heading to the shop, he stepped behind the girls, squeezing the left buttock of one as he passed by.
The girl told a bus driver what had happened.
The court was told McDonagh returned to the bus station, and the girl had moved back against a wall to stop him repeating his behaviour.
Defendant stood and smoked for between five and 10 minutes, during which time Translink staff had notified police of his return.
He was subsequently arrested and taken to Banbridge PSNI Station.
The court heard CCTV footage showed a man wearing the same clothes as McDonagh when he was arrested.
Eyewitnesses also identified defendant.
The victim later told police it made her feel "sick to her stomach".
Defence counsel Steffan Rafferty asked that the defendant be given credit for his guilty plea, saying it saved the witnesses from being required to give evidence.
He added that this was an "unusual offence given the defendant's record, as he has nothing previous of this nature".
Mr Rafferty said McDonagh had "limited recollection" as he had consumed a considerable amount of alcohol.
Defence counsel stated the defendant was "fully accepting of his guilt" and was "very regretful and ashamed".
The solicitor went on to say this shame spread to his "extended wider family" with his father "expressing concern about him returning home".
Mr Rafferty accepted his client did have a record, especially for "dishonesty matters", and had just completed a lengthy custodial sentence.
He also said his client had suffered a brain injury at a very young age.
Mr Rafferty said McDonagh was from the Travelling Community but his family was settled in Aughnacloy.
Deputy District Judge John Rea said it was a "cause for concern that young girls cannot use public transport without being in danger of this type of behaviour".
He told McDonagh: "You have an appalling record with nothing leaning towards leniency."
Having sentenced him to three months in prison, he also ordered that defendant be placed on the sexual offenders register for seven years.
"What might have seemed trivial to you, was certainly not for this young woman," added Deputy District Judge Rea.
Sign Up To Our Newsletter