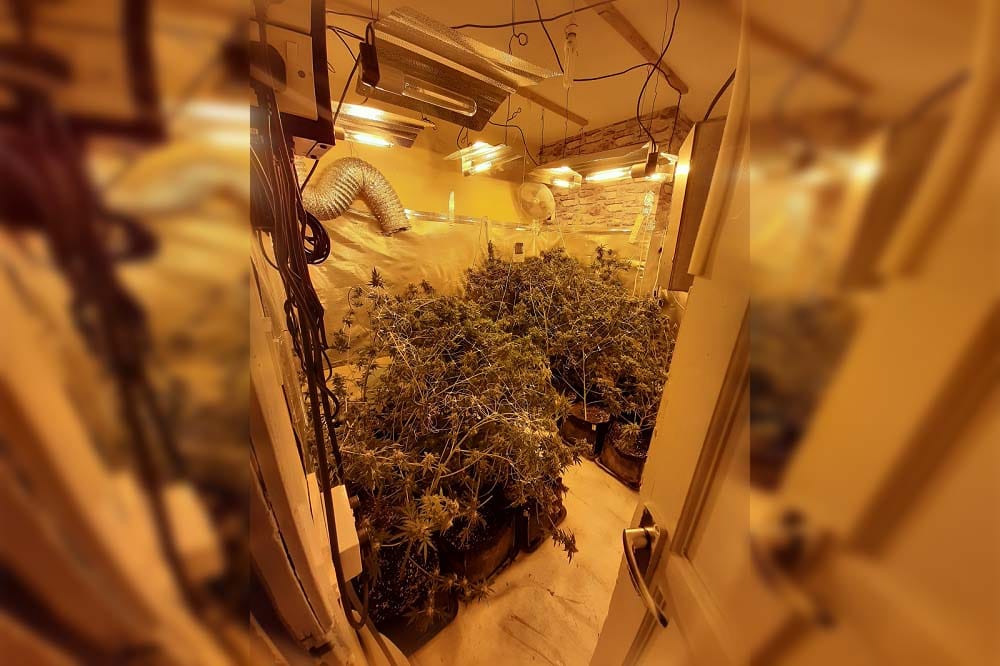 A man who appeared in court for charges relating to the recent discovery of a cannabis factory in Armagh has been refused bail.
Court heard that the 33-year-old, who arrived in this jurisdiction earlier this year, claimed that he had been asked to tend to the plants by an unnamed Russian he met whilst drinking on a football pitch.
Juris Babhins, of Tullysaran Road in Armagh, appeared charged with cultivating cannabis, possession of class B, possession of Class B with intent to supply, dishonestly diverting electricity and criminal damage at Banbridge Magistrates' Court, sitting at Newry, on Thursday.
Appearing via videolink from police custody, the defendant confirmed that he understood the charges and was connected to the same by a constable.
Defence solicitor Kevin McCamley made no question to the connection and made in known that a bail application, which was opposed, was being made on his client's behalf.
Prosecution, outlined the accused's alleged involvement and said that on July 6, at 6pm, police attended an address on Tullysaran Road in Armagh.
Officers spoke with the landlord, who stated that he had been renting the property to the defendant for a period of three months.
Upon arrival, in the presence of both Babhins and the landlord outside the address, police could smell a strong smell of cannabis.
During a search, officers located 31 cannabis plants along which were close to being cut with a hydroponic system in place in an upstairs bedroom.
In three other rooms, police located further evidence of growing with cuttings, fertiliser, heat lamps, cables along the roof and water being supplied from the bathroom.
It was established that this defendant was the only tenant and he was subsequently arrested, making no reply to caution.
A further one kilogram bag of herbal cannabis was located by officers under the stairs in the property.
During interview, Babhins stated that he had only moved to Northern Ireland in 2021. After finding it hard to find employment he was approached by a Russian male, whilst drinking on a football pitch, who offered to help him.
The defendant claimed that this unknown male had asked for him to water the plants and turn the lights on and off at the property.
He told police that initially he did not know what the plants had been but later did realise, however, he continued to tend to them.
Babhins stated that the Russian had been paying for his rent, along with providing money for food and electricity.
Outlining objections, prosecution stated that the defendant had no ties to this jurisdiction and with links to Scotland there was a fear of flight.
There was also a fear that Babhins would commit further offences in order to recoup his losses.
Mr McCamley stated: "This defendant has been extremely open and honest….he knows the gravity of these offences and it is accepted that he has no ties to this jurisdiction."
He told court that Babhins' brother lived in Aberdeen. This defendant had also up until recently lived there also but moved in Northern Ireland in search of work.
District Judge Eamonn King stated: "This house was substantially converted in order to provide growing facilities. He says that he travelled from Scotland and met this unknown Russian whilst drinking in the park.
"He now has attached all of criminality in this case to the unknown Russian."
Babhins was refused bail and the case was adjourned until July 23 at Armagh Magistrates' Court, sitting at Newry, for an update.
Sign Up To Our Newsletter