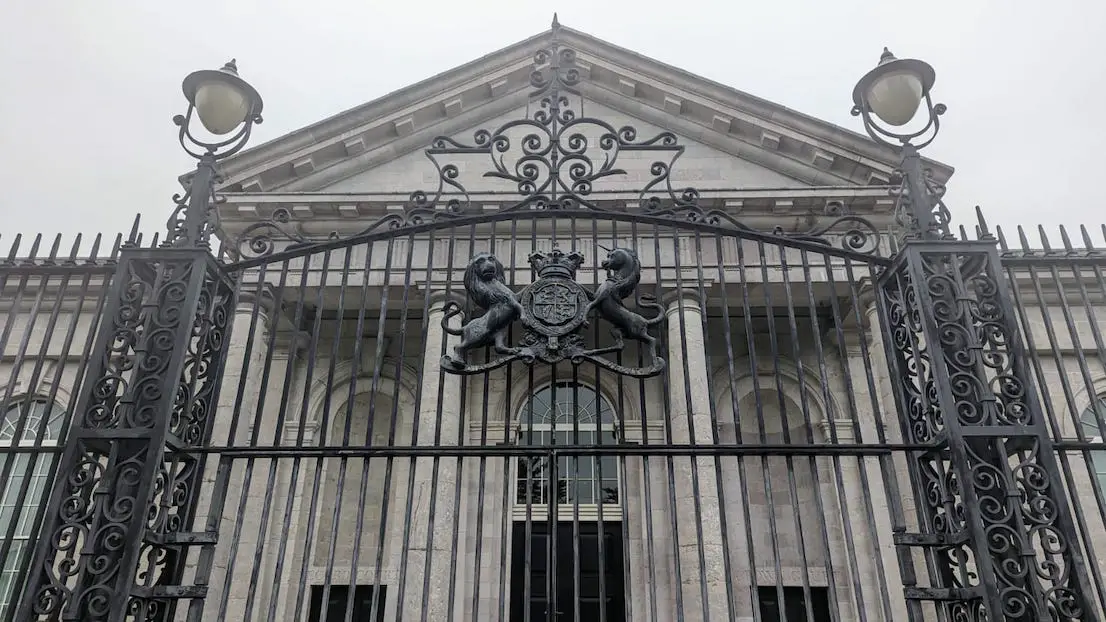 A man who made numerous calls to the Ambulance Service from phone boxes in Armagh falsely stating that a person had hanged themselves has been given a suspended sentence.
On imposing sentence, Deputy District Judge Ievers told Stephen Philip Henderson, of no-fixed-abode, Belfast, that she hoped "in dealing with this case in this particular way that you harness all the support that's being afforded to you".
The 42-year-old appeared before Armagh Magistrates' Court, sitting at Newry Courthouse, via videolink from Maghaberry, charged with improper use of public communications and wasting police time by making a false report.
It was noted that the defendant, whom the court was told has a "substantial record", had appeared before the court the week before in relation to two matters.
The first matter was the breach of a restraining order and the second related to two charges, one of criminal damage and another of assaulting police.
It was further noted that the defendant was subject to a number of probation orders and was due to appear in court the next day in relation to breaching those orders.
The false phone calls incident occurred on July 11, just hours after the defendant had received a prior suspended sentence. He had been released from Maghaberry around midday and was arrested later that evening when the NIAS made the PSNI aware of the phone calls.
The court was told that on the date in question, calls had been made to the Ambulance Service from public phone boxes in Armagh spanning over two hours. The calls were placed by a male who stated that someone had hanged themselves but he had cut them down.
On a second reported occasion, police observed the defendant in the immediate vicinity of a phone box. He was then observed walking up and down the street and circling the phone box, before returning to the phone box and calling again.
Whilst this call was being made police went to the phone box and observed the defendant. He was intoxicated, unsteady on his feet and stated that he was homeless.
It was confirmed that a total of seven reports had been made. The defendant was taken to Dungannon custody, where he was adamant that a man had been hanging and that the calls were made with good intentions.
Speaking on Henderson's behalf, a defence solicitor stated that his client accepted the facts, even though he initially denied the "malicious element" of the phone calls, adding that he wished to apologise for his "nuisance" behaviour.
By way of background, he explained that his client had difficulties with the legal system from a "very early age" and that violence during his upbringing has left him with a degree of trauma and ill mental health, adding that he has been grappling with alcohol and bereavement issues.
He added that Henderson had been released from prison and had found himself in Armagh with little money and nowhere to stay, having "little recollection" of the nature of the calls.
The defence then argued that waiting for a place in Cuan Mhuire for the defendant would be more beneficial than Maghaberry, which would put him back to "square one".
On hearing the outline of the facts and the defence's plea of mitigation, Judge Ievers commented: "This is serious offending, which has had a significant impact on a service which is under a lot of pressure…There's no doubt in the court's mind that the custodial threshold has been passed.
"What is also a very significant aggravating feature is that a suspended sentence was imposed upon you just before you offended…. What is concerning me is that you've been offered support by probation services and you didn't appear to avail of that."
She imposed a sentence of three months for the charges before the court, and activated the three month suspended sentence which had been breached.
This left a total period of six months, which was suspended for a period of three years.
---
Follow all the latest court news here.
Sign Up To Our Newsletter