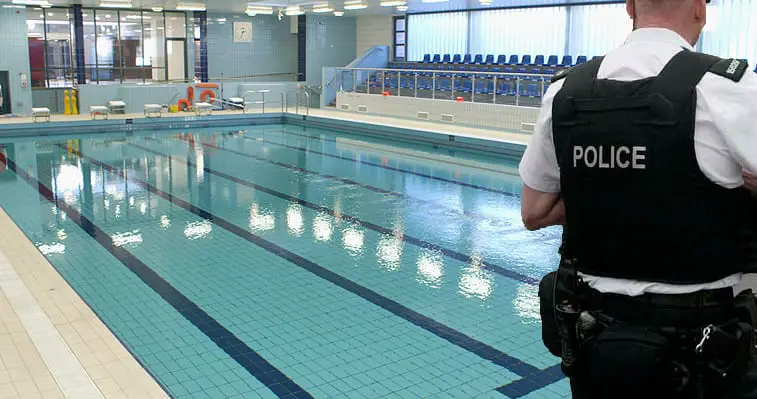 A man was arrested on suspicion of voyeurism after staff at the Orchard Leisure Centre in Armagh called in police.
Councillors and officials received an email alerting them to an alleged incident at the facility on Thursday afternoon.
Armagh I has seen a copy of correspondence sent from a senior council official instructing how the alleged matter should be dealt with if queried by media.
Senior council officials were told the alleged incident involved a male member of the public was acting suspiciously in the village changing area.
A school teacher summoned a member of staff and claimed a man "was continually walking about and going into different cubicles".
The email further claims "we observed on the CCTV cameras and the man who had paid for a swim did not get changed at any time was in the area for approximately 30 mins. We also sent staff to the area to patrol".
Police arrived on Thursday afternoon and requested CCTV footage provided on disc.
The email continues: "The same individual arrived into the centre today (Friday) just after lunchtime and again went to village after paying for a swim."
It was stressed while a man had been arrested "at no time did the public or staff state they saw him commit any act of voyeurism and CCTV does not show the there was any carried out".
Read more news:
Single mother of three forced to live on £30 a week for two months after company blunder
Deliciously famous family-run business aiming to expand at Milford base
Four arrested after cannabis seizure during county Armagh house raids
Solving the Gosford parking problem: 'Ministerial action required immediately'
Emergency services attend scene of three vehicle smash outside Gosford
Watch the shocking moment woman and child duck under barriers as train approaches
Fifteen people imprisoned in house forced to live in squalor by gangmaster
Young family left shaken as thugs target house as baby slept
Sign Up To Our Newsletter