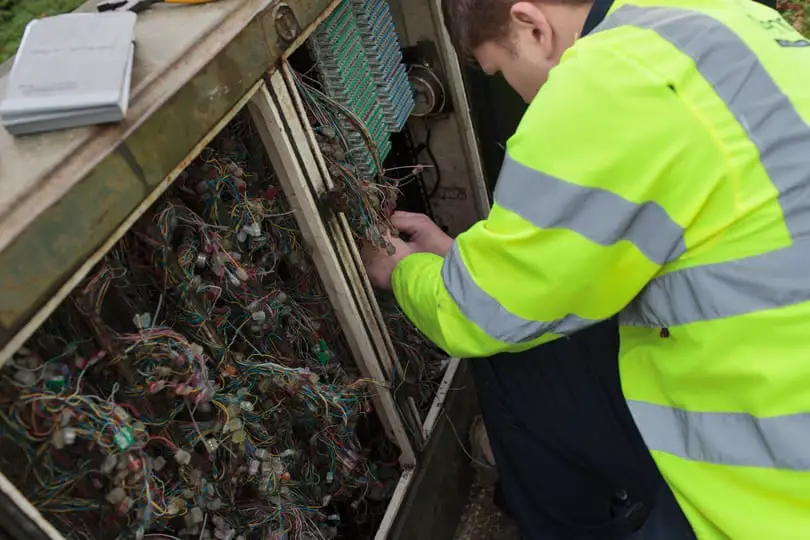 A major leap to help improve broadband in the Armagh City, Banbridge and Craigavon Council area is expected to be taken this month with a multi-million pound bid for funding.
At a meeting of its economic development committee tonight (Tuesday), councillors will be asked to back the development of a full application to Broadband UK for a funding package in the region of £2.12 million.
This money would establish a 'Gigabit' fibre ring in the Borough.
If successful, external expert assistance to prepare the bid would be required at an estimated cost of £10,000.
It is one of a number of decisions relating to broadband provision which will go before the meeting on Tuesday night, with any decision having to be ratified later in the month at a full ABC council sitting.
In a report to committee tonight, councillor have been informed: "Tackling problems of poor physical and broadband connectivity in rural areas is a theme which comes through strongly in the community planning agenda.
"The UK Government is planning for future needs of the economy and recently announced it was making available funding of over £1 billion to be invested in the next generation infrastructure (5G).
"As a lead in to this huge national investment, a further £200 million has also been set aside to help provide the fastest and most reliable broadband available into locally-led projects across the UK.
"Starting in late 2017 the Local Full Fibre Networks (LFFN) programme will invite bids into a challenge fund from local bodies who can leverage local investment and activity to stimulate more fibre connections in their local areas.
"Engagement with network operators and local bodies has helped to shape a programme that will include: harnessing long-term public sector internet demand, providing gigabit connection vouchers to increase business take-up, upgrading connections into public buildings with fibre and improving access to publicly-owned infrastructure.
"These approaches focus on improving the business case for the private sector to invest in fibre networks to connect even more homes and businesses.
"Separate to the recently announced £150 million for Northern Ireland broadband infrastructure, which will increase the coverage of super-fast speeds, the challenge fund is intended for local authorities to make Gigabit speeds available in their areas."
Expressions of interest were sought towards the end of last month and council officials compiled and submitted an outline programme of investment in a potential new Gigabit infrastructure for the borough.
The report adds: "A full fibre network operating at Gigabit speeds in the borough would mean that our telecoms infrastructure would be fully 'future proofed'.
"It would provide the opportunity to cost effectively extend fibre to many more business and domestic premises borough-wide."
Bids for the money can come from any public sector body, or group of bodies in the UK, and successful applicants will be known later in the year, with all the money having been spent no later than March 2021.
Four delivery methods have been stipulated and the borough – if successful – would expect to use three of these: public sector anchor tenancy, a Gigabit voucher scheme and full fibre upgrades for public sector sites.
The premises covered in the 'expression of interest' are the existing business centres at Banbridge and CIDO, Bluestone and Mayfair, plus the proposed 'Digi-Hub' provision for the borough and the proposed £30m Craigavon Leisure Centre and new Southern Regional College Campus.
Connection of the three main civic buildings will complete the Gigabit ring.
The total number of Gigabit connections has been estimated at 881 business and 1,845 domestic premises.
An estimate of cost at this stage is £2,120, a figure which would be refined and accurately costed at full application stage.
As well as an application specifically for the borough, the council will also be asked to back a joint expression of interest which is being coordinated by Belfast City Council for all 11 Northern Ireland councils.
It proposes an extension of the current 'voucher' scheme, to which all businesses can apply to assist with 'Superfast' broadband connections.
Belfast City Council has been coordinating the current scheme for the last three years and to date over 50 local businesses have received vouchers, each worth £3,000.
And the ABC council is also hoping to organise a conference entitled 'Broadband – Local Needs, Local Solutions – which would be held in Craigavon Civic Centre on Wednesday, September 27.
A number of high profile stakeholders and speakers, of local and national prominence, have already been confirmed.
Seeking backing of councillors to commit to the £2,500 cost of hosting the event, the report informs: "The conference will show by example the business benefits of good broadband and the effects of poor broadband. Experts will profile examples of best practice from other regions.
"The aim is to finish the day with a workable route map and an agreed way forward that will provide an impetus for collective lobbying to bring about local solutions."
Sign Up To Our Newsletter