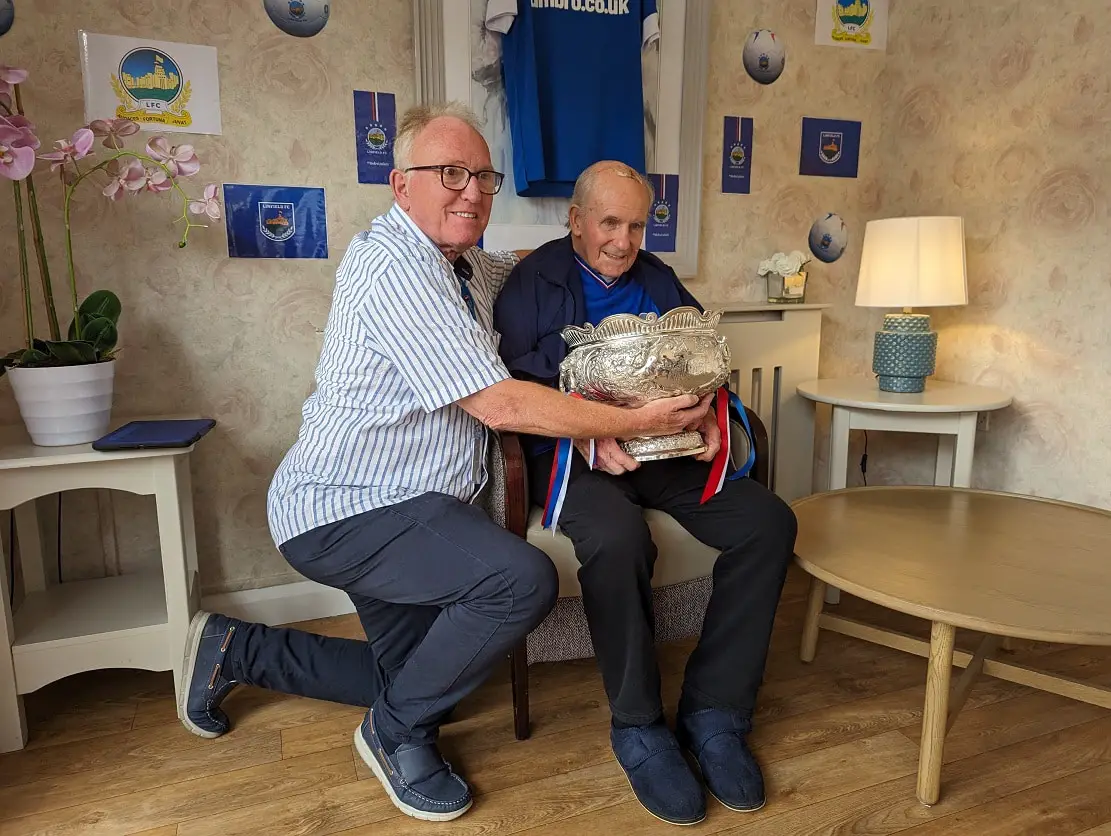 Of the many sporting sensations that Northern Ireland has produced over the years, Billy Wilson is a name still known in the hearts of hundreds of local football fans across the province.
The 86-year-old Portadown man, who started his career with his home town team, Portadown FC, went on to give many years to Linfield FC in Belfast, securing many successes and accolades in the process.
Billy, who is now resident at Hamilton Court Care Home in Armagh, sadly suffers from dementia, so it was decided by staff that a visit from colleagues at his old club of Linfield FC would be a meaningful gesture.
And so, on Thursday (August 24), Stephen Shaw, a Director at the club and former colleague of Billy, made the trip from Windsor Park down to Armagh, with the Belfast City Cup – which Billy himself won in 1961/62 – under his arm.
In the quiet room of the home, unbeknownst to the seven trophy stalwart, the place had been decked out with Linfield FC paraphernalia for the visit.
Stephen arrived with not only the old cup, but a ream of photographs and stories from a bygone day.
When asked if he thought he was a better footballer than one of his former colleagues, Billy merely replied: "I don't put myself higher than anybody."
This response was in true form to Billy, who was known as competent but humble on and off the pitch.
Billy, who was born on September 23, 1936 in Portadown, had a brief stint with Burnley from 1955 to 1958. He also earned 15 Youth International caps and a B International cap against Romania in 1957.
According to the Linfield FC website, he signed for Linfield on October 11, 1958, making his debut away to Glenavon that year.
With Linfield, he managed to bring in a huge number of honours, cementing himself as what the club describes as an "unsung hero" of that period.
Billy's honours with Linfield include Two Irish Cup winners' medals in 1960 and 1962, and three County Antrim Shield winners' medals in 1958/1959, 1960/1961 and 1962/1963.
He also obtained a City Cup winners' medal, an Ulster Cup winners' medal and a Gold Cup winners' medal, all in 1961/1962.
Billy made 48 appearances and scored one goal in the historic 1961/1962 season, also receiving an Irish League winners' medal in the same year.
He also made four appearances in European games, before being released in 1965 and signing for Ballymena in 1967.
Billy, who was also a PE teacher in college for a time, was then the Linfield Swifts coach for the 1969/1970 season.
Along with the other seven trophy winning legends, he was made a life member of Linfield FC.
Stephen Shaw, speaking to Armagh I during his visit, said: "I would have known Billy as a player from the early 60s and would have met him on many occasions pre-Covid. I found him to be an interesting yet humble man. He was always well received at Windsor Park and with his peers.
"I'm pleased to be able to come down and bring Billy what he would have known as the City Cup [now the Irish League Cup], one of the original seven trophies. Billy won this cup in 61/62."
Lucy Hart, Activities Co-ordinator at the home, added: "It is a really special day for Billy and we're all delighted for him."
Sign Up To Our Newsletter