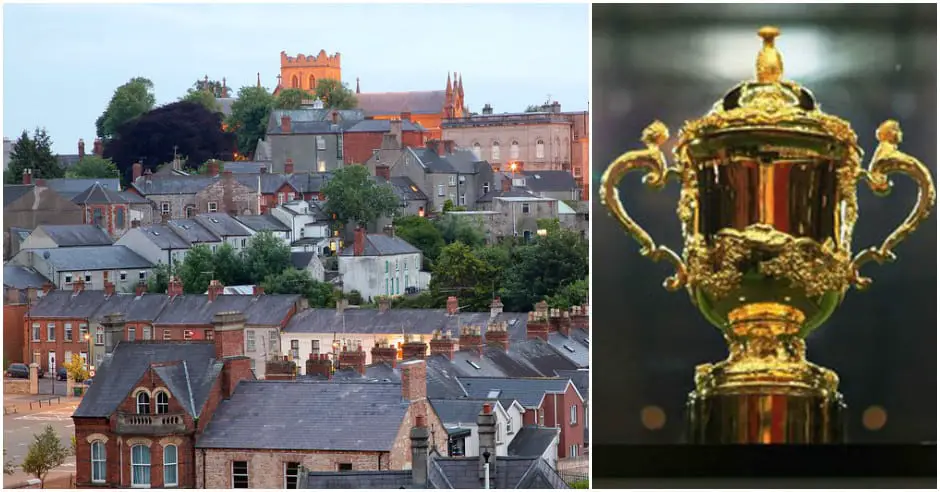 Ireland's dream of hosting the 2023 Rugby World Cup has come a step closer this evening with confirmation that the bid is through to the final candidate and host selection process.
World Rugby has confirmed that the prestigious tournament will be held in either Ireland, France or South Africa.
If successful, the Rugby World Cup would be hosted at venues both north and south.
And Armagh will also be hoping to get in on the action if the bid is accepted.
In August, Armagh City, Banbridge and Craigavon Borough Council approved an SDLP-sponsored motion for Armagh to become a 'host' city as part of Ireland's 2023 Rugby World Cup bid.
That was passed unanimously.
The city was not expecting to stage any competitive games but would look to accommodate 'some of the teams' when the competition comes around in seven years time.
Speaking at the time, he said the economic, cultural, social and tourism boost to "every corner of this island would be immeasurable" and added: "This is an opportunity this council and borough cannot afford to miss and in proposing this motion, we are asking that the Council's Chief Executive engage with the IRFU, Ulster Rugby, Government Departments and other sporting bodies with the view to Armagh City becoming a host city as part of the bid.
"I am aware that Belfast and Derry-Strabane Councils are already engaging with the organisations, others may be as sell, and firmly believe so must we.
"This is not about who will host games, this is about much more. The IRFU are already engaging with the GAA and IFA about the use of some of their stadium for games, this is about being a host city, a base camp for some of the teams."
Mr O'Hanlon stressed the need for sporting bodies to work together and suggested that a "sporting village", which would incorporate the GAA and Armagh Rugby Club, could form part of a shared recreation campus.
Tonight the confirmation that Ireland was a very real contender keeps the local goal alive.
First Minister Arlene Foster and Deputy First Minister Martin McGuinness have welcomed the announcement from World Rugby.
First Minister Foster said: "The Northern Ireland Executive is a strong supporter of the 2023 Rugby World Cup and it is excellent news we are now through to the next phase of the process. The potential to host the Rugby World Cup 2023 presents a fantastic opportunity to showcase our excellent rugby talent, magnificent facilities and legendary hospitality to rugby fans across the world.
"Northern Ireland has what it takes to host world class events and the Executive will continue to work hard to bring this great sporting event here in 2023."
The Deputy First Minister, Martin McGuinness, said: "I congratulate all of those involved in helping  reach the next  phase in hosting RWC 2023. South Africa and France are formidable opponents, however, I believe the partnership between sport organisations, Government and local businesses can provide a winning combination in ensuring a successful event.
"I am certain everyone here will get behind the Ireland bid and look forward next year when the final decision on who will host RWC 2023 is made in November 2017."
Economy Minister Simon Hamilton MLA added: "It is tremendous news we are through to the Candidate Phase  of hosting The Rugby World Cup.
"The Rugby World Cup 2015 was the most commercially successful event to date and with large numbers of travelling fans and spectators the opportunity to host RWC 2023 would provide a major boost for local businesses, the tourism industry and the Northern Ireland economy as a whole."
Sign Up To Our Newsletter